Many bitcoin holders and users find it difficult to convert bitcoin to USD quickly. Depending on the country, selling bitcoins locally may not be easy. Bitcoin users also have to be careful not to fall victim to scammers, whose modus operandi involves disappearing without a trace after transfer of bitcoin. It is important to find a reliable, fast and safe service.
Fortunately, Wirex is committed to providing the best hybrid platform that combines bitcoin with fiat currencies. Aside from USD, you can also convert bitcoin to GBP, as well as convert bitcoin to EUR.
Here are five reasons Wirex is the best way to convert your bitcoin to cash.
One: Wirex Allows Instant Conversion
It only takes 30 seconds to convert bitcoin to USD, including the time needed to log into your account. You can convert from either your desktop, or from the Wirex app on your smartphone.
There is no need to waste time looking for buyers or escrow services, performing background and security checks, or waiting hours for the bitcoin transfer to go through. Your time can be spent better!
All you have to do is to load bitcoins onto your USD-, GBP- or EUR-denominated bitcoin debit card. All fees are transparent. What you see is what you get. We promise — no nasty surprises or added charges.
(Related article: Get your bitcoin debit card — here's how.)
Load via desktop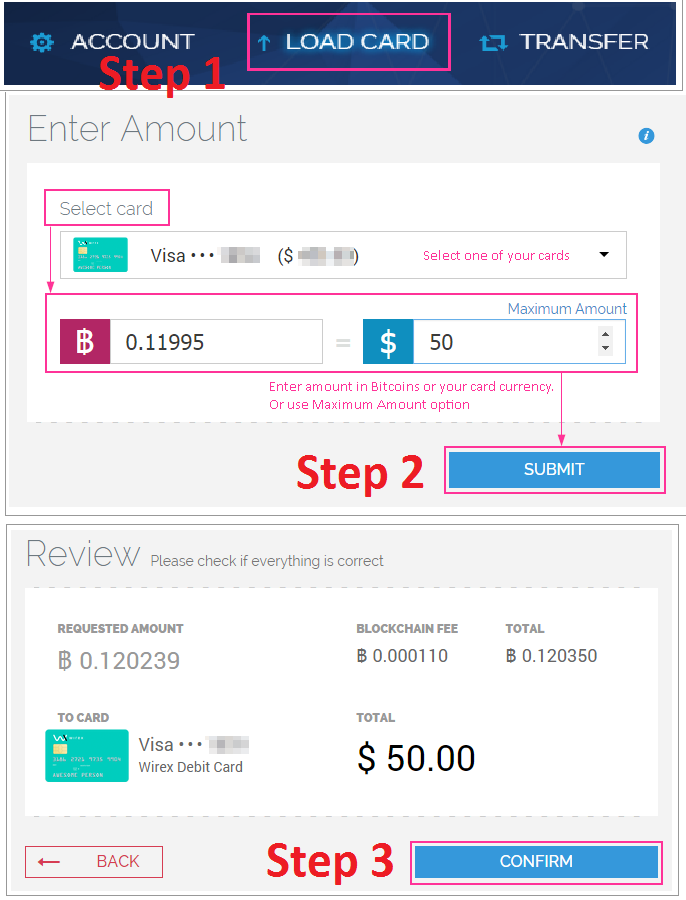 You can read the full tutorial on card loading via desktop here.
Load via the Wirex app
Select 'Top Up Card' from the main screen and load up your card with bitcoins. Your card will be topped up immediately and ready to be used.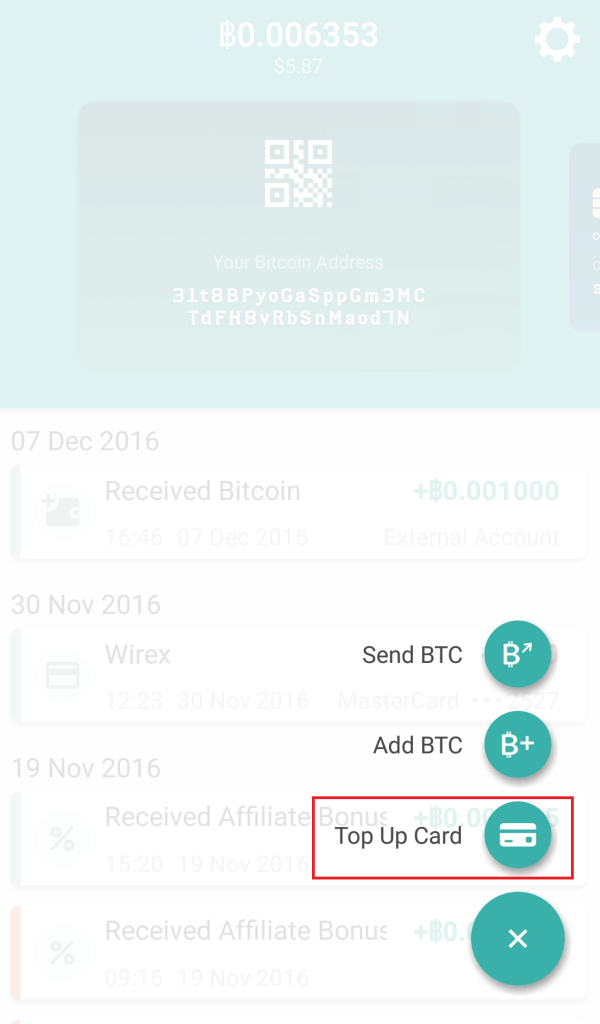 You can read the full tutorial on card loading via the app here.
Two: Wirex Allows You to Convert in Advance
Unlike other bitcoin debit cards, Wirex allows you to convert bitcoin into USD in advance. Other cards may only allow you to spend bitcoin in real time, which means you will be tied to the BTC-USD exchange rate that is current at the time of the transaction.
Advance card loading, however, simplifies your personal finances. It makes it easier for you to keep track of one exchange rate, instead of many. Additionally, you choose and plan when to load your card, converting bitcoin to USD when the price is acceptable to you.
Three: Wirex Allows You to Buy Bitcoins

What if you convert bitcoin to USD, then decide to turn your unused USD back to bitcoin? The Wirex bitcoin debit card is the world's only 2-way card with the ability to both buy and sell bitcoins. It's very easy to buy bitcoins with your debit card.
(Related article: How to buy bitcoin with Wirex/E-Coin.)
Four: Wirex Allows You to Spend Bitcoin Anywhere Visa is accepted
After you convert your bitcoin to fiat currencies, Wirex makes it easy for you to spend it, if you choose to! The Wirex virtual and plastic cards are Visa-linked. They can be used at any retail shop, ATM or online, anywhere Visa is accepted.
(Related article: The differences between virtual and plastic cards.)
More than 40 million shops worldwide accept Visa. Have fun shopping!
Five: Wirex Allows You to Easily Withdraw Cash from ATMs
If you want to turn your money into 'paper' money, we can help you there, too.  After you convert your bitcoin to USD, you can visit any ATM worldwide and withdraw money in local currencies. This makes Wirex the most convenient solution for everyone, including travellers and overseas workers. Wirex plastic cards cost only $17, with free delivery to more than 130 countries. Here's how to order a card: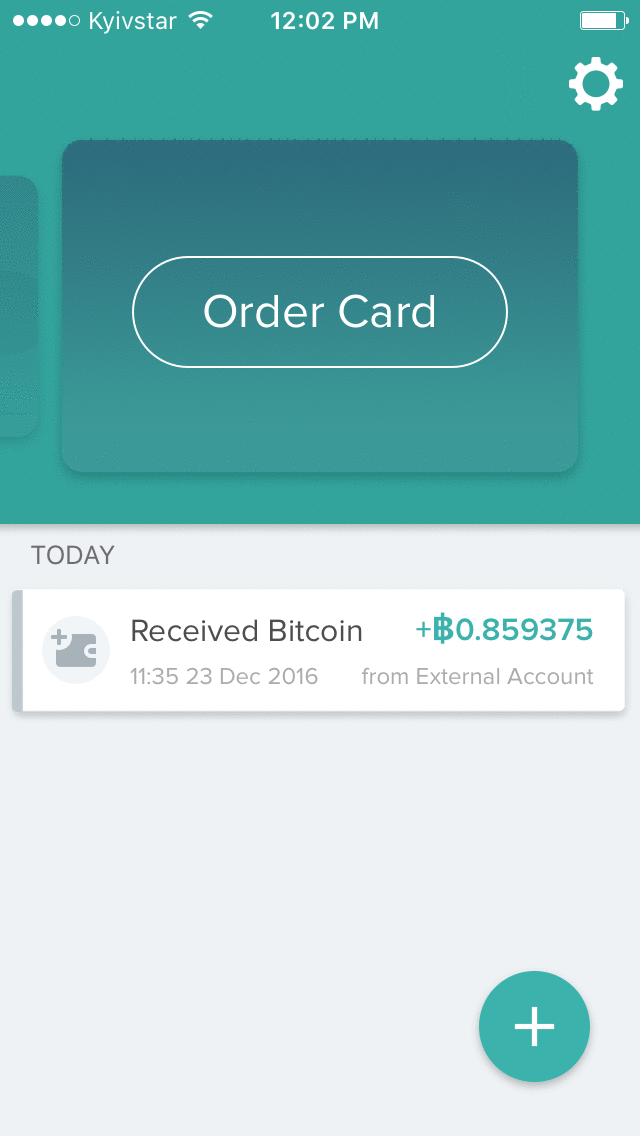 Conclusion
Simply put, Wirex cards make bitcoins more convenient to use and spend. Get one today from E-Coin and try it for yourself! You won't regret it!