This FAQ explains how to load large amounts of funds — more than $2500 per day — onto your Wirex cards. Please note that you need to have a verified account before being able to use this feature. For a step-by-step tutorial on how to verify your account, see this link.
If you have an unverified account and would like to load less than $2500 onto your card, you can check these pages: via desktop (using bitcoin), or via the Wirex app (bitcoin).
Q: What is the difference between verified and unverified accounts?
A: Verified and unverified accounts have different limits for different transactions. Verified account limits are higher. To check the limits on your accounts, please read this Help Page.
Additionally, unverified account holders may only load cards via top up by bitcoin. Unverified account holders will not be able to load their card via bank transfer, PayPal or APMs (alternative payment methods).
Q: I have a verified account. What is the maximum amount I can load onto my card in one day?
A: You may instantly load up to $2500 per transaction per day. You may also perform a 'next day load' of up to $10,000 per transaction, or up to $20,000 per 24-hour period.
Q: I have a verified virtual or plastic card. Can I load more than $2500?
A: Yes, you can load both virtual and plastic cards with more than $2500 (using the 'next business day' load option), as long as your account is verified.
Q: How do I load more than $2500 onto my verified card?
A: Follow the basic card loading process. See the steps here: via desktop (bitcoin, bank transfer, PayPal, APMs) or via the Wirex app (bitcoin).
In the 'Review' page, you will be required to check the box before confirming.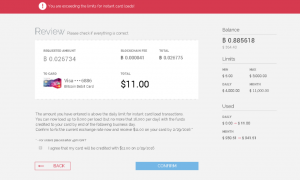 Q: I performed a card load of more than $2500. When will the amount show up on my card?
A:  If you perform the load before 4 p.m. UK time, the amount will be reflected in your card account by the end of the next working day. If you perform it after 4 p.m. UK time, the amount will reach the card in two working days.
The load date will be shown on the 'Review' page.
Q: I need the amount urgently. Can you speed it up?
A: Transactions cannot be sped up once they have been performed. Therefore, if you urgently need amounts of more than $2500 on your card, please allocate the necessary time for the transaction to clear.
If you have additional questions not answered above, please contact our friendly support team at support@wirexapp.com