How to top up using a linked local card
Available for:
Fiat currencies: EUR, GBP, CAD, CZK, HUF, PLN, RON, HRK, USD
Cryptocurrencies: BTC, ETH, LTC, XRP, XLM, WXT, WAVES, DAI, XNO, LINK, MKR, AAVE, YFI, UNI, UMA, OMG, BAT, ZRX, SNX, FTT, COMP, REP, BNT, BAL, 1INCH, LRC, KNC, CRV, SUSHI, ADA, XTZ, EOS, DOGE, SOL, DOT, CHZ, MATIC, AXS, GLM, IOST, SNT, GRT, QNT, SAND, MANA, USDC, USDT, TUSD, USDP, EURS, APE, ALGO, HBAR, NEM, TRX, BNB, CELO, FTM, NXUSD, BUSD, ETC, QI, JOE, QUICK, VOXEL, PAXG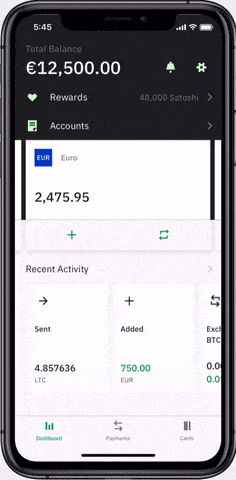 1.) On the Wirex app homepage tap + Add Funds.
2.) You will then need to select an account to add funds to. If the currency you want to select isn't showing on this screen, you will need to add it via the Accounts screen on the homepage.
3.) Once you have selected the account you want to add funds to, you will be prompted to choose a method. Your linked local card will be viewable on this screen.
4.) Enter the amount you would like to add. Don't worry, you will have a chance to review it before the transaction is sent.
5.) Review the transaction details. If everything looks correct, tap add to initiate the transaction.
6.) That's it! The added funds will arrive in your account in just a few moments.
Local card transaction limits
The following limits in USD equivalent apply:
| | |
| --- | --- |
| Limit | Amount |
| Minimum transaction amount | 50 USD |
| Maximum transaction amount (unconfirmed card) | 2000 USD |
| Maximum transaction amount (confirmed card) | 25000 USD |
| Maximum daily limit (unconfirmed card) | 2000 USD |
| Maximum daily limit (confirmed card) | 25000 USD |
| Maximum number of successful transactions per 24 hours | 5 successful transactions in a day |
| The number of cards that can be linked to the account at the same time (in order to link a new card, the previous one should be deleted) | 5 |
* The limit refers to a user, not a transaction

Note: Mastercard users may notice that they are being charged a commission when using their card to top-up their Wirex account. The exact commission amount will vary and depend on the issuing bank and card type (credit/debit). If you'd like to clarify your specific commission for Wirex transactions, we recommend you contact your issuing bank directly. The relevant Merchant Category Code is 6051. Visa users are currently not charged commissions for this type of transaction