Until now, property investment has focused on a limited number of locations.
However:
Some people in 'good locations' lose out due to various forms of corruption with legal title ownership of the land.
Property deal scams where land is sold to one owner with fake title deeds… or people in rural areas with multi-generational families who lose their land because of corrupt local government officials claiming they don't have legitimate title deeds to the land.
Propy to the rescue!
Proposing to solve:
the legal costs of property deals,
the time for transactions to take place,
the amount of people involved in verifying this, that and the other…
and the complexity of cross-border property deals with the uncertainty of foreign procedures and foreign languages.
All made simple by a Decentralised Title Registry and International Real-estate Marketplace managed via blockchain smart contracts.
Launching in California with plans to spread all over the world.
What is Propy?
Propy "aims to solve the problems facing international real estate transactions by creating a novel unified property store and asset transfer platform for the global real estate industry."
"Propy is an online global real estate store, allowing buyers, sellers, brokers, and escrow/title agents/notaries to come together through the utilization of a suite of smart contracts to facilitate transactions. Propy provides a network for these actors to connect with each other and conduct real estate purchases online. " – Whitepaper page 11
Before Propy: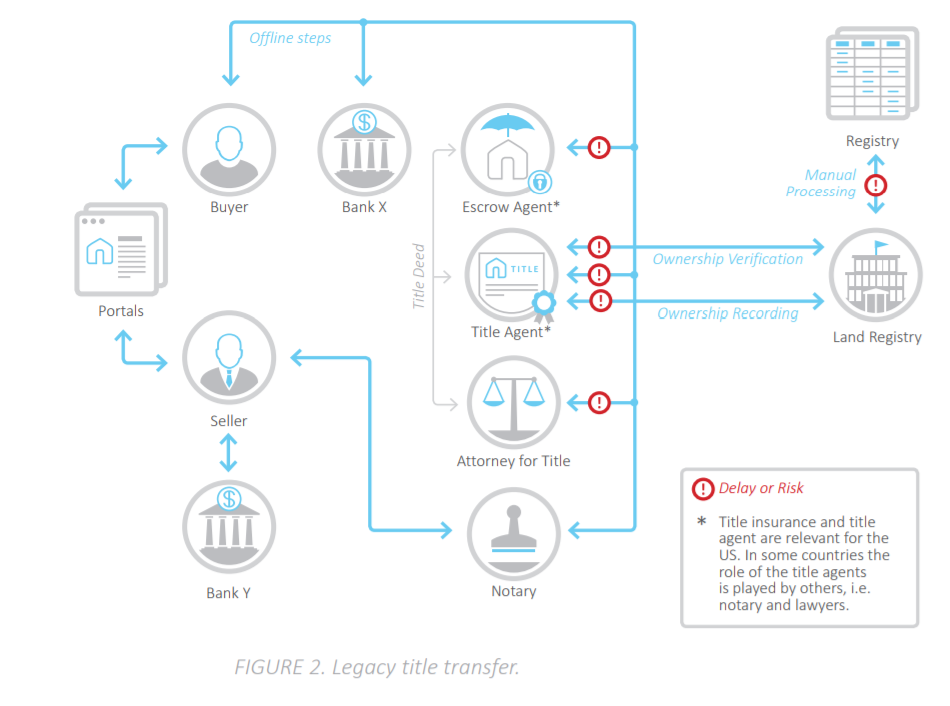 Why Propy?
The global real estate market is worth $217 trillion and makes up more than half the value of all mainstream assets worldwide.
Propy is a market front-runner for the new industry of smart-contact managed real estate.
Propy Investment Potential
Propy will launch in the California property market and then build up globally.
Forbes Middle East did a new editorial on Propy back in March 2016. The foundations for rapid construction of Propy's market are built.
"we anticipate that emerging markets, hungry for investments in real estate and less encumbered by entrenched special interests, such as bureaucracy, corruption and too many intermediaries, will see the benefits of a pure P2P transaction model" – whitepaper page 8
Propy has a very simple and scalable business model. When a property is purchased on the Propy network, Propy takes a small percentage of the final purchase price. Propy charges real estate brokers per transaction for using Propy's technology and tools. Payment will initially be made in fiat currencies, and cryptocurrencies are planned to be added over time in the jurisdictions where it is possible to do so. With a $340bn market size of all cross-border real estate acquisitions and dispositions trading annually, the addressable market for Propy is significant. – Whitepaper page 23
When is Propy's ICO?
15th August to 5th September 2017.
As of 19 August, $9.3m have been contributed in Ether and Bitcoin by ICO participants.
What will Propy do with the ICO funds they raise?
Propy's PRO tokens will be used for all transactions on the Propy network and use for earning commissions for all parties involved in the sale of property on the platform.
Quick Summary
Looks good. Expect volatility and rapid growth in this area with competitors showing up before long.
If you like the idea of smart property investment, Propy may be 'right up your street'.
The next steps for you would be to do your own due diligence. Here are some other questions to help kickstart your investigation:
Who is involved in this project and do they have the expertise to see this project through?
Do they have any experience in the property market?
Are they working on this full-time?
What does the crypto community think about this idea?
Do they actually believe in this idea, or is this another pump and dump?
Is the team actively engaging with the community forums (on bitcointalk & reddit etc)?
You've got the introduction pack to Propy, the ball's in your court, off you go now:  https://propy.com