Yes, it's already day 3 of our 12 days of Crypto Christmas series and it's time for some controversy.
Let's talk Bitcoin Cash (BCH).
Earlier in the year, Wirex announced our plans to integrate a Bitcoin Cash Wallet and seeing as we're doing a blog series on trending altcoins, it's the perfect time to explain a little about the project.
As always, we encourage the Wirex community to develop a strong understanding of projects before investing (don't succumb to FOMO!).
What is Bitcoin Cash(BCH)?
Bitcoin Cash (not to be confused with Bitcoin), is also a decentralised, peer-to-peer digital currency. BCH is a fork of the original Bitcoin blockchain; The main difference being a block size limit of 8MB which (in theory) results in faster confirmation times and cheaper blockchain fees.
A little more about Bitcoin Cash:
Established date: August 1, 2017
Circulating Supply: 16,851,613
Total Supply: 21,000,000
Current Market Cap: $26.16 Billion USD
Notable team members/supporters: Roger Ver (also known as Bitcoin Jesus)
The Price
When Bitcoin Cash was first circulated, its price was roughly $380 USD.
Today it's around the $1550 USD mark.
That's nearly a 310% return in the space of 4 months.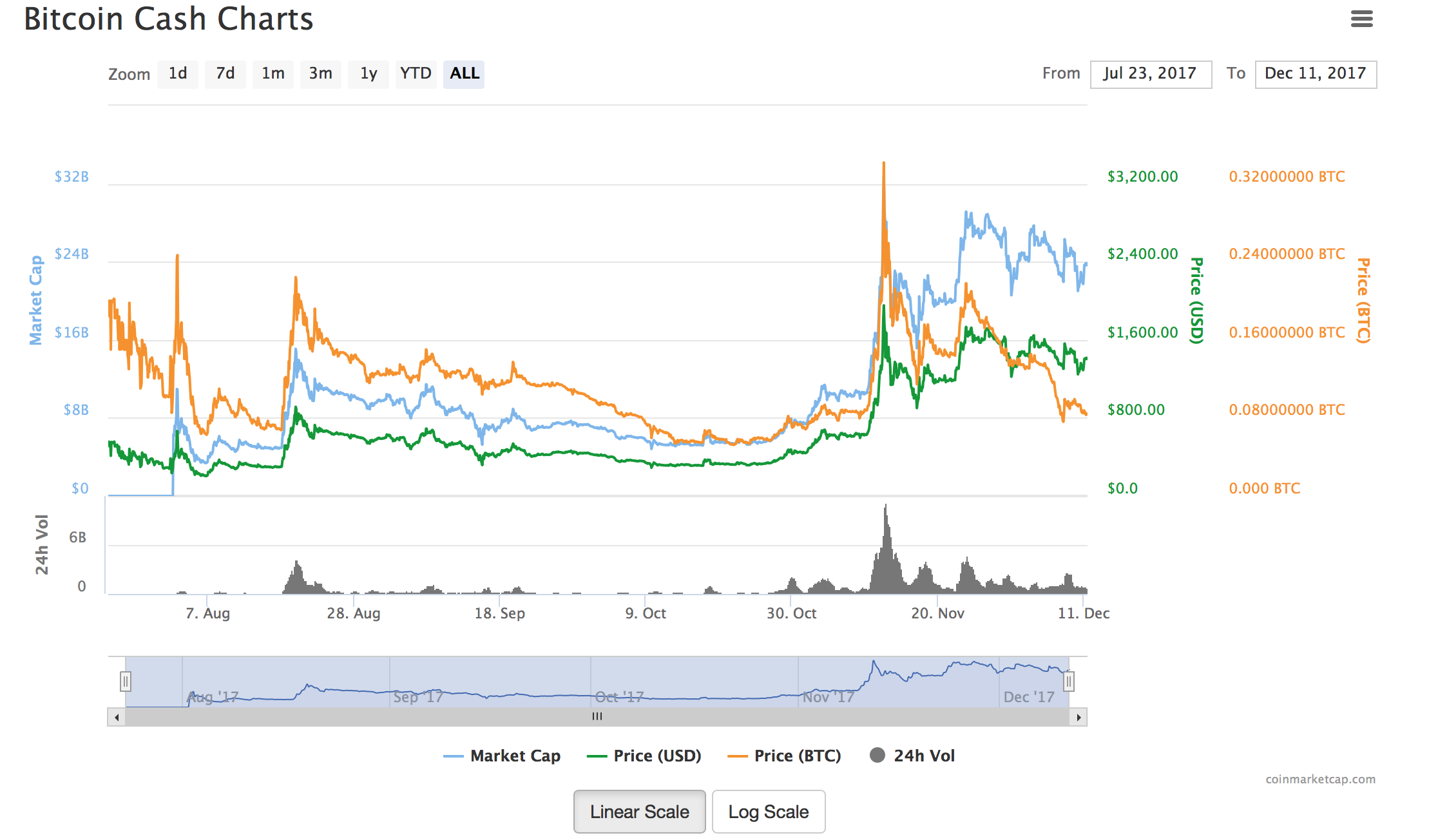 Source: Coin Market Cap
Why the hype?
In the months leading up to August 1, 2017, there was a big debate about how to fix Bitcoin's scaling issues. While the majority of the original bitcoin development team decided to proceed with a solution called Segwit (which did not increase Bitcoin's block size) a small group of miners supported an increase in the block size(to 8mb) which led to the birth of Bitcoin Cash.
The main difference between Bitcoin and Bitcoin cash? Take a look at this table by Blockchain Capital.

You can see they're not that different.
Put simply, Bitcoin Cash(BCH) is focusing first on allowing users to have fast, cheap payments while Bitcoin (BTC) prefers to place emphasis on decentralisation and censorship resistance. Arguments can be made for BCH not exactly being decentralised and BTC is also working on its own scaling solution to increase transaction speeds and lower the costs, so the end goal will not be too dissimilar.
Both cryptocurrencies have the same goal in mind and are competing for community support. The only difference, fundamentally, is the way they're going about it.
We said this one would be controversial, but it doesn't have to be.
And while Bitcoin, the original, has much more of a following at the moment, we'll leave this decision up to you.
Buy, Store & Spend Bitcoin Cash with Wirex
We're aiming to complete the Bitcoin Cash Wallet integration by Q2 2018. You'll soon be able to buy, store and spend Bitcoin Cash on the Wirex app.
In the meantime, you can still deposit Bitcoin Cash into your Bitcoin wallet (we've integrated with Shapeshift), making it ready to spend via your Wirex card.
It's just a few taps away. If you're new to Wirex, signing up is easy.
What are your thoughts on Bitcoin Cash?
Join the discussion in our community forum below.
Over the following days, we'll continue our blog series on trending coins to help you sound like a crypto expert at your Christmas dinner parties. Stay tuned!