At Wirex, we encourage our community to develop a strong understanding of projects before investing (as opposed to jumping in head first, under the influence of FOMO). Dash has been a team favorite of ours for quite some time.
Earlier we announced our partnership and we are working closely with the Dash development team (more on this soon). With Dash's price getting up over $900 US dollars (as at 12 Dec), we thought it is the perfect time to explain a little about the project:
What is Dash?
Dash (short for Digital Cash) is one of the first decentralised crypto-currencies that offers its users private, secure and near-instant transactions. Many members of the crypto community believe that Dash has all the answers to Bitcoin's problems as a currency (scalability, anonymity and network fees).
A little more about DASH:
Established date: 2014
Circulating Supply: 7,748,514
Total Supply: 18,900,000
Current Market Cap: $6.27 Billion USD
Notable team members:

CEO: Ryan Taylor
CTO: Andy Freer
Lead Developer: UDJINM6 (anonymous pseudonym)
The Price
At the beginning of 2017, Dash started at $11.40 US dollars.
Today it's around the $900 USD mark
That's roughly 6,917% increase in the year!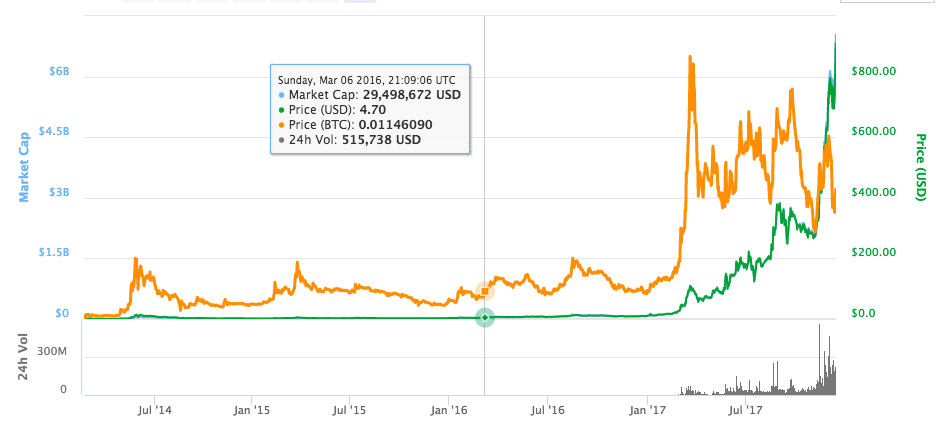 Source: Coin Market Cap
It's no wonder everyone's talking about it…
Why the Hype?
Dash works extremely well as a pure cryptocurrency. It has one of the fastest transaction times and lowest transaction fees.
It's also the first cryptocurrency to reward 'masternode' holders with 45% of the transaction fees that they authorise. We couldn't put it any better, so here's a summary from dashmasternode.org explaining the concept of masternodes.
Think of a masternode as a savings account with a minimum deposit of 1,000DASH. A traditional savings account pays interest, and a masternode pays rewards which are very much like interest. In the case of a masternode, the reward (or interest) comes from performing services for the network.
Having masternodes essentially means more investors holding onto their coins, and fewer investors trading. In theory, this locks up some of the circulating coin supply and the resulting effect pushes the price of Dash, upwards.
Fun Fact
Dash was released in 2014 under the name XCoin. On February 28th, it was rebranded to Darkcoin to focus on anonymous transactions. A year later, Darkcoin was again rebranded to the name we know today, Dash, short for Digital Cash.
Buy, Store & Spend Dash with Wirex
Early next year (Q1, 2018) we'll complete the Dash Wallet integration. So soon you'll be able to buy, store and spend Dash within the Wirex app.
Here's a recent episode with Wirex Community Manager, Raphael, on the Dash Podcast.
Whilst our dev team is working hard on the Dash wallet, you can still deposit Dash into your Bitcoin wallet (we've integrated with Shapeshift), making it ready to spend via your Wirex card.
It's just a few taps away. If you're new to Wirex, it's free to sign up.
What are your thoughts on Dash?
Join the discussion in our community forum below.
Over the following 11 days, we'll provide you with snippets on trending coins to help you sound like a crypto expert at your Christmas parties. Stay tuned for the rest…