Day 9 already, and we have yet another incredibly exciting cryptocurrency coming your way.
You may have already heard of Ethereum, and the idea of 'Smart Contracts', a revolutionary and incredibly disruptive technology.
For a while, Ethereum was the only major player, but many new currencies have popped up this year hoping to take the smart-contract crown.
One of those currencies and perhaps the most exciting is EOS.
What is EOS?
Like Ethereum, EOS allows DApps (decentralised applications) to be built on its platform using smart contracts. But EOS aims to fix many of the scalability issues that Ethereum is currently having, whilst also implementing a delegated proof of stake (DPOS) instead of a proof of work (POW) algorithm.
A little more on EOS:
Established date: 26th June 2017
Circulating Supply: 536,719,851
Total Supply: 1,000,000,000
Current Market Cap: $4.5 Billion USD
Notable team members:

CEO: Brendan Blumer
CTO: Daniel Larimer (Also co-founded BitShares and Steemit)
The Price
The price when it first hit exchanges in July this year was just over $1 USD.
Today the price is around $8.31, so that's a nice increase of around 730% in half a year or so.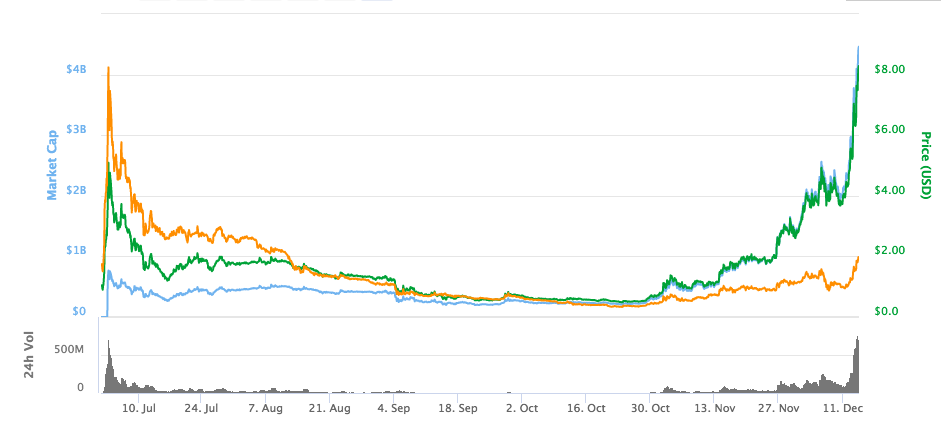 source: Coinmarketcap
Why the hype?
Dubbed 'the Ethereum Killer' by some, EOS is looking to be the go-to solution for building DApps, as it can handle many more transactions than Ethereum, at present.
It also supports many more coding languages, and focuses on allowing the contracts to be user-friendly and readable. This is huge, as currently Ethereum contracts can only be built using Ethereum's custom coding language 'Solidity.' Of course, there are relatively few developers with enough knowledge of the language to code safe and secure smart contracts.
This has of course led to some serious issues with Ethereum, such as the infamous DAO hacking, which resulted in an eventual roll-back of the hack, and a contentious hard fork.
EOS also aims to solve this sort of issue, by allowing DApps to freeze and deploy a fix without actually effecting the rest of the network.
Buy, Store & Spend EOS with Wirex
Looking to spend some of your hard earned EOS? You can deposit it into your Bitcoin wallet (we've integrated with Shapeshift), making it ready to spend via your Wirex card.
It's just a few taps away. If you're new to Wirex, it's free to sign up.
What are your thoughts on EOS?
Join the discussion in our community forum below.