Sshhhh! We're getting secretive today.
Satoshi is giving us Monero on the 8th day of Christmas.
There's a massive misconception about Bitcoin that it is used by drug dealers or criminals because they're untraceable…
This is isn't true.
Bitcoin and most cryptocurrencies are actually transparent because there is a public ledger that can be accessed and traced by anyone around the World (known as the blockchain).
While transparency is a great thing, sometimes people prefer a bit more anonymity. That's where Monero comes in.
Let's explore why the crypto experts are so interested:
What is Monero?
Monero (XMR) is an open-source, decentralised cryptocurrency with a focus on privacy (and making transactions and accounts untraceable).
Some facts about Monero
Founded in April 18 2014
Circulating Supply: 15,473,595 XMR
Max supply: Infinite
Current Market Cap: $4.74 billion USD
Key Team Members:

Riccardo "fluffypony" Spagni
Franciso "ArticMine" Cabañas
The Price
At the beginning of 2017, XMR started at roughly $13.50 US dollars.
Today the price of one Monero is at $306.46 USD
That's a 2,170% return on your investment in the past year!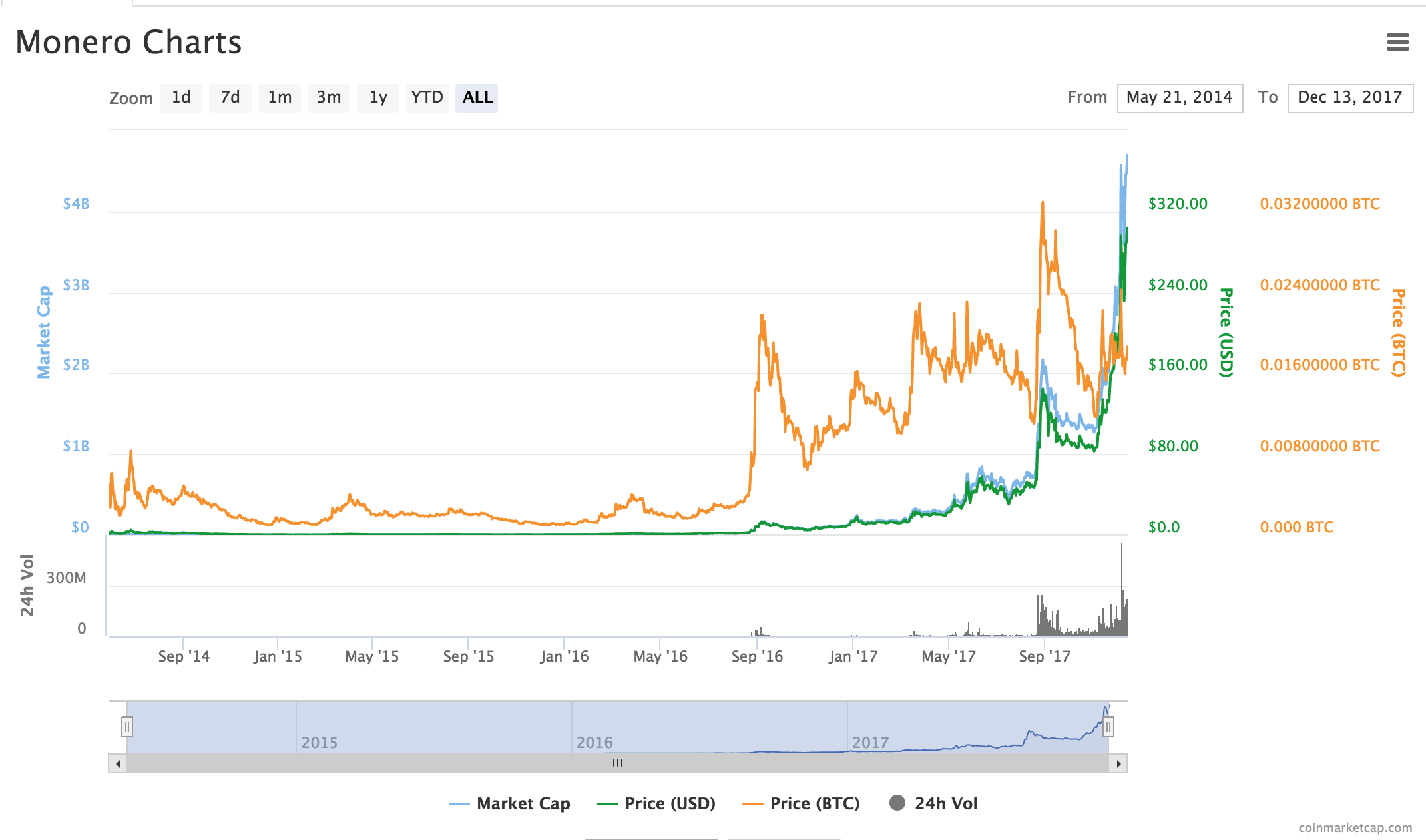 Source: Coin Market Cap
Why the hype?
What's different about Monero is it focuses on privacy; Transactions are untraceable, unlinkable and resistant to analysis.
Monero does this by implementing 'Cryptonote', a technology which features ring signatures to mask sender identities by mixing, and one time keys(or wallet addresses) that make transactions unlinkable.
So if drug dealers, money launderers, and other criminals were looking for privacy, Monero would be a better pick than Bitcoin. That being said, Monero was created, not for the criminals and shady figures, but for the ideal of privacy.
Aren't we all entitled to a little privacy?
Buy, Store & Spend Monero with Wirex
Did you know you can spend your Monero (and other altcoins) with the Wirex app?
Although Wirex does not yet have Monero Wallet Integration, you can still deposit your XMR into your Wirex Bitcoin wallet (we've integrated with Shapeshift), making it ready to spend via your Wirex debit card.
It's just a few taps away. If you're new to Wirex, it's free to sign up.
As always, we encourage the Wirex community to develop a strong understanding of projects before investing (don't succumb to FOMO!). Let us know what you think about Monero in the community forum below.