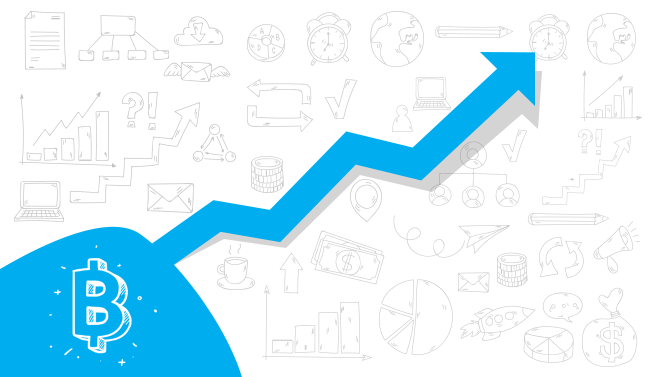 On June 12, 2017, bitcoin hit its all-time high. Its value inched close to the $3,000 mark for the first time in the digital currency's history. However, only three days later, its price dropped back down to $2,264, which amounted to a 24 percent drop in value. This steep drop spooked many new bitcoin investors that had only recently entered the market.
In the past, when bitcoin experienced substantial price drops, novice bitcoin investors often sold their coins to avoid further losses while some exited the market altogether after having concluded that bitcoin is simply too risky for them. Steep price drops have also scared off many new potential investors for whom bitcoin's price swings are simply too much to handle. However, for seasoned bitcoin investors, bitcoin price drops provide excellent opportunities to buy more bitcoin.
Just six days after hitting its June low, bitcoin's price rallied almost 500 dollars to reach $2,750. The real world applications of bitcoin, such as digital peer-to-peer payments and low-cost money transfers, mean that the demand and, therefore, the value of bitcoin will likely continue to increase over time. That is exactly what seasoned bitcoin investors are betting on.
Why is a price drop a good buying opportunity?
Investors who believe in the long-term appreciation of the value of bitcoin, use price drops to buy more bitcoin. While it is extremely difficult to "time the market", i.e. buy just after a price drop and just before a price rally, steep price drops allow bitcoin investors to add to their holdings at better price levels than if they were to simply keep buying during a bull market.
If you are one of the people that believe that bitcoin will take its place as an internationally recognised global currency and will, therefore, continue to appreciate in value over time, then you should consider any drop in a price as a good opportunity to buy bitcoin.
Dollar-cost averaging
Many experienced bitcoin investors engage in an investment strategy called dollar-cost averaging. Dollar-cost averaging refers to the buying of a fixed amount of an asset or a security each week or month at whatever the market price is at that point in time. That way the investor buys more of the asset when the price is lower and less when it is higher but always for the same fixed amount.
For example, if you are investing £250 into bitcoin each month, you are able to benefit from its price appreciation over time but are also able to use price drops to buy more bitcoin for your £250 at a lower level than if the digital currency would keep rising without any volatility. It is because of bitcoin's lively volatility that dollar-cost averaging has become so popular among digital currency investors.
Alternatively, to dollar cost-averaging, you could also use a bitcoin price drop as an opportunity to make a large one-off investment in bitcoin and then securely store it in your bitcoin wallet as a long-term investment. This approach would be recommendable to those who do not want to spend much time following the market and actively managing their investments.
Bitcoin's potential for future growth
Every time the price of bitcoin experiences a big drop, bitcoin opponents love to publicly claim that it is now finally the end of the supposed "bitcoin bubble". Yet, historically, these individuals have been proven wrong as the price of bitcoin has always recovered to reach new highs not too long thereafter. If you believe bitcoin will continue to reach new highs in the coming months and years, you are not alone.
Goldman Sachs' Head of Technical Strategy, Sheba Jafari, predicted in a note that was sent to the bank's clients on July 2, that the digital currency would see another drop before rallying to an even greater value towards the end of the year.
According to her, there will be a drop in the price of bitcoin due to what she terms as the "corrective 4th wave". She believes that the large surges in value witnessed over the past year have been due to a bubble that is now evening itself out. Jafari reckons the price will drop to around the $1,857 mark. It is in the fifth wave where the bank predicts a new all-time-high.
"From current levels, [bitcoin] has a minimum target that goes out to $3,212 (if equal to the length of wave I). There's potential to extend as far as $3,915 (if $1.618 times the length of wave I). It just might take time to get there," Jafari wrote.
This prediction is similar to the one made by Vinny Lingham at the end of 2016. The outspoken blockchain entrepreneur has been dubbed the "oracle of bitcoin" due to his often accurate price predictions. In Dec 2016, he suggested that the value of bitcoin would hit $3000 by the end of 2017. His prediction almost came true in mid-June and could still become true later this year.
Kay Van-Petersen, a research analyst at Saxo Bank who correctly predicted bitcoin would clear the $2,000 mark in 2017 also believes that bitcoin will continue to increase in value. He suggests that the value of bitcoin could surpass the $100,000 point in ten years if bitcoin manages to reach 10 percent of the average daily volumes in the global foreign exchange market.
The more global demand for bitcoin as an investment, as a spending currency, and as a low-cost remittance service grows, the more the price of bitcoin will increase. This is because the supply of bitcoin is limited to 21 million coins while the demand can effectively be infinite.
If you are a firm believer in the potential of bitcoin and if you believe that bitcoin experts' price predictions carry weight, then you should not get spooked when the price of bitcoin drops but, instead, view it as an opportunity to buy more bitcoin at a cheaper price for your digital currency investment portfolio.