Since our September announcement that we surpassed 800,000 users with over $1 billion in transactions those numbers continue to escalate due to tremendous support from the Wirex community.
In the spirit of Thanksgiving celebrated in the US, Canada and Liberia!… we want to show our appreciation with a list of company developments that wouldn't have been possible without you.
The promise of contactless cards
We announced pre-registration for new contactless cards. We mentioned that integration was already underway.  It's surprisingly how long some things can take… but we're now working on the finishing touches and you'll be hearing more on this very very shortly. Thank you for being patient with us.
Dash wallet & payment card
We also announced a partnership with Dash. We've been in close contact with the Dash team, and our development ninjas have a goal of creating the fully integrated Dash Wallet early in the new year. Thank you to Dash for welcoming us with open arms. We can't wait to share the Dash wallet features on the Wirex platform with both the Wirex and Dash communities.
Bitcoin Cash & other coins
And then we announced our plans to add support for Bitcoin Cash. This has been scheduled straight after the Dash integration. Our roadmap includes a couple of other coins scheduled for release in the first quarter 2018 (more on this soon). Without the push from our community, we wouldn't have found the support and resources to schedule this into development.
Support for Asia
AND there's still more.
You might have heard that we partnered with SBI Holdings on a new Joint Venture called SBI Wirex Asia. SBI Wirex Asia will deliver a Japanese cryptocurrency payment card and joint businesses, which benefit from Wirex's global expertise within the world of Distributed Ledger Technology (DLT), payments and cryptocurrencies.
Since then, our investment group, SBI Group have revealed their plans to create a new financial ecosystem based on cryptocurrency. Eight different crypto-related businesses are being developed simultaneously including mining, hedge fund management, and a derivatives market.
This nifty graph features us at the very centre of this fin-tech ecosystem – which means this is only the beginning.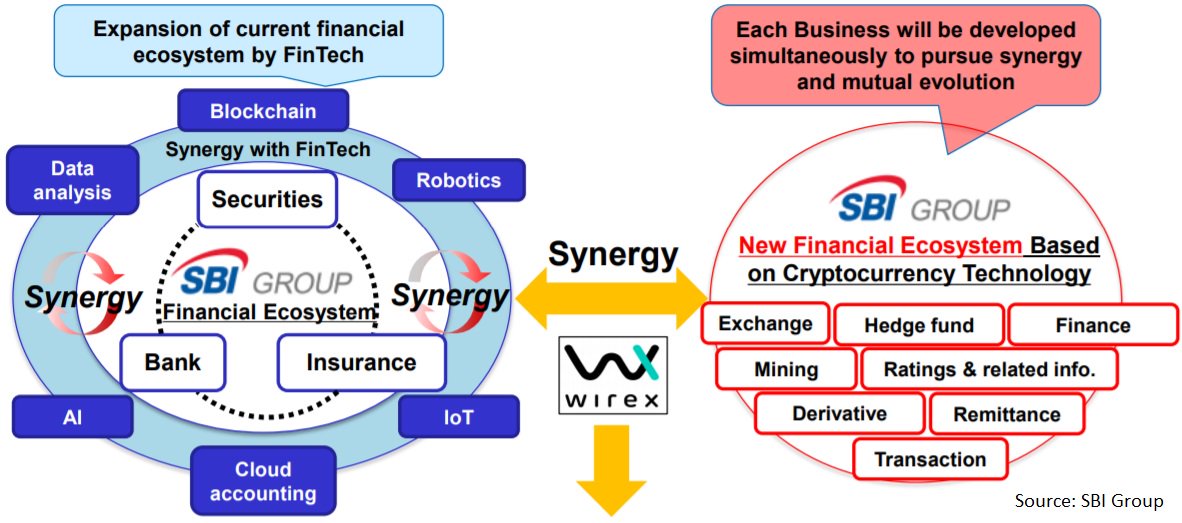 We are grateful to our investors for supporting our crazy plans 🙂
It's an exhilarating time for Wirex and the community
This year alone, we've seen the price of bitcoin skyrocket and interest in other cryptocurrencies is growing fast! Tonnes of resources are being thrown into blockchain research worldwide. Here at Wirex:
We're getting ideas and inquiries thrown at us from left, right and centre and we wouldn't have it any other way.
We're learning quicker, and working and evolving smarter. We wouldn't be able to do any of this without your feedback or support.
We want you to know that we are actively listening and we're really truly 'working on it'.
Our growing team is working around the clock (literally, we kid you not) to bring to life the promises we've made.
Like the saying goes, Rome wasn't built in a day. We are doing our best to be diligent at every step of the way (not just fast) as we believe this is the best approach to building trust with our new customers and the crypto-enthusiast community.
And yes, we've got plenty of nifty enhancements and features lined up for our app (and affiliate program).
Get ready to be blown away 🙂