Is this the moment we've been waiting for?
Is Bitcoin's price about to turn from its recent negative trend (going dowwwwn) to a new bull-market to retest December's all-time-high of $20,000!?  
Today, the Bitcoin price spiked through a few significant resistance points on the four hour chart, including breaking above the Ichimoku cloud as shown in dark red — a significant indicator used by traders to time buy opportunities.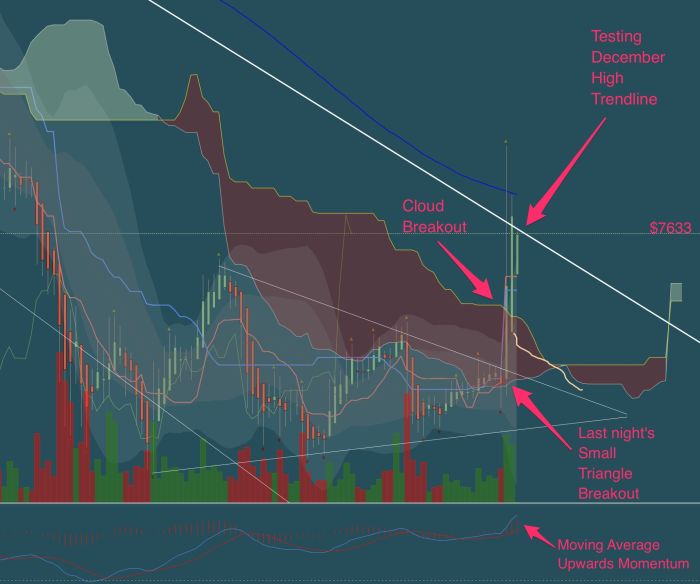 Todays gain of 10% is significant. We've seen that a few times over the past few weeks.
But the difference today is that the price is pushing against a very significant long-term trendline as shown: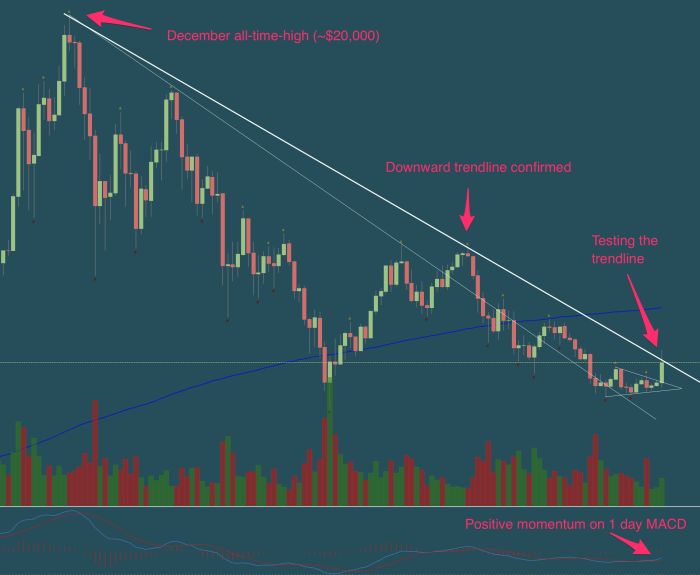 If Bitcoin breaks through that downtrend resistance, traders will take that very seriously as a potential signal that a new breakout phase has begun.
And then today's 10% spike might soon blossom into strong price action in the coming days.
Targets for traders would include the 200 day moving average line (currently sitting at $9,543), and also the next horizontal resistance area (around $11,536):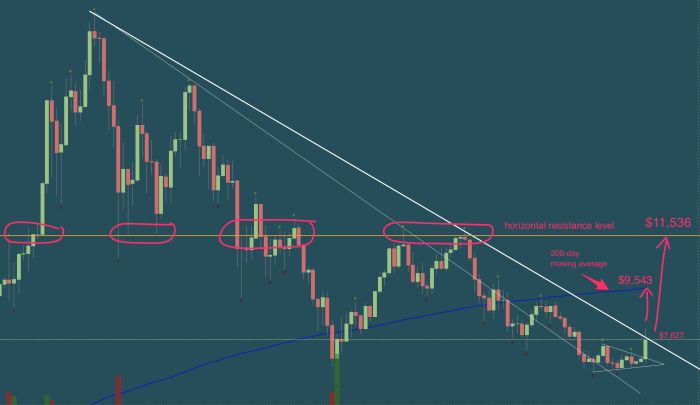 But I dunno though…
Will December's price crash soon become a fading memory..?
Or will a Government somewhere spook the market again by 'banning Bitcoin' (as if we haven't heard that rumour enough times already).
If you're a seasoned crypto investor pro, good luck making maximum gains.
If you're a crypto newbie and would like education, a friendly community and the best Bitcoin app this side of Saturn, register for an account today and you could buy Bitcoin within just a few short hours from now (or even less).
Our new verification process happens instantly for many European customers.
If you're in the UK, you can make an instant bank transfer (up to £7,500) to your Wirex currency account and exchange as much of the balance as you wish, at any moment you choose, whenever the price chart looks good to you.
You can also exchange it back from Bitcoin to traditional currency again (like GBP, USD or EUR).
It's an addictive hobby. And one proving to be very lucrative for the people who time the market well… or store their Bitcoin as a longer-term investment.
Bitcoins price rose about 1500% during 2017!
Compared to just 15% for the S&P500 (major US stocks).
Rumour has it that we'll be including Litecoin exchange and wallet on our platform within just a few weeks too.
Litecoin went up 5X more than even Bitcoin!
Bet you didn't hear that on the nightly news…
Wirex offers you choice.
We share a lot of price action updates inside the members community area if you're interested.
Never invest more than you can afford to lose. Do your own research. And welcome to the best blockchain personal finance platform… you know, like I said before… this side of Saturn.
Be flexible. Be secure.
Be crypto smart.