In just a few short sweet weeks from today, Wirex will introduce the most advanced crypto-friendly personal finance platform in operation worldwide.
Features will be released a step at a time over several weeks and months — with a stunning road-map for the future.
Regular Wirex app-users who provide feedback on the new services will be granted priority access to each new feature release, including crypto investment tools, new crypto wallets, and plastic card availability.
Yes! Let me know the moment Currency Accounts are available
The first Wirex currency account available will be based in the UK — available to dozens of countries around the world — with a British account number and sort-code, 100% secure and fully registered with the UK Financial Conduct Authority.
This is an incredibly exciting moment for cryptocurrency enthusiasts who need crypto-friendly personal finance services including real debit cards (not prepaid cards).
Designated account number & sort code
Receive deposits to your Wirex account from third parties (clients, employers, friends, etc) or you can make deposits from other bank accounts of your own.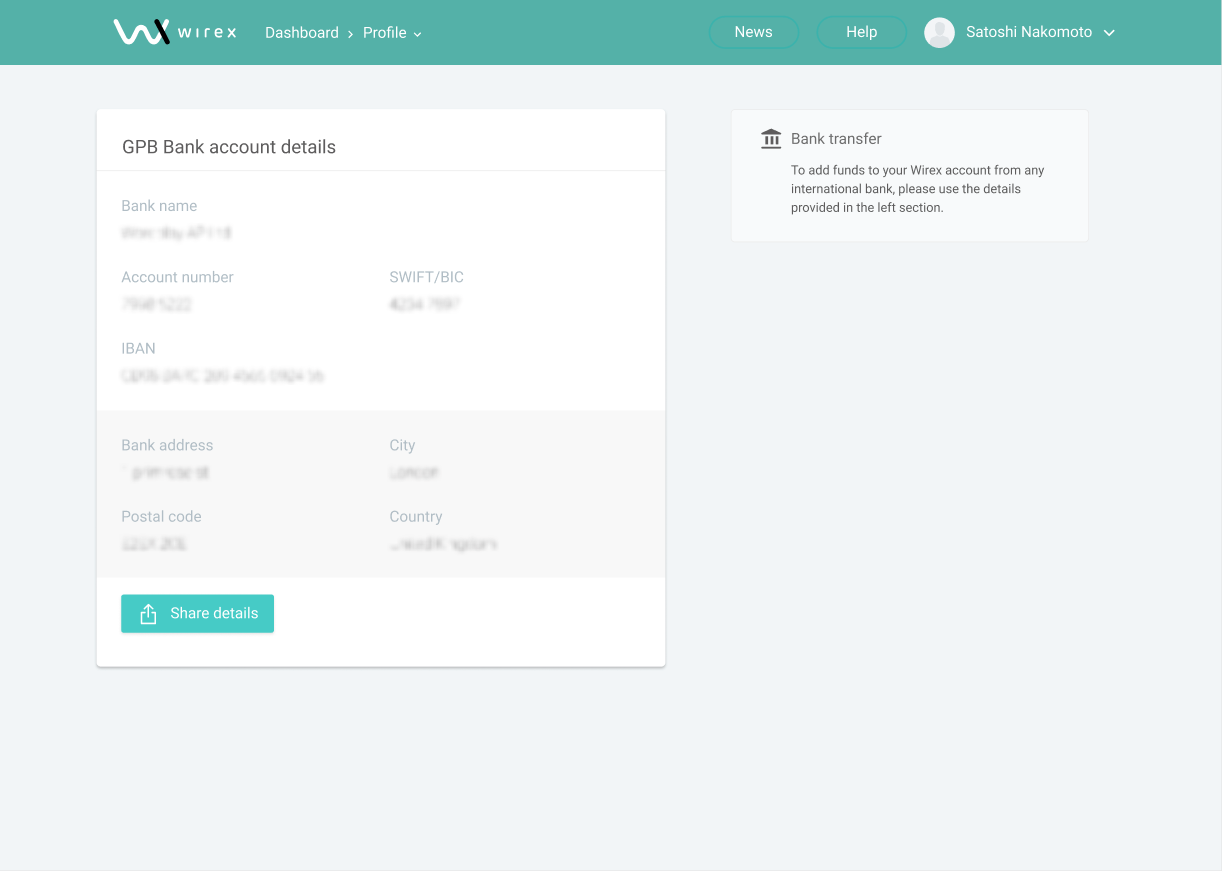 Deposits are available from UK local bank transfer, and IBAN transfer is available for international deposits. Withdrawal options will be added in the next phase of roll-out, along with additional currency accounts and different funding options.
Linked with a real debit card
Your new Wirex account comes with a free virtual payment card so you can make online payments with ease.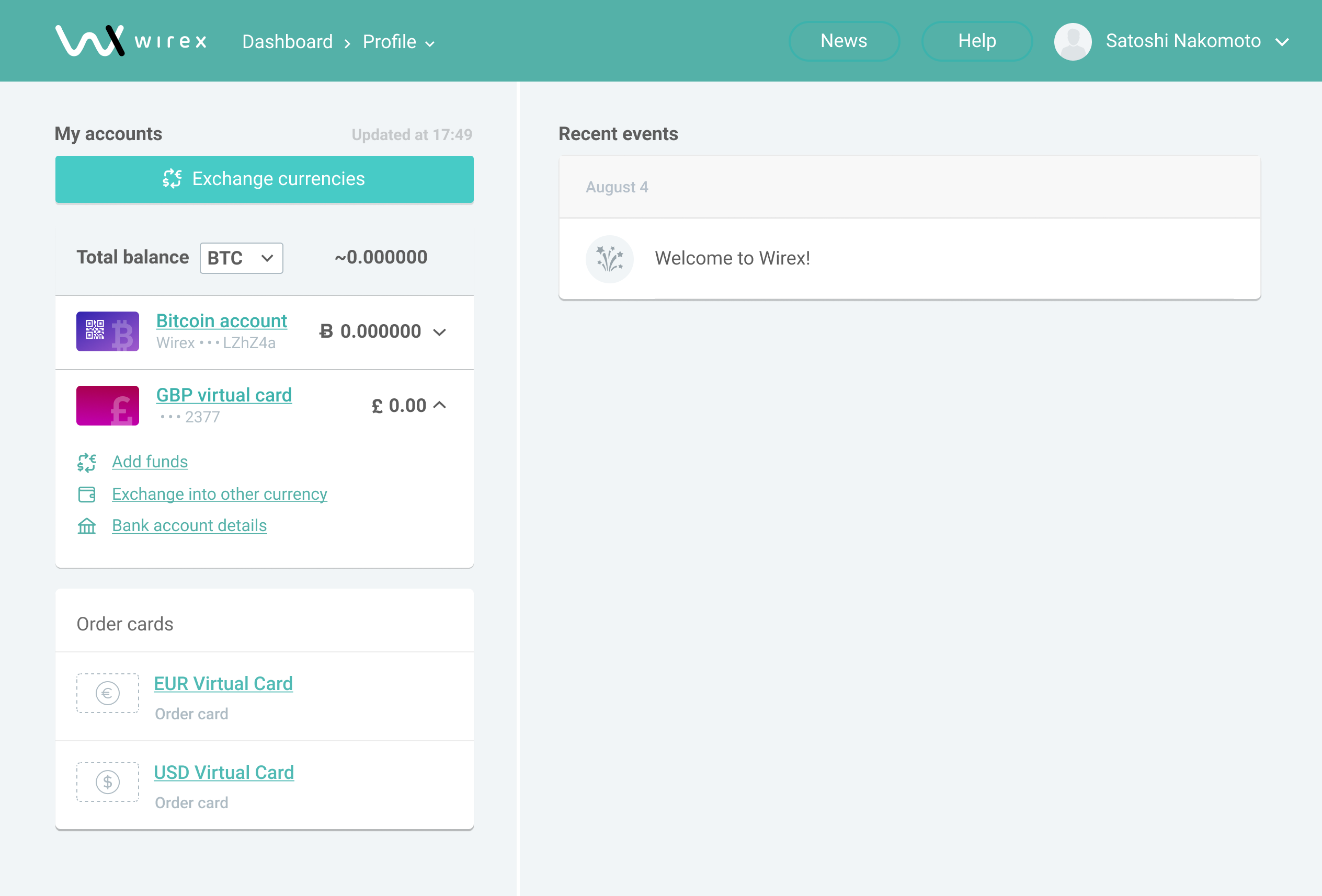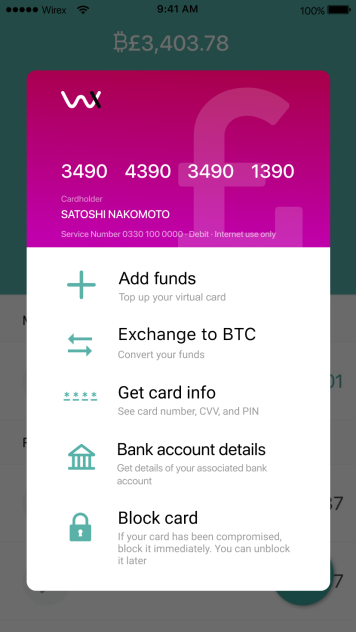 It's not a prepaid card. It's a real debit card. Which means lower fees and higher limits. If money is in your account, it's immediately available on your Wirex card too. No top-up or loading necessary.
The plastic Wirex Contactless Cards will soon (hopefully) enter the manufacturing process so we'll have updates on those soon for account holders.
Securely manage your money
With our hybrid crypto-friendly personal finance solution in place, you can sleep with ease knowing your money is secure. With a growing dedicated security team, we'll have extra measures in place to ensure we are working hard and smart to protect your money. Furthermore, our new cards will be Verified by Visa (3D secure) to improve the security of online payments.
We'll be gradually rolling out multi-currency features to enable you more flexibility to control your money. And with a Wirex account you'll have higher limits for buying bitcoin and other cryptocurrencies as we add more crypto wallets to our platform.
Available in dozens of countries worldwide
Opening an account is easy. Log in to your Wirex account (mobile or desktop) and request a FREE virtual card. Your card will be created along with your new currency account.
This feature will be made available to individual Wirex account holders in batches based on the support team's capacity to confirm the accounts.
As soon as the personal finance services are available in your country, you'll receive notice by email and in the new app message centre announcing 'Account Access Granted'.
A list of currently available countries will be confirmed as soon as the currency account services are released.
If your existing Wirex account is already verified, we'll set up the currency account and notify you once it's ready.
If your Wirex account is not yet customer verified, simply submit your documents (proof of ID and address) and our new verification process will take between a couple of hours and a couple of days to get you approved.
Verification is a vital first step in being given access to the personal finance features, so we encourage you to go through the verification process now so that you're positioned at the front of the queue when we begin our public advertising campaign for new accounts soon.
That's all we're saying for now
We know you must have a tonne of questions. Join our waiting list and you'll be the first in line for the latest updates as our 2018 road-map of features is rolled-out.
Yes! Let me know the moment Currency Accounts are available
Until now, it's been tough (and rather complex) to buy, store, and spend any form of cryptocurrency. The crypto community has been hoping for a solution to the financial and legal barriers.
Our entire team of designers, developers, compliance, content, and legal department are hard at work putting the final touches onto a platform that unites our new world of cryptocurrency with the traditional systems of everyday personal financing.
Visit the Wirex customer community forum below and help support the global conversation for cryptocurrency adoption.