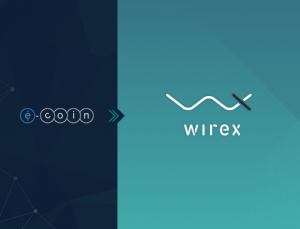 We are in the final stages of the E-Coin to Wirex rebranding. The official and final announcement will be circulated soon. This article answers some common questions about the change from the E-Coin platform to Wirex.
Q: I am an E-Coin user. I have an E-Coin card. Do I have to create a Wirex account to continue using my card?
A: No, you don't have to create a new account. All E-Coin accounts and cards will be 100% compatible with your Wirex account.
All you have to do to prepare for this migration is update your deposit addresses. This is applicable if you usually use the same bitcoin address to receive funds. Please read the full notice here.
Q: I would like to use Wirex. When will the Wirex platform start operations?
A: Thank you! You don't have to wait. Start using Wirex now by registering at http://e-coin.io/ (desktop), or through the Wirex app (mobile). Also, almost all of Wirex's services are already available through the E-Coin platform.
Q: Are the Wirex and E-Coin cards the same or different?
A: The Wirex and E-Coin cards are the same. Newly issued virtual and plastic cards will be Visa. See the benefits of both types here.
Q: Can I use my E-Coin account with the Wirex app?
A: Yes, E-Coin login details can be used with the Wirex app. You can download the app from these links: Android | iOS.
Do you have further questions about the E-Coin to Wirex migration? Tweet us at @wirexapp!