Utilize diverse onramp providers to deposit cryptocurrency into your wirex account.
1. Sign in to your Wirex account on either the app or web platform.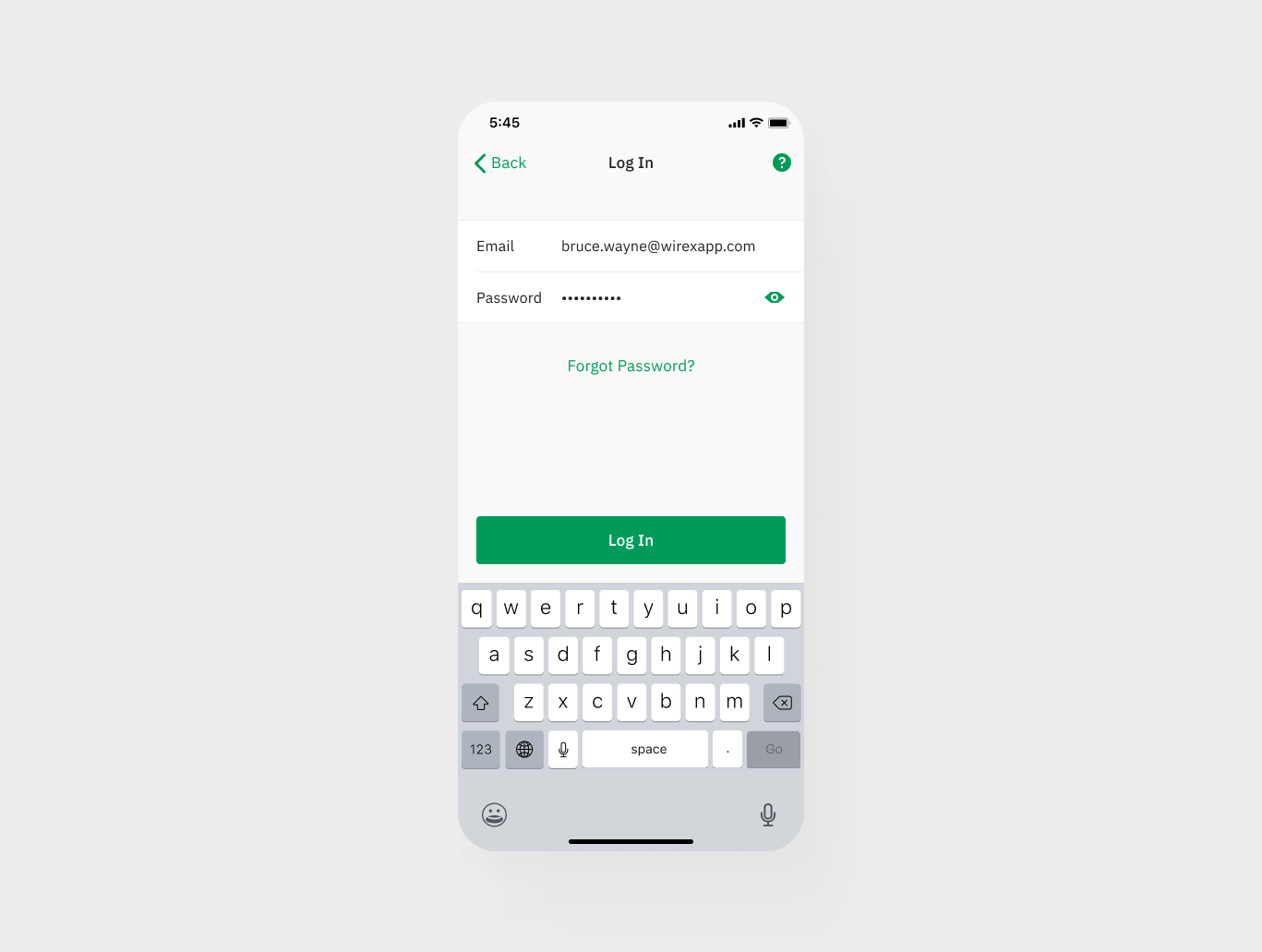 2. You have the option to fund your cryptocurrency account through two options: via the dashboard or directly from your crypto account.
a) From the Dashboard click the "Buy" button.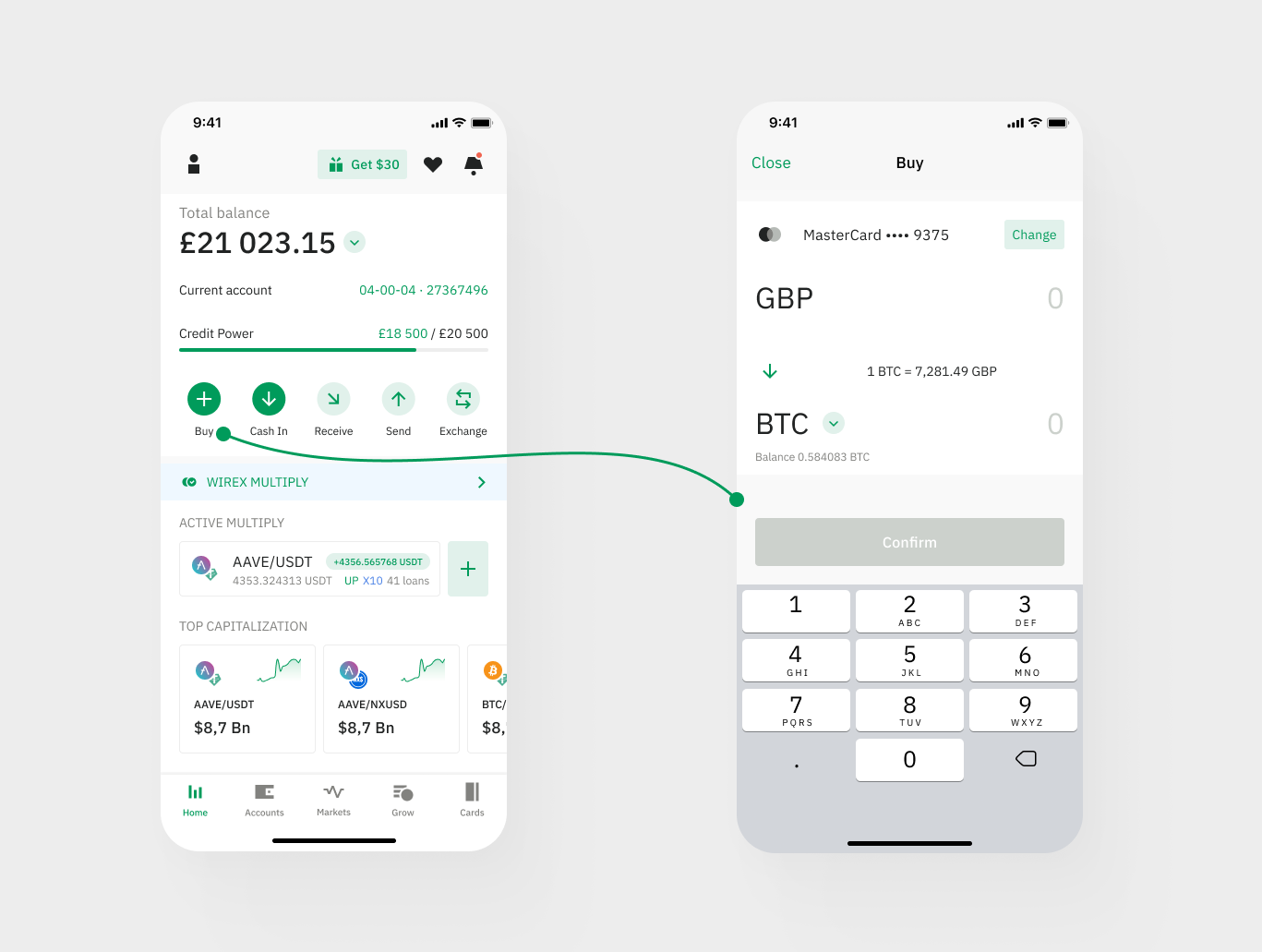 3. Click "Change" button to select the "Secure Deposit" Option from Common Section.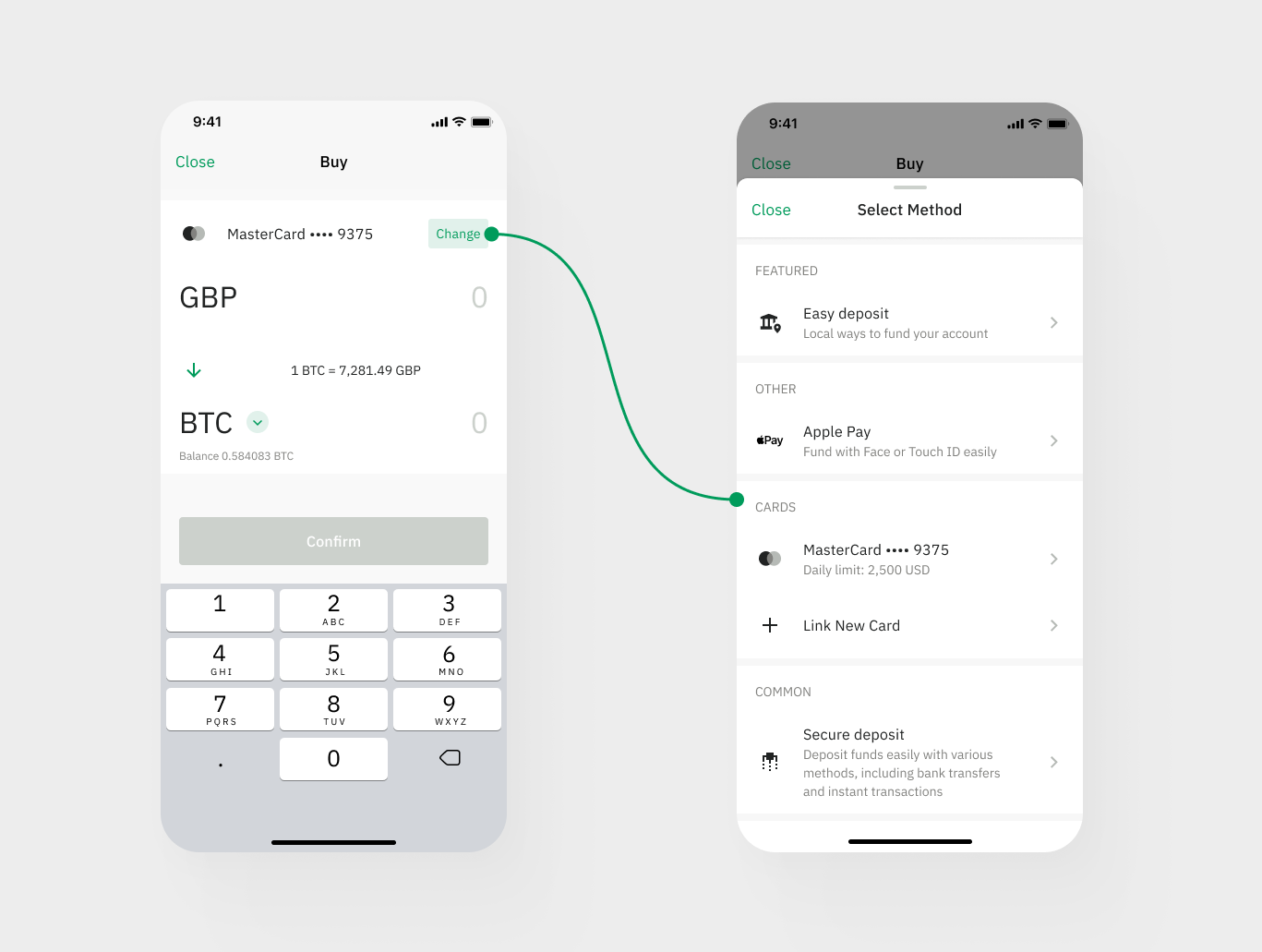 4. Once you select the "Secure Deposit" option from the Common Section, you will be automatically redirected to the top-up page.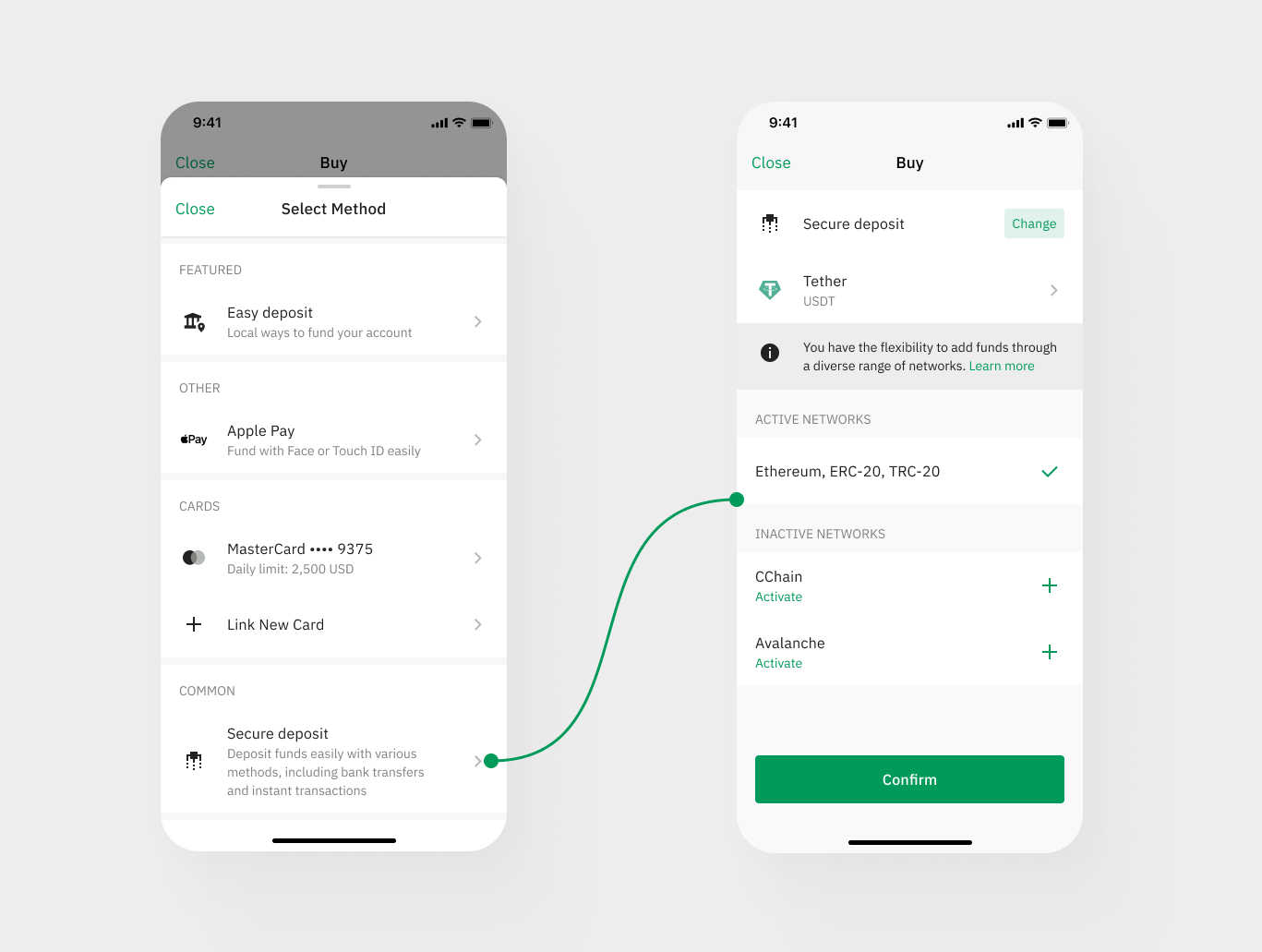 5. You will see the lists of networks which are divided on "Active" and "Inactive" in case you will have Inactive networks for you selected Cryptocurrency.
Please note that to offer the broadest range of onramp options to provide the lowest fee, it is advisable to activate all available networks for the selected cryptocurrency.
6. You can proceed to the onramp selection widget by clicking "Confirm" once you are satisfied with your chosen networks.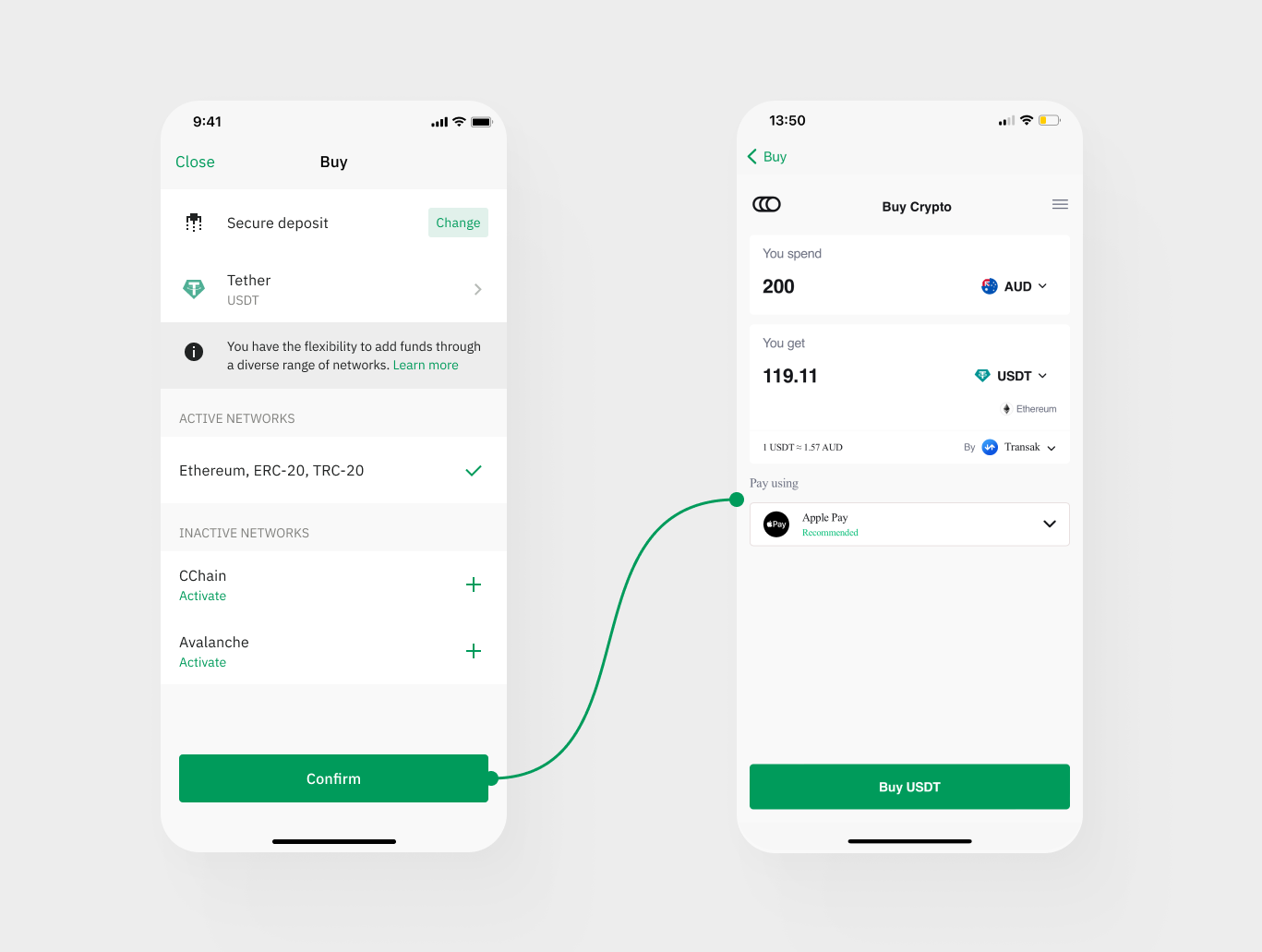 7. Set the amount and currency or change currency to the desired one
8. In the "Pay using" dropdown, you should select the most convenient payment method available in your country.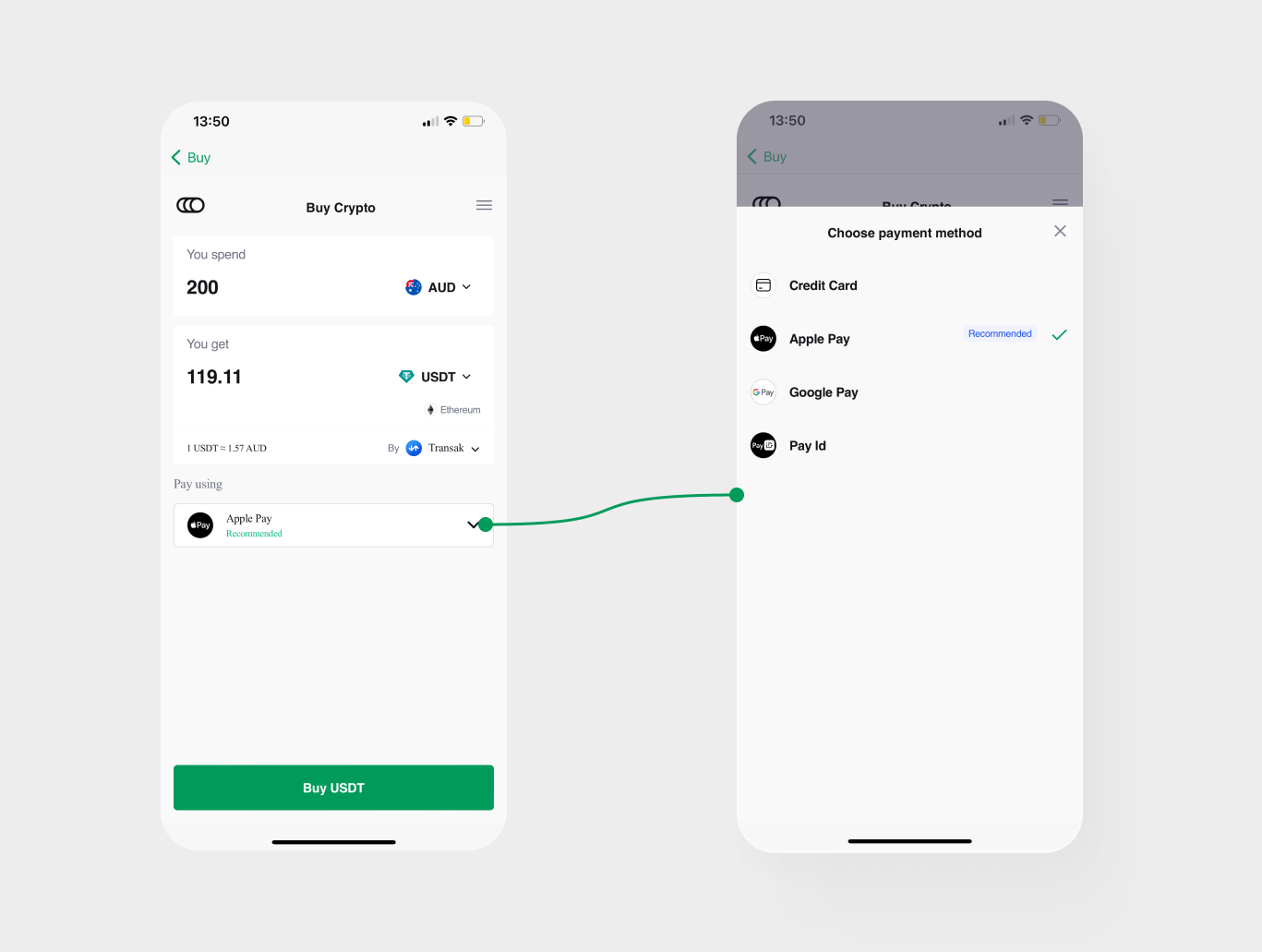 9. Once you have selected the suitable payment method, you will be presented with the best matching onramp providers.
10. Expand dropdown to see more onramp methods.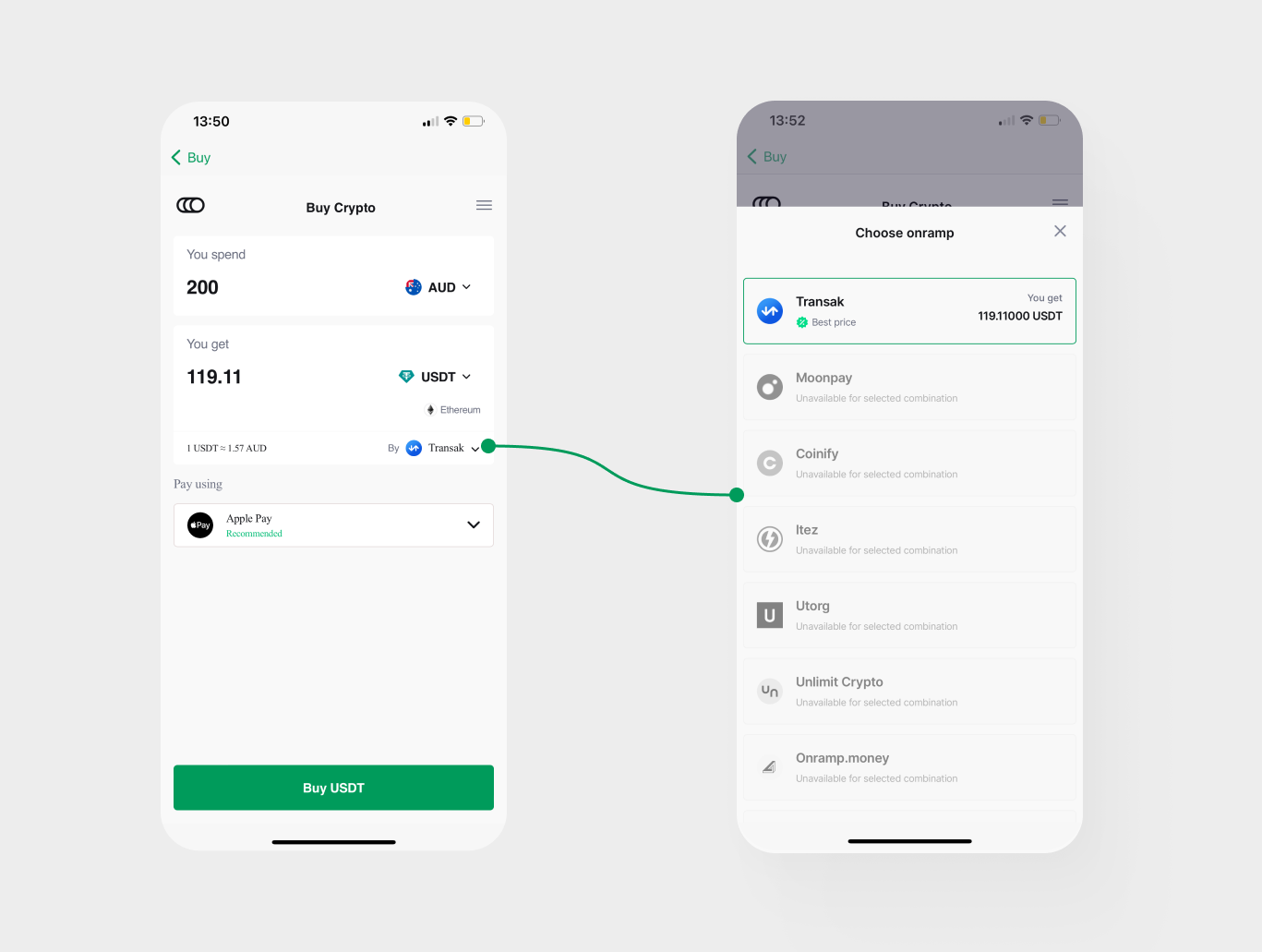 11. Once you are comfortable with selected method click "Buy" button.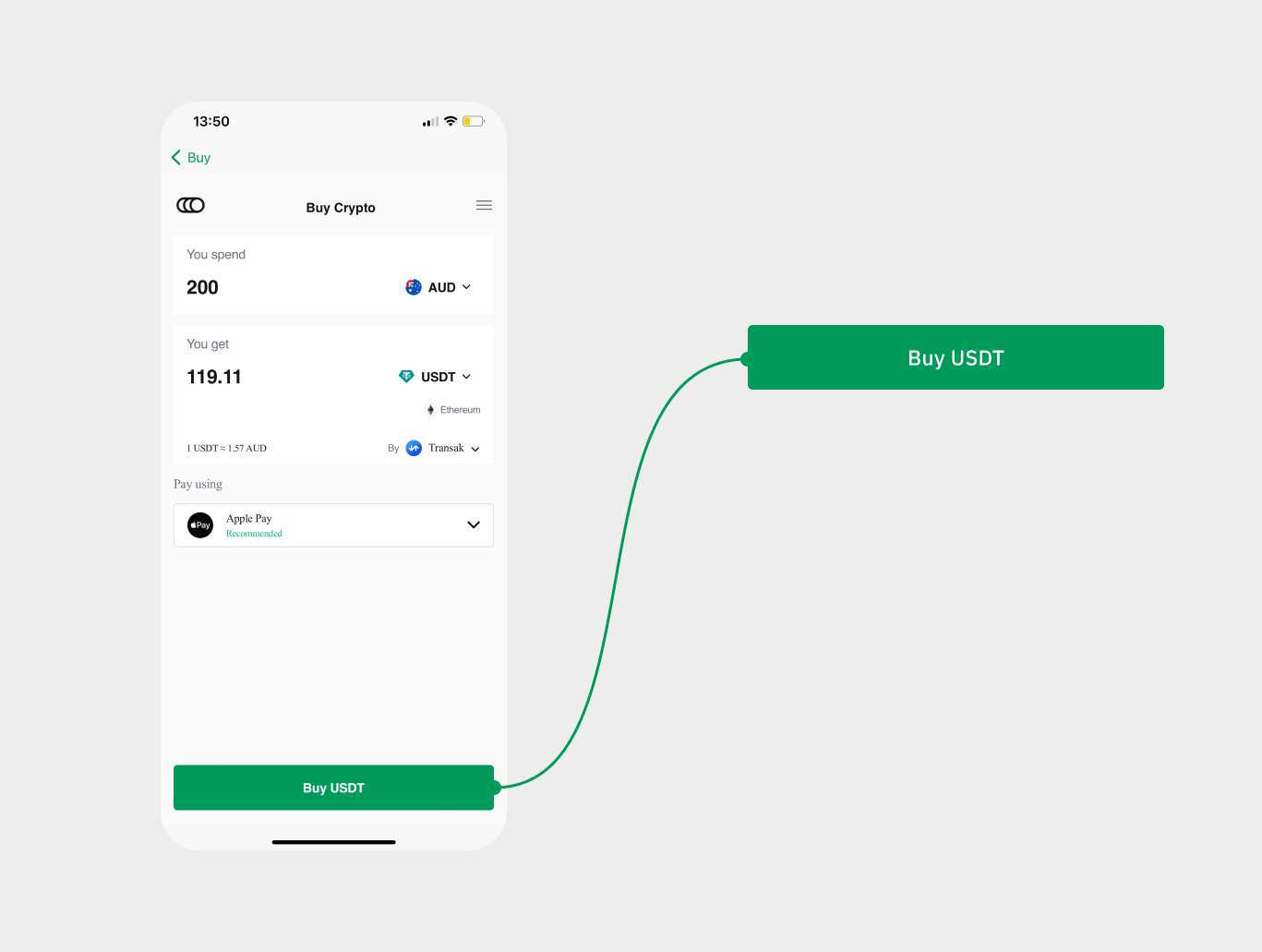 12. Please take a moment to review the rates and fees before confirming your payment.
13. Continue with further steps defined by selected onramp method.
14. Various onramps, depending on the transfer amount, may request you to undergo KYC on their end.
15. After payment is done you should expect your funds on Crypto account.
16. Please bear in mind that the duration required for your deposit to be reflected in your Wirex account will vary based on the network speed and confirmation prerequisites of the cryptocurrency you are depositing. This process may take a few minutes or, in some cases, longer.
Identification and KYC Process

Why identification is needed?
Personal information, such as name, address, or even an ID upload, might be requested during the transaction process for compliance with Know Your Customer (KYC) Regulations. Neither Onramper nor Wirex stores the information filled in when transacting with a relevant onramp through the platform. The same applies to any documents or photos uploaded. Instead, everything is sent directly to the onramp that facilitates the transaction. As such, there is currently no assurance that the same information and documentation can be reused across various fiat onramps.
How long does ID verification take?
In almost all cases, complete KYC verification is done before the transaction is completed. However, in rare cases, manual enhanced due diligence is conducted by a fiat onramp, which can take a few minutes to a few hours. It could be the case that, based on this enhanced due diligence, additional information is requested. In such a case, information will be communicated through email.
Why the document is not accepted?
Information on why the document is not accepted is provided in the buying-flow itself before completing the transaction. If necessary, assistance can be obtained from the onramp used for the transaction. In rare cases, manual enhanced due diligence is conducted by a fiat onramp after the payment is submitted, which can take a few minutes to a few hours. It could be the case that, based on this enhanced due diligence, additional information is requested. In such a case, information will be communicated via email. Instructions on how to proceed can be found in the email received.
Is it necessary to undergo KYC multiple times?
The initial crypto purchase requires the completion of the fiat onramp's Know Your Customer (KYC) process. This process can be accomplished without leaving your page. Subsequent purchases from the same onramp do not necessitate a repeat of the KYC process. The information filled in during crypto transactions through an onramp is not stored by Onramper or the Wirex. Your information is directly transmitted to the pertinent partner facilitating the transaction.
Transaction issues

How long does it take to receive crypto?
Typically, credit card payments undergo swift processing, with most transactions completed almost instantly. Cryptocurrency transactions, on the other hand, usually arrive within a timeframe ranging from 10 to 60 minutes after the transaction is submitted. Occasionally, certain transactions may require a few hours for processing. Bank/wire transfers and ACH transactions may take varying durations, spanning from a few hours to up to three (business) days. In instances of high network congestion, particularly with Ethereum, on-chain transactions may experience delays. Bitcoin transactions, as a general rule, typically take up to an hour to finalize.
The credit card has been charged, but the cryptocurrency has not been received.
If you used a credit card for payment, your funds remain in your account until the cryptocurrency is dispatched. In the event of any issues, the temporary charge on your card or account is lifted.
Should you experience a longer-than-expected delay, you can verify the transaction status using the link provided in the email (if supported by your chosen onramp). The transaction tracker will inform you of any additional steps required or if your payment method has been declined, resulting in a failed order. It's usual for credit card transactions to take a few hours in some instances.
Cancelation or refund process
After the initiation of a transaction, refunds or cancellations are typically not an option. However, this policy varies among different fiat onramps. It's important to note that neither Onramper nor the Wirex is engaged in the transaction process between you and the onramp. Therefore, it is advisable to review the end-user terms of the specific onramp from which you are purchasing cryptocurrency.
'Pending' payment status
When a credit card is selected as the payment method, and an order is placed with Wyre or Moonpay, that party will initiate a temporary pre-authorization on the card, reserving the appropriate amount of funds for the transaction. In contrast to an actual transaction, a pre-authorization doesn't deduct funds from the account; instead, it temporarily holds those funds until the transaction is submitted for processing. Pre-authorizations will be reflected on the statement as "PENDING" and do not constitute an actual charge. The purpose of a pre-authorization is to validate and ensure the validity and functionality of the chosen payment method, confirming that there are sufficient funds to cover the transaction's cost, while other verification processes are completed (such as identity confirmation).
Transaction is declined after a pre-authorization has been initiated on the card?
If, for any reason, the transaction fails or is canceled, the pre-authorization will be revoked. Depending on the bank, the pending transaction may vanish on the same day, although in certain cases, it might take up to 10 business days. Be assured, there will be no charges for unsuccessful transactions, and funds will not be deducted from your account.
Why does credit card not work to buy crypto?
Please ensure that you've thoroughly reviewed all points on the checklist provided to avoid any oversight. Kindly exclude the possibilities mentioned in the list to guarantee a smooth and accurate transaction.
Credit card transactions can encounter various issues. For credit card payments, common reasons for order failures include:
Use of someone else's credit card

Incorrect billing information

Insufficient balance on the credit card

Rejection of credit card authorization by your bank or the card issuer, or restrictions preventing crypto purchases. Unfortunately, this is not uncommon. In such cases, consider using a different card or contacting your bank to confirm the legitimacy of the transaction.

Identification as a suspicious user due to irregular usage patterns, which can happen when experimenting with different cards, using VPNs, or entering unconventional combinations of country, fiat currency, and nationality.

Exceeding maximum buying limits.
If you encounter any challenges during the process of depositing cryptocurrency into your Wirex account, feel free to contact our dedicated Customer Support team for prompt assistance.