8 Ways to Ring in the Year of the Rabbit Like a Pro
Celebrate like a pro by increasing your X-tras plan to unlock 8% Cryptoback™ Rewards, nibbling on tasty delicacies, and dressing up in LNY bargains

Sending e-Ang Baos, save your Ang Baos and maximise your interest with X-accounts Plus, and learning a few key phrases in Chinese are more ways to celebrate



Lunar New Year (LNY) is a time for celebration and spending time with loved ones, and this year marks the Year of the Rabbit. People born in the Year of the Rabbit are noted for their gentleness, compassion, and diplomacy, according to Chinese astrology. Here are a few tips to remember if you want to celebrate LNY like a pro:
1. Look the part
When better to look your finest than when you're dressed up? Don't forget to include red in your New Year's attire since, in Chinese tradition, it conveys more than just good fortune; it also communicates pleasure, beauty, and prosperity. While you're there, benefit from Shein's CNY deals on clothes and accessories.
2. Upgrade your X-tras plan to unlock 8% Cryptoback™ rewards
Upgrading your X-tras plan is one way to make savings and get your finances started correctly for the year because not only do you earn rewards on in-store purchases, but you'll also earn rewards on online transactions.
3. Rack up the snacks
Without having your hands continuously stuffed with snacks, LNY wouldn't be the same so make sure you have a ton of munchies available for you and your loved ones to enjoy. There are so many delectable things to pick from, including chocolates, fruit, fried rice, and dumplings. Consider purchasing healthy snacks from Boxgreen, and don't forget to pay with your Wirex card to get those tasty benefits while you're doing it.
4. Grow your Ang Baos with X-accounts. Accumulate interest passively.
Consider putting your ang bao in X-Accounts rather than using it straight away or letting it sit dormant. By doing this, the funds can earn interest over time of up to 20% APR, providing you with an additional financial boost in the future and helping you build prosperity.
5. Order in
If you don't feel like cooking for a large gathering, try ordering in from your favourite Chinese restaurant. This not only saves you time and effort, but it also allows you to earn rewards on your online purchases with your Wirex card. Simply key in your 16-digit Wirex card number when you checkout your cart.
6. Send e-Ang Baos
New year, new ways to give Ang Baos. This not only saves trees, but it's also a quick and modern method to trade money with family and friends. In fact, the Monetary Authority of Singapore (MAS) is encouraging people to utilise e-Ang Baos instead of new notes to prevent carbon emissions and waste of resources.

Also, did we mention that it's free to send stablecoins on Wirex? Simply get your friends and relatives to sign up, deposit, and choose how much you wish to send. You can even give more auspicious numbers like $8.88, $18.88, or $888.88.
7. Blessing guaranteed to impress your relatives
Most of us are familiar with typical Chinese New Year greetings like (xin nián kuài lè or Happy New Year). Why not take advantage of the Chinese New Year to learn a few words and surprise your friends and family with your improved language abilities? To assist you, below are five sentences with hanyu pinyin pronunciations and meanings: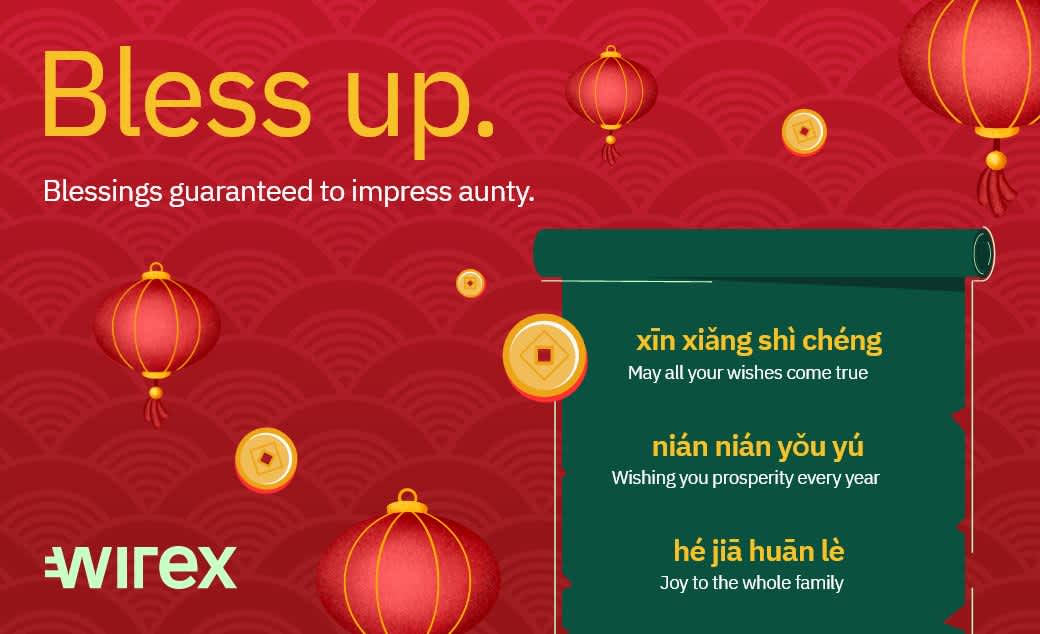 You can thank us later.
8. Tai Chi questions from your relatives and travel instead.
As much as you may look forward to family reunions, the prospect of dealing with inappropriate queries from nosy relatives may be unpleasant. Since borders are open now, why not travel instead so that you can just avoid those questions completely? Looking for travel deals, We've got you covered!
Book through any of these links and earn extra discounts or cashback on top of the rewards you'll earn when you pay by Wirex:
Up to 10% cashback on Booking.com: https://www.booking.com/?aid=2125231
Extra 6% discount: https://www.agoda.com/en-gb/c/wirex
*X-Accounts are made up of cryptocurrencies. Subject to the T&Cs and Privacy Policy