Confessions of a Litecoin enthusiast
Finally as of this week Litecoin is live on Wirex!
Its absolutely one of my favourite, favourite, favourite cryptocurrencies.
Personal friends know I own Litecoin and I think it has a good chance to become a household name by 2019.
Its faster than Bitcoin, cheaper than Bitcoin, lighter than Bitcoin.
Litecoin also went up in value about 5x more than Bitcoin in 2017.
5 times!
Just look at this graph on
our new Litecoin webpage.
If you havent already got the hots for Litecoin, subscribe to our updates and well send you our brand new 2018 Litecoin User Guide hot off the press in a few days time (its with the editor).
Litecoins Future
Rocket science isnt my kind of thing. Too much maths. Pattern recognition is what Im good at.
As a marketer I need to consider mass market consumer trends.
As a crypto enthusiast and trader, I need to look at innovation in blockchain technology and momentum in the price charts.
Both of these point to Litecoin (and very few other altcoins) having major potential in tomorrows digital economy.
Some believe the opportunity to invest in Bitcoin has passed as the price has already gone too high.
Well check this chart out.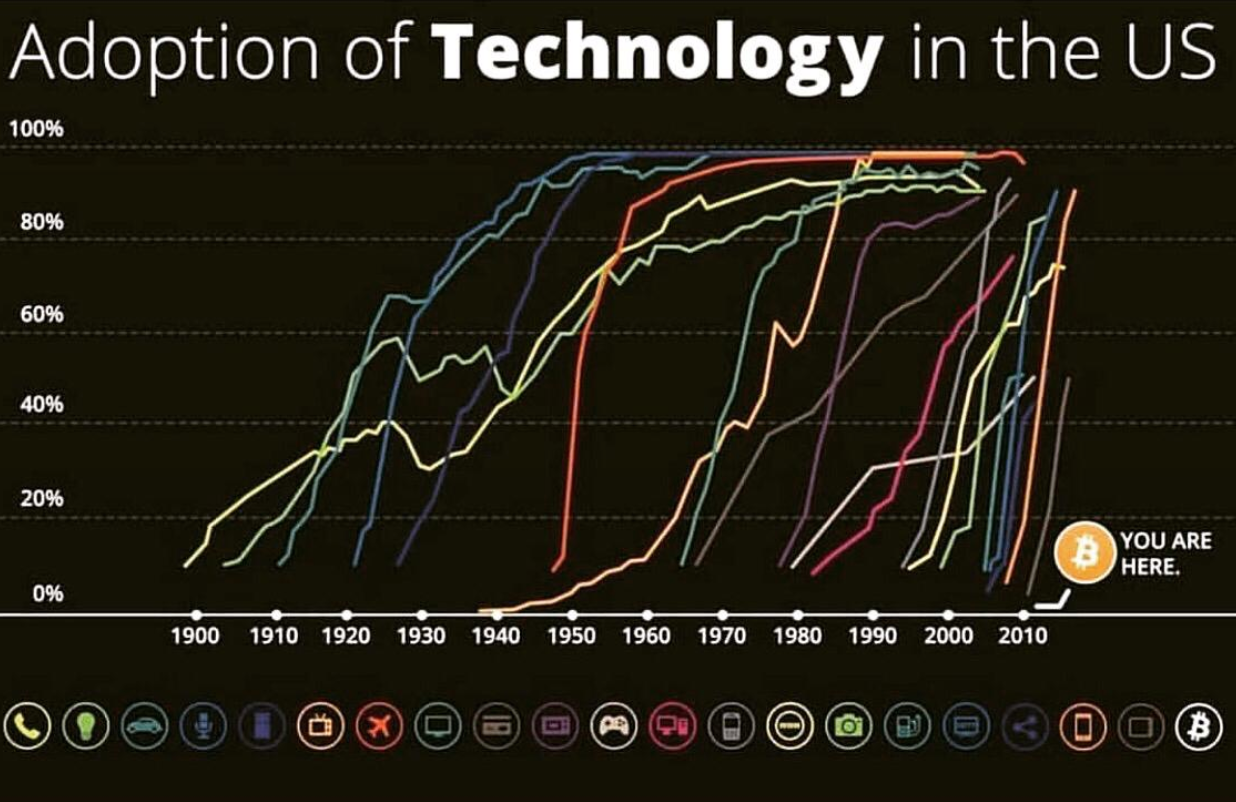 It shows that adoption of tech like the telephone, lightbulb, motor car, TV, aeroplane, and so on each became ubiquitous over time.
And the global adoption of cryptocurrency, represented by Bitcoin is barely at 2%.
Assuming the same degree of adoption, chances are were still at the beginning of a cryptocurrency mega-trend.
Why?
Because the underlying blockchain technology is so useful to modern digital global industry.
So lets play the what if game
What if Bitcoin grew to 10% adoption?
Could its $10k value go up another 10 times to reach $100k? Many commentators believe so and some even speculate on prices of $1,000,000.
So what about Litecoin?
The point is IF you are keen on crypto, AND have an appetite for risk, you may want to hedge your bets by diversifying across some of the major coins including the new addition to the Wirex wallet Litecoin.
Well have more to say about that in the Litecoin User Guide (with a few more crypto wallet integrations being worked on by our ninja Development team right now).
If youre brand new to crypto, its so easy to get started with Wirex. Im not just saying that. It is. Youll soon see.
Register an account. Complete the all-important KYC process (it stands for know your customer and is a regulatory requirement for consumer protection.)
Then either transfer some money to your new Wirex currency account, or attach an external bank cardto load your account and make an instant exchange into Bitcoin and/or Litecoin.
If you get stuck at all, contact us and well help.
Investment advisors would suggest to diversify. -As the adage goes, dont put all your eggs in one basket. Nevertheless dont count your chickens before they hatch. That is, some cryptocurrencies wont do well. Some will fail miserably, like many did in 2017.
Thats why Wirex is not becoming a trading exchange with flashing lights and risky tools for margin trading and red/blue buttons to gamble on short-term buy/ sell signals. No - were taking a different approach.
If you want true ownership of your cryptocurrencies, in a secure wallet, with an easy to use mobile app AND desktop account access, why go anywhere else? In fact, no other crypto providers come close to Wirex.
Plus, we have a few mind-blowing updates coming in May that are set to make you question why you even bother using your regular bank card for daily shopping at all.
Our customer community has waited patiently for 6 months for Litecoin integration.
And our brilliant Development team has worked to deliver that, where our competitors have failed, as well as other features such as the new contactless payment card, currency accounts, increasing security standards, in addition to making our service available in even more countries.
Slowly but surely, its all coming together beautifully as we strive to continue improving our service for our customers.
Be part of the global digital transformation.
Be at the forefront of mobile personal financial management.
Be crypto smart.