Crypto Spotlight: PancakeSwap
For Pancake Day, we're spotlighting our token, PancakeSwap

PancakeSwap is a decentralised exchange built on an automated market maker
CAKE is the native token used in governance and utility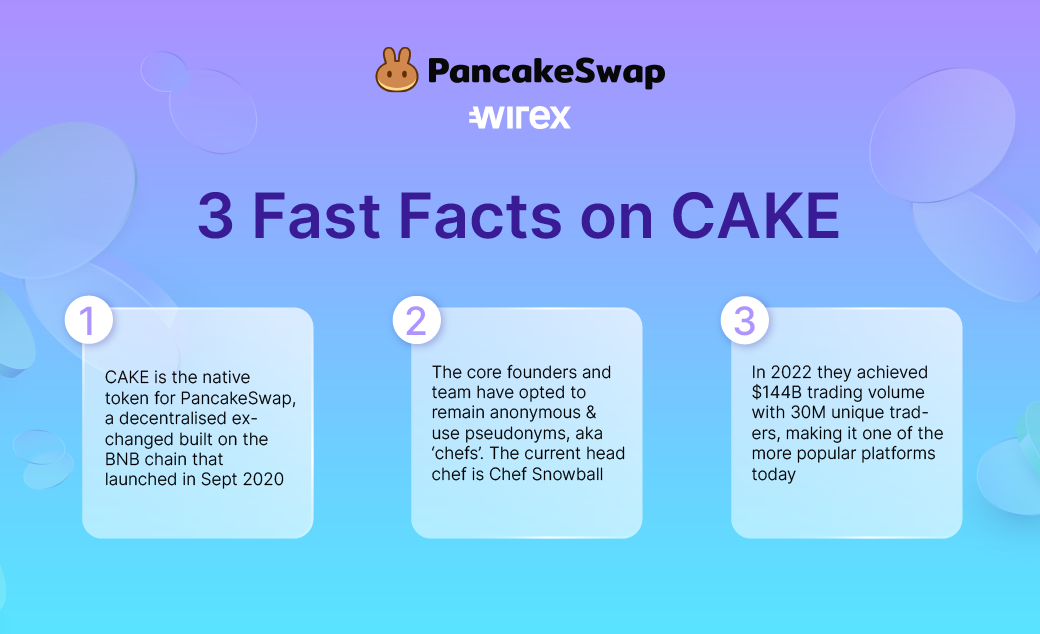 What better way to celebrate Pancake day (Shrove Tuesday) than by doing a spotlight on Pancake Swap.
What is Pancake Swap?
PancakeSwap is a decentralized exchange (DEX) built on an automated market marker (AMM) and run on BNB chain (formally Binance Smart Chain - BSC). The platform enables users to trade various cryptocurrencies in a decentralized manner, without the need for a centralized authority and swap BEP-20 standard tokens easily. In other words, it allows users to swap tokens amongst themselves.
Unlike traditional exchange models, the AMM model allows traders to use permissionless liquidity pools to swap digital assets. Those that decide to add funds to this liquidity pool are then given an LP (liquidity provider) token. If others decide to use this liquidity, they need to then pay a fee to the DeFi platform. These fees then get distributed back to those that have contributed to the original pool. Essentially, this AMM model lets you earn when funds are added to the liquidity pool. And of course, the more you contribute, the more coins you receive. In addition to staking and trading you can use PancakeSwap for yield farming, participate in IFOs (Initial Farm Offerings), collect/trade NFTs and partake in their Lottery which they hold daily.
Who created Pancake Swap?
The platform was launched in September 2020 by a team of developers using specific pseudonyms, starting with 'Chef' to differentiate themselves from the rest. The identity of the developers behind PancakeSwap remains unknown to the public.
What is CAKE and what does it do?
CAKE is the native token for PancakeSwap which is used not only in governance but also in utility. The main basis is that it rewards users who participate in adding to the liquidity pool. CAKE can also be used to gain further incentives by adding these tokens to, what PancakeSwap calls, Syrup Pools.
The platform has also created three additional tokens related to CAKE which are vCAKE (voting and governace) bCAKE (booster for CAKE yields) and iCAKE (increased IFO benefits).
What makes CAKE unique?
In a relatively short time-span PancakeSwap has risen to become one of the top DEX's in the crypto space. It's ability to give users options for passive income along with governance, low fees and more control over how they choose to trade/stake makes it a strong contender. And with nearly $4 billion in funds on the platform it's pretty hard to say otherwise.