Crypto Spotlight: XSGD
We welcomed our very first stablecoin, DAI, to the Wirex app back in 2019. Fast forward to 2022 and we're back at it again with not one, but six brand-new ones!
But what are they all about? Let's kick things off by taking a look at the digital Singapore Dollar, XSGD.
What is XSGD?
XSGD is the very first Singapore Dollar-pegged stablecoin. It's pegged at 1:1 to a reserve of Singapore Dollars and can be used as a stable store of value or to remove cross-border transaction fees.
Who created it?
XSGD was launched by the StraitsX platform, which was developed by Southeast Asian payment processing gateway Xfers, as part of their vision to bring a trusted, decentralised financial system to Singapore.
What can you do with it?
Like any other cryptocurrency, XSGD allows for faster, more secure transfers via the blockchain, with significantly lower transaction fees than those associated with traditional remittances. It runs on both the Ethereum and Zilliqa blockchains.
Being a stablecoin, however, means that it comes with the added advantage of being able to withstand volatility - you can use it in the same way as a traditional currency, without the fear of price fluctuations.
XSGD can also be used within a number of DeFi protocols and apps, to either trade or provide liquidity.
Of course, you can buy, store and exchange XSGD in the Wirex app, or even spend it in real life at exclusive OTC rates with the Wirex card.
Spending digital currencies in day-to-day life is just the start with Wirex! Check out loads of other great features here.
We're super excited to welcome XSGD to the Wirex family! This awesome new addition is now available to buy and exchange at exclusive OTC rates in the Wirex app.
To celebrate, we're rewarding you with some free WXT when you buy XSGD in-app. Simply buy at least US$50 worth of XSGD with your credit or debit card and you'll unlock US$5 in WXT!*
This is a limited time offer that ends January 13th, so verify your account and get buying today!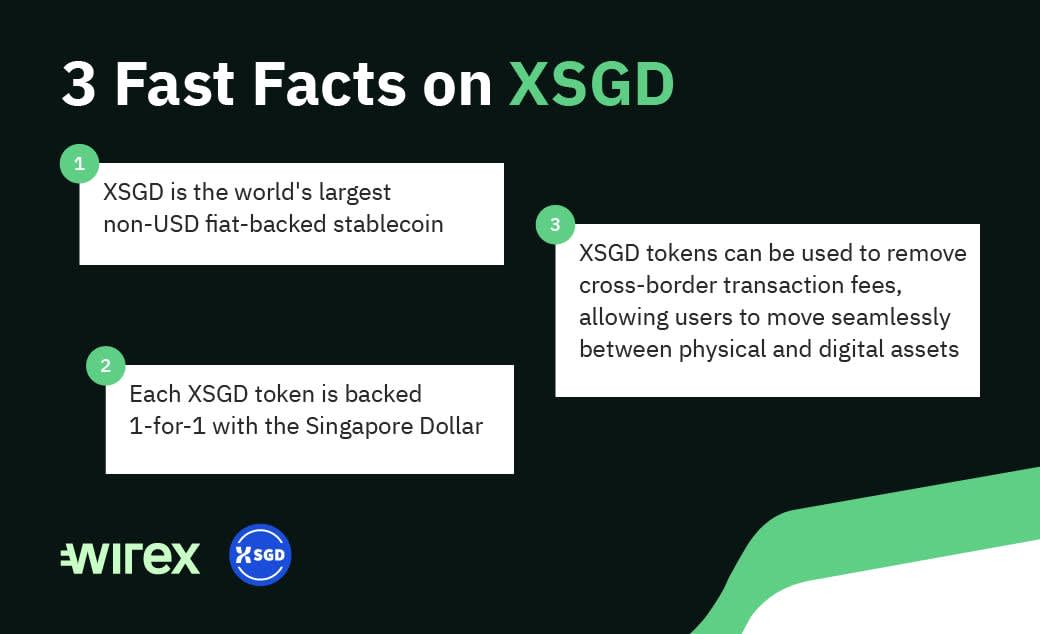 You can also use StraitsX to add XSGD to Wirex – here's how:
How to add XSGD to StraitsX from your bank account
Sign up for a StraitsX account and verify your identity through Singpass.
Add your bank account details and verify them by uploading a bank statement.
Make a bank transfer (you can use FAST transfers for this). Note: the "Notes/Comments" section should always be your phone number.
Deposit XSGD into your StraitsX account. Your SGD will automatically convert to XSGD.
How to add XSGD to Wirex using StraitsX
In StraitsX, select Link Blockchain Address.
Select Wirex as the type of address and ERC20 as the network.
Copy your XSGD blockchain address from Wirex and paste it to StraitsX.
Select Next.
Enter the amount and confirm. Done!
*Subject to Terms and Conditions