DUO: Deposit, Earn, Roll
DUO lets you easily earn up to 400% APR yield
All you have to do is deposit crypto, and reinvest your earnings for the chance to get higher rewards

You can now earn WXT when opening your first, fifth and tenth DUOs

We designed DUO with you in mind. It lets you easily and quickly earn up to 400% APR yield, with the maximum control, zero fees and guaranteed returns.
But how do you get started? It's simple, just follow these three steps:
Deposit crypto
To open a DUO, you need to choose a currency pair in the DUO tab in-app and deposit one of those currencies, such as BTC or USDT. To begin, transfer your chosen crypto into your Wirex account from an external wallet, or exchange it after transferring from your bank account.
Earn
Choose the duration of the DUO and the APR to receive. Once the DUO has closed, you'll earn one of the two currencies in the pair plus the APR generated during the period of the plan. They'll automatically be credited this into your Wirex account and will be available straightaway.
Roll
Reinvest the amount earnt back into a new DUO to seek further high-yield rewards. Alternatively, move the currency to an X-Account to begin earning passive income of up to 20% interest on the tokens.
How to earn with DUO
Earning with DUO is easy. Simply:
Go to the Grow tab in the Wirex app, and select DUO.
Choose a currency pair from the list of currency pairs available.
Choose which currency of the pair to deposit, the amount to deposit, duration of the plan & APR to receive in return, then tap 'Start Earning'.
Accept the DUO T&Cs by tapping Confirm.
Congratulations! You'll now see your list of active DUOs and can track their performance until the DUO closes at the end of the plan duration.
We've Revamped our DUO Rewards
We wanted to let you know that our rewards for DUO are changing, so you can earn even more just from opening a DUO. Find out more details below: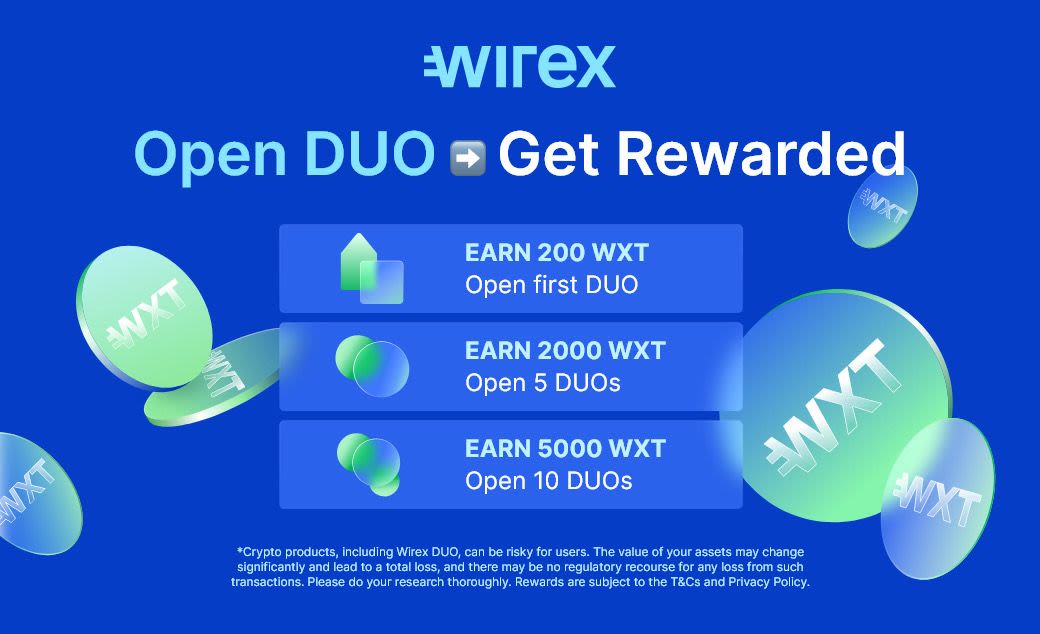 Whether you've opened a DUO already, or looking to open your first DUO, you can earn WXT bonuses!
For more information, check out our detailed post about how to open a DUO and some tips & tricks on creating a successful DUO.

*Crypto products, including Wirex DUO, can be risky for users. The value of your assets may change significantly and lead to a total loss, and there may be no regulatory recourse for any loss from such transactions. Please do your research thoroughly. Subject to the T&Cs and Privacy Policy.
** Please inform yourself about all aspects and risks of this product by referring to our Help Center. To find out more info, please read the T&Cs here.