Employee Spotlight: Jenny Kong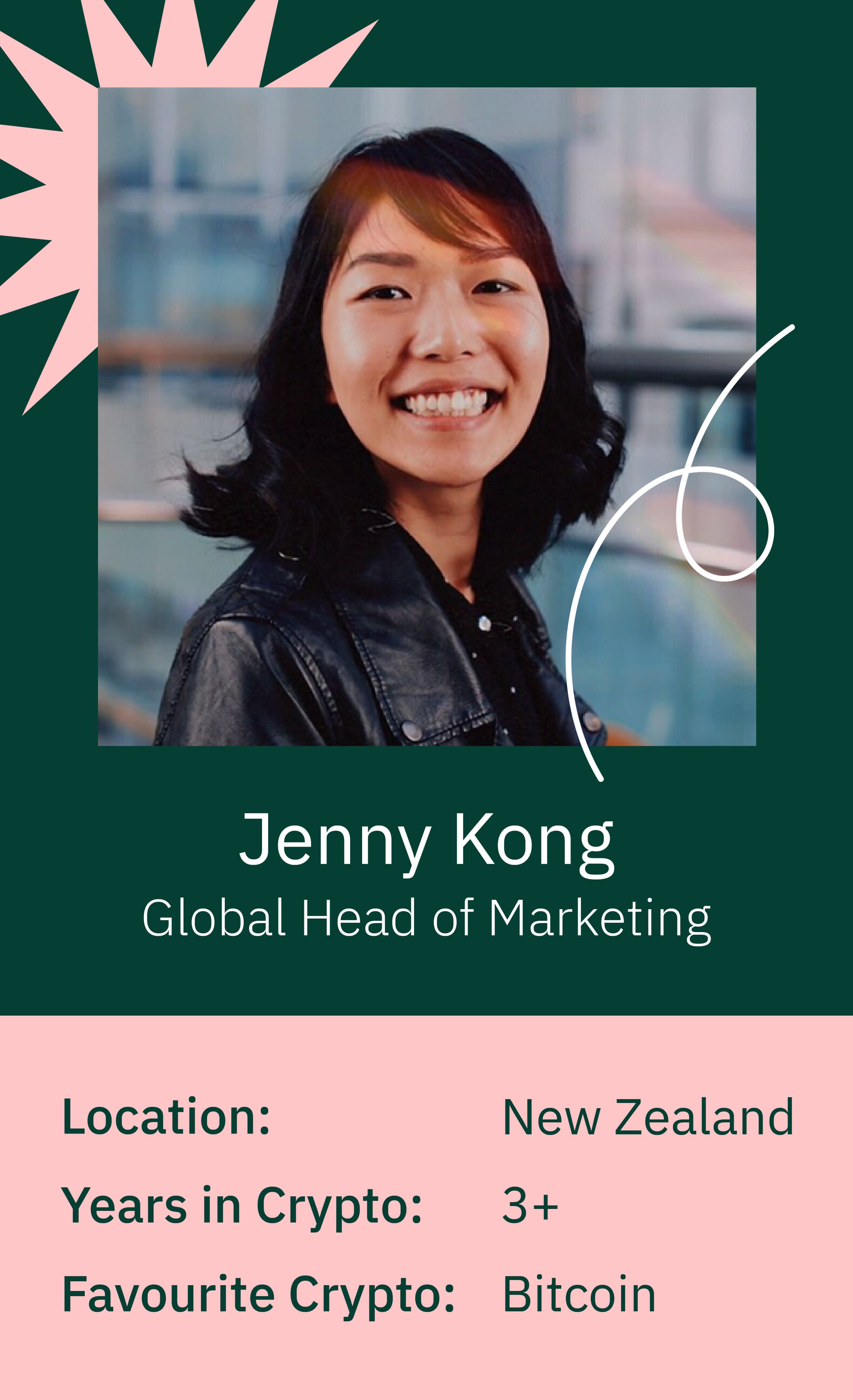 Today we announced that Wirex veteran Jenny Kong was appointed as the new Global Head of Marketing, following her success in several major campaigns, including co-founding Wirex's Rising Women in Crypto Power List. The 2020 Women in Crypto campaign may be over, but we think it's important to continue to celebrate the achievements of women working in the crypto sector all year round.
Jenny has worked in the marketing team at Wirex for over three years, building on the brand from its core crypto beginnings, and quickly rose through the ranks to lead an all-women marketing team. As someone with a lot of crypto experience, we wanted to sit down with Jenny to find out about her journey through the world of crypto.
How did you first get involved in the crypto space?
I grew up in a little (but mighty) country called New Zealand. When I first moved to London in 2017, I wanted to work in an industry that I wouldn't necessarily have had the opportunity to back home. I had only briefly heard of Bitcoin through friends (as it was during the 2017 bull run), when I applied for the Social Marketing Manager position at Wirex. There was something very exciting about working in crypto, being a part of something so new and transformational.
On my second day at work, Facebook, Google and Twitter actually banned all cryptocurrency related advertising which was a very interesting challenge. I've never had two same days in crypto since.
What achievement are you most proud of?
Co-launching the inaugural Rising Women In Crypto Power List and wider Women In Crypto campaign last year with our Comms Lead, Lottie. Early last year we were brainstorming ideas for International Women's Day and we had a hard time landing on something. We didn't want to settle on just a tweet and a hashtag. So, of course, our passion project turned into a 4-month long campaign celebrating the success of women all over the world in this industry - supported by media partners, thought leaders, video content, press coverage. It became our single most successful LinkedIn campaign because of the sheer number of people in the industry that shared our vision and supported our initiative.
Why do you think more women should get involved in crypto?
More women are leading household financial decisions or at least, sharing the decision making. I believe everyone should be armed with the knowledge and options available to them to help them make these decisions. Cryptocurrency can be an investment option. It can also be used as a means of payment – and can often be faster, cheaper and safer than traditional banking payments. There are incredible opportunities out there to empower women.
What advice would you give to someone who's interested in learning about crypto?
Do your research from trusted sources and watch videos/read articles digestible to you. I get that the technical jargon can be a bit overwhelming! But don't give up, there's resources out there that will resonate with you for that lightbulb moment. Our Wirex Works series hosted by our brilliant Community Manager Ali, is catered for beginners and could be a great place to start! Watch it here
This is just the start of a series of exciting blog posts where we'll be interviewing women from all around Wirex on their experience working in the crypto sector to show that anybody can get involved in crypto!