Financial Literacy: What it means & how we can help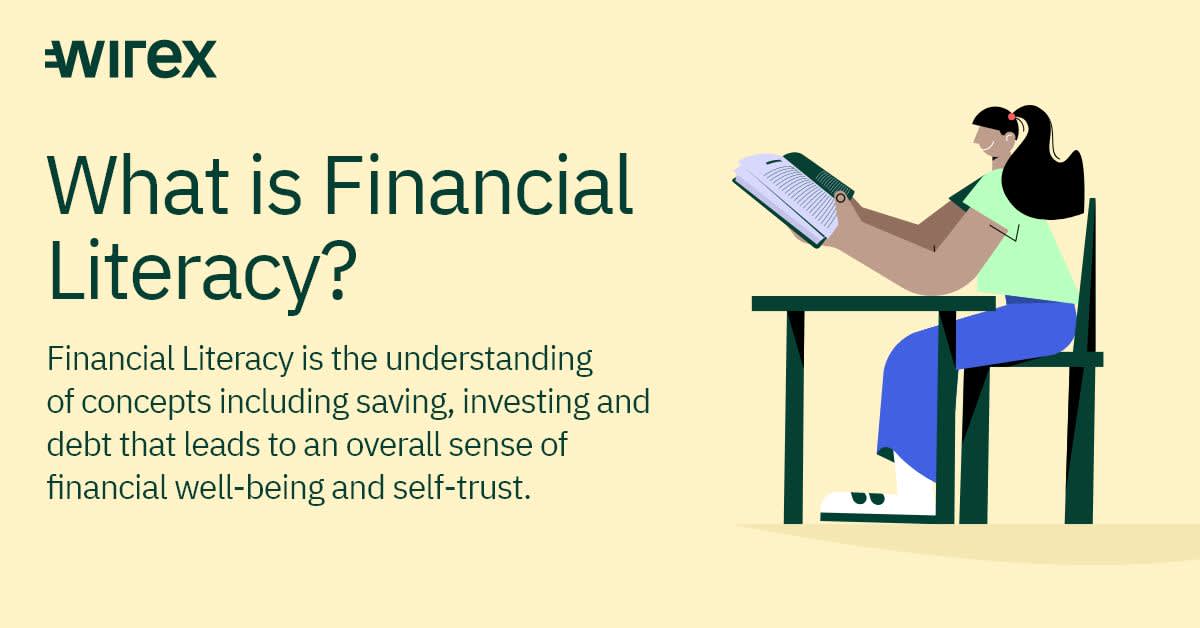 Today is International Literacy Day, a day which has been celebrated on the 8th of September every year since 1967. It marks the importance of literacy in society and aims to encourage people all over the world to develop their literacy skills.
We're taking this opportunity to raise awareness of a different, yet increasingly important, type of literacy: financial literacy.
What is financial literacy?
Financial literacy means having the skills and knowledge to make informed decisions about money. Being financially literate means you can confidently understand concepts such as saving, budgeting, investing, credit, debt and fraud.
Why is it so important?
You might be surprised to learn that only a third of all adults worldwide understand basic financial concepts, and only 24% of millennials understand basic financial topics. These statistics show just how much still needs to be done to educate people of all ages about their finances.
What can Wirex do to help?
Our mission here at Wirex is to widen access to cryptocurrency and DeFi (Decentralised Finance) - two things we believe represent the future of finance.
We design our products with this goal in mind - to give everyone the chance to experience the benefits of a digital economy, no matter how much or how little they know about it.
If you want to read more about DeFi and how it fits in with the Wirex vision, check out this blog post.
Get the most out of your money
If saving is not your strongest suit, there are a number of tools available to help you out. At Wirex, we offer a range of features which can help you get into good financial habits, from earning passive income to being a savvy shopper.
Cryptoback™ rewards: The Cryptoback™ rewards scheme was the first of its kind. Designed to make cryptocurrency accessible to absolutely everyone, it pays out a percentage of crypto on every purchase made with a Wirex card. And it all adds up - you can earn up to 2% in WXT, which you can then do whatever you like with: HODL it, exchange it or spend it with your Wirex card.
X-tras: Our futuristic rewards programme, X-tras, rewards customers in more ways than one. With three different price plans to choose from, you're in complete control. Upgrade to the Elite plan and you could start earning as much as 2% Cryptoback™ rewards both in-store and online, plus an annual Savings Bonus of 6% on the balance of your WXT account. You'll also get access to an impressive array of exclusive merchant offers, to help you save on everything from fashion and beauty to food and drink.
X-Accounts: Our brand-new savings tool is like nothing else on the market. X-Accounts let you earn up to 16% AER (yes, really!) on select currencies. All you've got to do is choose your currencies, open up to 10 X-Accounts in the Wirex app, add funds to them and name them after whatever it is you're saving for. You'll immediately start earning 6% AER on your cryptocurrency and 12% AER on your traditional currency, which is accumulated daily and paid out weekly. If you decide to be paid in WXT, however, you'll earn a staggering 10% AER on crypto and 16% on traditional currency! We don't believe in fixed terms or minimum amounts, either - it's up to you how long you leave your funds and how much you put in. Give it a go yourself - X-Accounts are simple, secure and completely free. Find out more about how you can boost your savings with X-Accounts here.