Happy Lunar New Year from Wirex
Welcome to the year of the Tiger! Lunar New Year is a time for friends and families to come together and celebrate the start of the new year. When it comes to finance, Lunar New Year may actually be more than just an occasion to exchange hong bao, it may be a significant indicator for the Bitcoin markets.
So, what does it mean?
For the past four years, the price of Bitcoin has always dropped in the run up to Lunar New Year – coincidence or a pattern? Many have speculated as to why this might be, whether it's due to the period of national holidays across Asia, meaning business takes a bit of a break, or perhaps people are cashing out their crypto holdings for some extra funds to celebrate with their friends and family.
Cashing out your crypto isn't the only way to make the most of your holdings this Lunar New Year!
In fact, some governments are suggesting that citizens take the digital route when it comes to exchanging money. The Monetary Authority of Singapore (MAS) has urged people to give e-hong baos or used notes instead to prevent new notes being wasted.
Luckily, Wirex is here to help with this too! Last year we launched our new Send Money to Contacts feature, making sharing funds with your network quicker and more efficient than ever.
Synchronise your mobile device's contact book in just one tap and you can start sending money straight to your friends' and families' Wirex accounts. No fees, no fuss.
You can find out more about Send Money to Contacts here.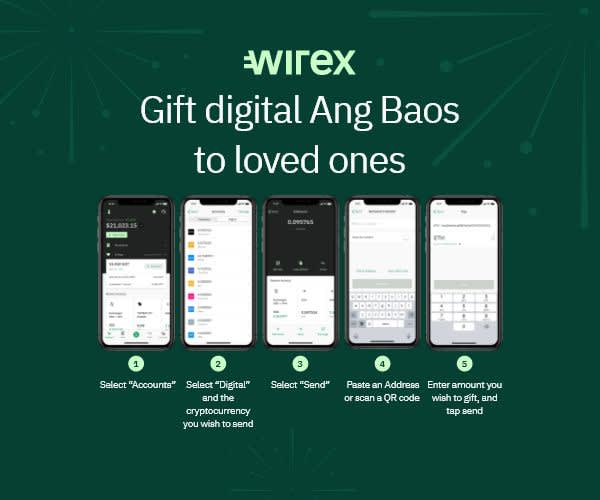 Other ways to celebrate with Wirex
Ready for Li Chun?
Li Chun is the first festival of the solar year. Known as "the beginning of spring", it's the time of year when we look forward to new beginnings.
It's also a day about good fortune. Many believe that depositing money at certain points during the day will bring in a steady income throughout the year. These are called "double huat" times and are based on your zodiac sign.
Want to get involved? With Wirex, it couldn't be easier. Simply add funds to your Wirex account or X-Account during your double huat time and you're all set!