How to Save with Wirex in APAC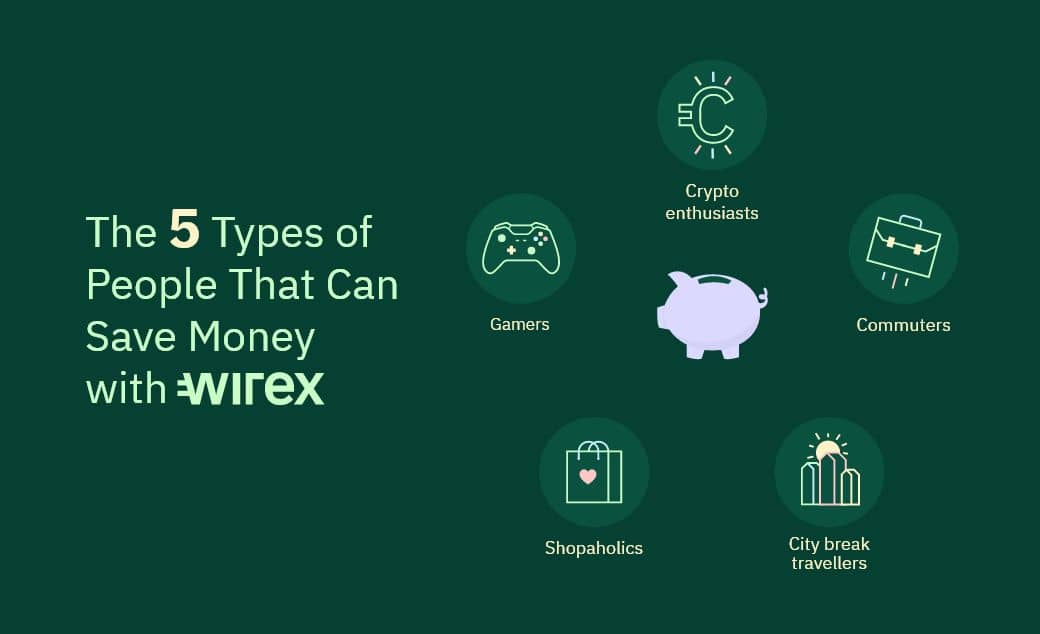 Now 2021 is fully under way, it's safe to say that many of us are happy to leave 2020 in the past for a multitude of reasons. With the financial effects of COVID-19 still lingering, and many of us seeking ways to save our hard-earned money in the first few months of this year, we've outlined a series of ways that Wirex can help you 'financially detox' from other non-transparent, difficult-to-use, expensive financial products.
Whether you're a city break traveler, frequent shopper or time-constrained professional, here's how Wirex can save you money if you're living in APAC:
Crypto Enthusiasts
Crypto enthusiasts could save up to 717 USD per year on exchange fees * - that's about 0.38 Ether or 140 Nano!
Whether you're a hardcore crypto fan, or new on the scene with Bitcoin, Ethereum, or WXT, Wirex integrates the next-generation of payments infrastructure and digital payments to empower everyone to take advantage of the benefits of cryptocurrency.
We've integrated with liquidity providers to find and provide best in-market cryptocurrency (OTC) and live interbank rates, normally reserved for large banks and exchanges, as well as offering low-to-no commission fees when purchasing any of the 8 cryptocurrencies that we offer on the platform (BTC, ETH, LTC, XRP, XLM, WXT, DAI, NANO). Not only this, but with the recent launch of our X-tras rewards scheme, those enrolled into the highest tier of the programme could earn 12% annual Savings Bonus on their WXT balance, with the potential to be given a huge amount back.
*Calculations based on the fees an individual would incur when purchasing the equivalent of 2,000 USD in Bitcoin directly using a bank card as a standard Wirex user versus a standard Crypto.com account holder in New Zealand (debit/credit card fees varies in different APAC countries). Fees as stated on Crypto.com's fee on help centre and Wirex's fees and limits on help centre (as of 15 March 2021). Value of Nano and ETH are calculated based on the rates reflected on Coinmarketcap (as of 15 March 2021; 12:50PM GMT+8).
City Break Traveller
Save up to SG$92.50 per year on foreign exchange fees when withdrawing at international ATMs vs. leading traditional banks* - that could cover a month of local public transactions fees!
Travel might not have been top of your priority list last year, but with a return to normality edging ever-closer, city break travel may well be back on the cards as early as July 2021 with the Singapore –Australia travel bubble being discussed. Pre-COVID, back in 2018, Singapore's tourism contributed SG$27.1 billion and came up as one of the top 5 destination cities based on their huge number of international visitors. Not only this, but Singapore tourists travelling outside of their country accounted for 10.38 million in 2018.
Regardless of if whether it's a weekend break in Sydney, or a longer-haul trip to Europe, with the launch of our new multicurrency Wirex travelcard, Wirex will help you save!
Having launched in November 2019, the travelcard is linked to 20 secure currency accounts in the Wirex app, allowing Wirex cardholders to seamlessly spend multiple traditional and cryptocurrencies, anywhere that accepts Visa Cardholders will reap the benefits by being given up to 2% in Cryptoback™ rewards for any in-store and online purchases. Most importantly, you'll have access to free international ATM withdrawals of up to SG$400 and zero foreign exchange fees at all times. For the traditional currencies available on our platform – Australian Dollar (AUD), Euros (EUR), New Zealand Dollar (NZD) and Swiss franc (CHF), as well as Hong Kong Dollar (HKD), British Pounds (GBP), US Dollars (USD) and Canadian Dollars (CAD), Singapore Dollar (SGD), Mexican Peso (MXN), Japanese Yen (JPY), Wirex users can instantly exchange currencies at interbank rates. Gone are the days when you needed to monitor exchange rates and rush to the post office or bureau de change to buy foreign currencies.
*Calculations based on actual amount of SGD a user would receive in comparison to HSBC and based on details provided on prospective webpages (as of 26 March 2021).
Gamers
Get 1,168 WXT in Cryptoback™ rewards on your game purchases for the year* - and get even MORE games on the PlayStation Store, Steam and Microsoft Store with Wirex
With the recent launch of Playstation 5 taking the world by storm, avid gamers can make the most of Wirex by buying their games using the Wirex travelcard, and with no monthly fees, it's a no-brainer. A recent study of gamers suggested that you could spend up to £16,000 across your life on gaming! Just by purchasing the latest game that everyone's talking about, whether it be Call of Duty, FIFA, Need for Speed or CyberPunk, the recent launch of our X-tras rewards scheme will allow you to earn up to 2% Cryptoback™ rewards on any of these purchases, in-store or online. From this, you can earn up to 12% annual Savings Bonus back* on all the WXT rewards you earn from Cryptoback™ rewards too!
As you can see, it's not just gamers that benefit from Wirex, but there's plenty of different people that can save with Wirex, so why not refer-a-friend and get rewarded 10 USD back?
*Calculations based on the rewards an individual would incur when spending 60 USD per month in-store for a year as an 'Elite' user with the Wirex card. Note, calculations do not take into account monthly 'Elite' subscription fee of 2,999 WXT. Full X-tras terms and conditions, and subscription pricing structure can be found here (as of 17 March 2021, 10:13 PM +8).
Shopaholics
Whether you're online shopping or window shopping, save up to 325 USD per year in transaction fees with Wirex!* - That's a whole new wardrobe!
If you love shopping and have a bit of extra pocket money to spend after Christmas, you don't have to feel as guilty about splashing out this month, especially if it's not in your home currency! With Wirex, you can take advantage of zero, that's right, ZERO foreign exchange fees if you love spending abroad. Last year, we saw Wirexers frequent everywhere from PlayStation Network to Burger King and purchasing their Netflix subscriptions with us!
Buy domestically and abroad, and you'll benefit from our Cryptoback™ rewards scheme, rewarding users with up to 2% back in WXT, and if international purchases are of more interest, then zero FX fees will be great in cutting back the costs.
*Calculations based on the fees an individual would incur when spending 250 USD abroad per week for a year with the Wirex card versus completing the same actions as a HSBC account holder. Fees based on HSBC wealth and personal banking tariff and the Wirex card offering zero foreign card transaction fees (as of 26 March 2021).
Time-Constrained Professional
Just by commuting to work, buying a coffee and a lunch everyday, you could receive SG$74.15 in rewards per year!* - That's a two month supply of coffee!
Let's take the average Singapore-based professional – Singapore's public transportation system handles around 7.54 million trips made on buses and trains each day with an average of 84 minutes commuting, so if you account for one of these trips, or use an alternative method of transport to travel to work, then Wirex can help you save.
As the first company in the world to launch a cryptocurrency rewards programme, Cryptoback™, it's definitely worth taking advantage of up to 2% rewards back for any of your daily purchases made in-store or online, available from our new X-tras rewards programme. By subscribing to an 'Elite' tier of X-tras, you'll automatically get up to 12% Savings Bonus on your WXT balance for the first 3 months, and 6% thereafter. Keep on top of any spending with instant notifications from your app, so nothing goes unnoticed in your busy lifestyle.
*Calculations based on the rewards an individual would incur on public transportation cost based on average cost of SG$150 per month and spending a further SG$7.50 in-store per working day as an 'Elite' user with the Wirex card. Note, calculations do not take into account monthly 'Elite' subscription fee of 2,999 WXT. Full X-tras terms and conditions, and subscription pricing structure can be found here.
So whatever your spending habits or priorities are, and whether you're a hardcore crypto enthusiast or fintech fan looking to manage your finances a bit better, Wirex is the payments platform for you.
Better yet, for the month of April, we're offering double Cryptoback™ rewards on all in-store and online purchases, meaning you could earn up to 4% WXT rewards back! (T&CS apply).