International bank transfers are now live in the Wirex Wallet
The Wirex Wallet offers secure, non-custodial crypto storage, direct access to DeFi-powered earning, cross-chain swaps and now instant international bank transfers, as well!
Customers based in Indonesia and Malaysia will now be able to pay using instant bank transfers and local payment systems from 20+ renowned banks, as well as debit/credit card or Apple/Google Pay, to easily buy crypto on blockchains including Ethereum, Avalanche and Polygon. With a direct on-ramp in place, this will save users large amounts of time, effort and gas fees without the need to exchange on other platforms.
We're continuing to develop our ecosystem for users across the globe, having released a series of new alternative payment methods for those living in India. Stay tuned, in the coming weeks we have plans to announce even more payment methods and new blockchains for the Wirex Wallet.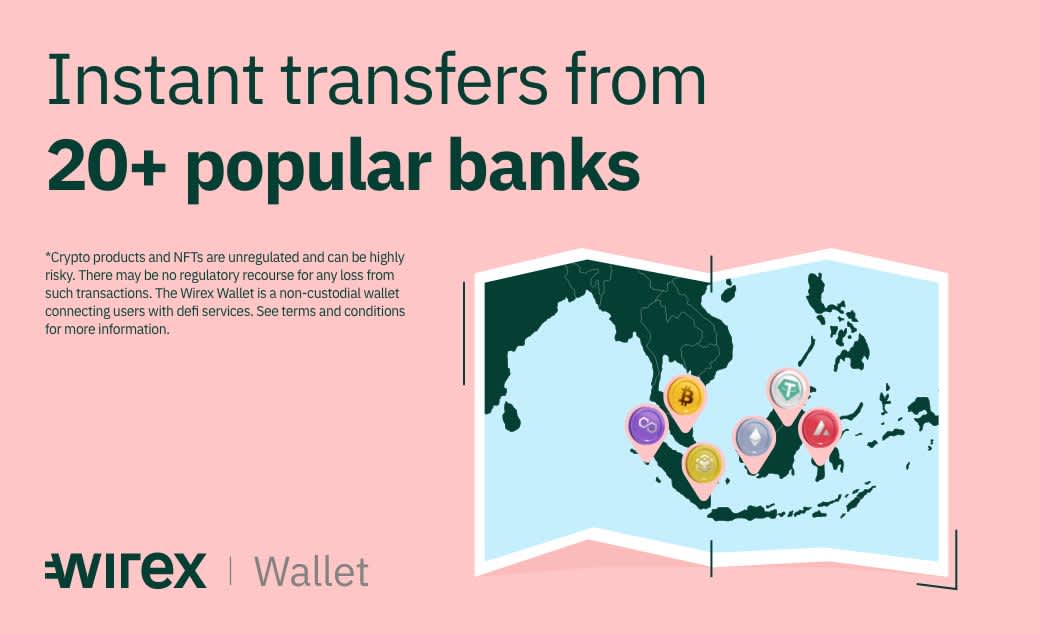 Why choose the Wirex wallet?
Here's what else the Wirex Wallet has to offer:
Next-gen security
The Wirex Wallet offers a super-secure way to store your digital assets. It operates a next-gen keyless entry system, secure multi-party computation (SMPC) technology and an innovative biometric back-up function.
High-yield earning power
Get direct access to DeFi protocols like AAVE and Compound straight from your wallet and unlock high-yield rates of 25%+ APY.
Multiple blockchains
Enjoy in-built support for multiple blockchains including Bitcoin, Ethereum, Avalanche, Polygon and Binance Smart Chain.
Cross-chain swaps
Effortlessly swap DeFi tokens across different blockchains, directly from your Wirex Wallet. Losing out to high gas fees? Simply switch to a different blockchain to maximise your earning potential.
Direct on-ramps
Say goodbye to hefty gas fees and lengthy processes when buying crypto. Purchase it directly on your blockchain of choice, thanks to crypto exchange service Utorg's innovative on-ramp functionality.