Litecoin comes to Wirex
The long awaited arrival of our new Litecoin wallet is here!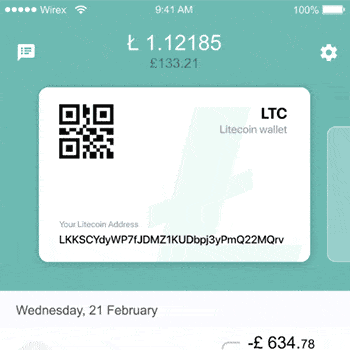 Customer polls last year revealed the popularity of Litecoin as a rival alternative crypto to Bitcoin.
We couldnt agree more.
Litecoin looks set to become one of the key cryptocurrencys used for daily payments.
Why Litecoin?
Its faster than Bitcoin, has lower blockchain fees and may become a global payment option available on dozens of big brand websites in coming months.
Our fully integrated LTC wallet allows you to:
Spend Litecoin by instantly converting into local currency like GBP, EUR or USD to spend with your free Wirex Visa Card
Buy Litecoin via your Wirex account, which can be funded by bank transfer, debit or credit card (high limits, instant purchase, easy account verification, fully secure)

Deposit dozens of popular altcoins for instant exchange into Litecoin (cash out ICO profits with ease)

Exchange Bitcoin for Litecoin or vice versa at any time (useful if you see positive or negative news and want to catch a sudden increase in BTC or LTC value)

Withdraw Litecoin to any other LTC wallet (including free money transfers or making purchases with Litecoin

Or use Litecoin as a payment option as major brands make it available (starting soon based on industry rumours)
Litecoin will be the first of several altcoin currencies available on the Wirex platform, giving you greater flexibility to exchange between cryptos and traditional currencies for trading, hedging, or daily spending.
The Wirex account keeps getting better and better
? GBP account number and sort-code
? Visa Cards available in GBP, EUR and USD ideal for daily use: secure payments online, in-store and cash withdrawal at the ATM (virtual cards available now and plastic cards will start being delivered to European customers in the first week of May)
? IBAN details to deposit from international wire transfer
? Add funds to your currency account via your bank debit or credit card (with instant exchange feature to buy Bitcoin or Litecoin) our exchange is 3D Secure for peace of mind
? Buy Bitcoin and Litecoin (as much as 7,500 at a time) from your currency account
? Pay with Bitcoin and Litecoin wherever accepted via wallet transfer
Verify your Wirex Account to buy Litecoin at the best rates today.