Meet the Judges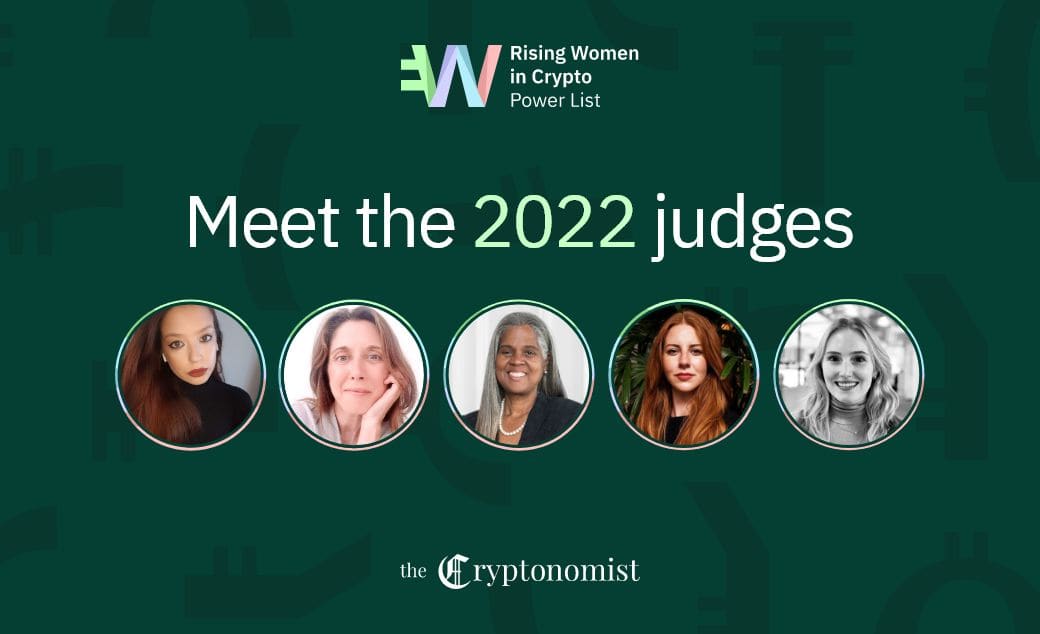 While we're still in the middle of collecting nominations from fantastic and talented women for the Rising Women in Crypto Power List, it's time for you to meet the judges!
These five female professionals across the crypto and blockchain industries will be drawing on their experiences to evaluate the expertise of all the nominees. Welcome to an all-star line-up of judges who will select the top 13 Rising Women in Crypto Power List finalists that will be announced on 8th November!
Amelia Tomasiccio
As an expert in digital marketing, Amelia began working in the fintech sector in 2014 after writing her thesis on Bitcoin technology. She's also previously an author for several international crypto-related magazines and CMO at Eidoo. Amelia is now the Co-Founder and Editor-in-Chief of The Cryptonomist, this year's media partner of the Women in Crypto campaign. Aside from that, she is a marketing teacher at Digital Coach in Milan and currently writing a book about NFTs for the Italian publishing house Mondadori,helping artists and companies to enter in the sector.
Diana Carrasco-Vime
Diana is the Non-Executive Director of Wirex and Managing Director of Merchant Services at Lloyds Banking Group. She brings 20 years' worth of international experience in innovation for consumer and commercial financial services, having worked in all areas of payments and banking, including product design, business development, public policy, risk, compliance and governance. Throughout her career, she's held senior positions in ServiRed, Visa, HSBC and Lloyds, as well as several advisory roles with industry bodies, regulators and private companies, of which she is most proud of working with the European Financial Coalition to counter child abuse online.
Genevieve Leveille
Genevieve is the Principal Founder and CEO of AgriLedger. She was among 10 inspirational finalists on the 2021 Rising Women in Crypto Power List. She has more than 25 years' experience dealing with large corporations and banks in financial supply chain optimisation. Her background is in corporate and institutional banking. With a reputation for the delivery of disruptive technologies in large-scale projects, Genevieve is recognized as an authority in the realm of digital identity and financial transformation. Exploring the powers of distributed ledger technologies for over three years, her work in financial inclusion for Africa with her previous employer, the global bank consortium IdenTrust, is well known.
George Coxon
Co-Director at Nano Foundation | Industrial Fellow at RDSBL at the University of East London | Advisor & Lecturer at The Global Blockchain Initiative | Faculty member of the Zigurat Innovation & Technology Business School Global Masters in Blockchain.
A background in Evolutionary Anthropology amplified George's fascination with social behaviours, giving her a wide understanding of the ways by which efficient, decentralised digital money can empower the underbanked by offering a sustainable and fair medium of exchange anywhere on the planet. George is clear that an economy that is open to all and empowers those that are marginalised, not only financially but also socially and politically, will be more robust and resilient.
Grace Berkery
Grace Berkery is the global lead for Mastercard's Start Path Crypto Track and a Co-Founder of Belle Block, Mastercard's community focused on empowering women and non-binary individuals to use Web3 technology and cryptocurrency. Through Start Path Crypto, Grace leads a start-up engagement program aimed at helping Web3 companies scale through partnership with Mastercard. In her role, she helps start-ups navigate Mastercard's organisation to identify opportunities, lead brand endorsement activities like Demo Days and media exposure and connects Founders to Mastercard's broader ecosystem. Grace started her career in management consulting and joined the blockchain industry in 2018, where she worked in business development at an enterprise blockchain company.