More WXT is moving to the Ethereum blockchain!
On the 8th of November, we migrated a further 60% of all Wirex Tokens to the Ethereum blockchain. This means that 80% (8 billion WXT!) are now Ethereum-based.
Not sure what this means for your WXT? If you still have unanswered questions, head over to our FAQs page.
You can buy WXT (Stellar-based & Ethereum-based) on the following exchanges now:
Wirex Ethereum smart contract address:
-Wirex: WXT Token | 0xa02120696c7B8fE16C09C749E4598819b2B0E915
Wirex Stellar asset address:
-StellarExpert | Stellar XLM block explorer and analytics platform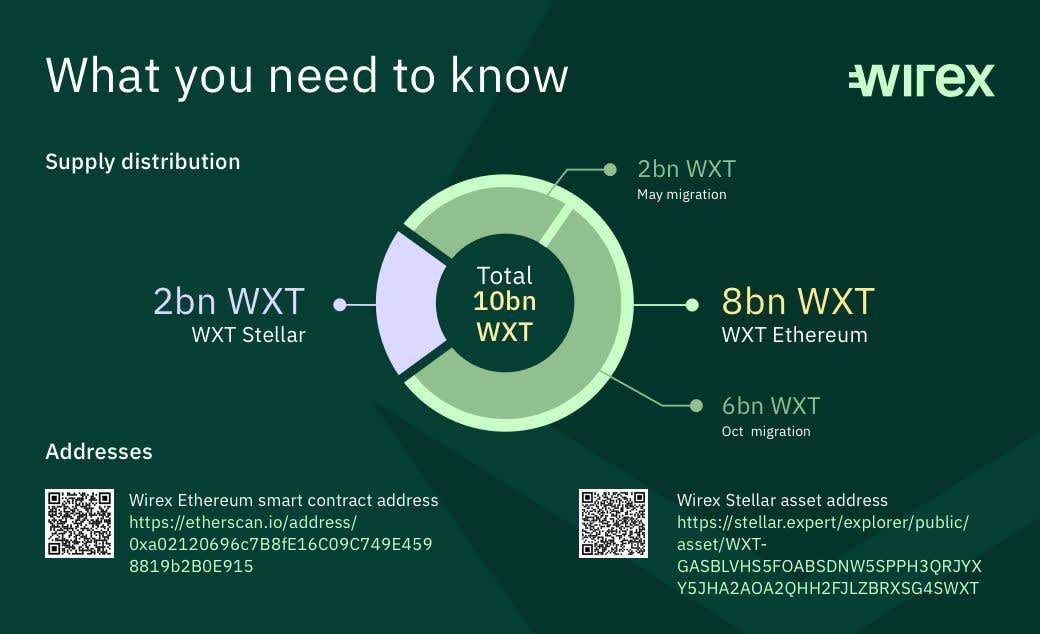 Earlier this year, we migrated 20% of the total supply of WXT from the Stellar Network to the Ethereum blockchain.
This time, we're going one step further. On 8th November, we're taking our dedication to DeFi to the next level and making a further 60% of Wirex Tokens - another 6 billion WXT - available on the most popular and powerful blockchain for decentralised applications.
Why? Because you asked for it. We know that Wirex customers value having easy access to DeFi, so we wanted to make it even more accessible to you. Our ultimate goal is to bring the benefits of DeFi to absolutely everyone, and moving WXT to the Ethereum blockchain gets us one step closer to achieving this.
So, what are the benefits of Ethereum-based WXT? You can deposit it in a liquidity pool and earn passive income from it, exchange it into a multitude of other ERC-20 tokens on a decentralised exchange (DEX), or even use it as collateral for a loan on a wide range of DeFi apps.
You can also transfer your Ethereum-based WXT between Wirex and external crypto wallets, and - of course - earn some incredible rewards with it across the Wirex ecosystem.
With 80% on the Ethereum blockchain and 20% on the Stellar Network, WXT will maintain its multi-blockchain status and effectively bridge the gap between payments and novel DeFi ecosystems.