NFT Artist Spotlight: Serwah Attafuah
As our NFT artist campaign comes to and end, we have one more talented creative that we want to shine the spotlight on: Serwah Attafuah!
In previous weeks we've gotten insights from individuals who have worked in fashion, or founded their own community, but today the focus is on the transition from traditional art mediums to working with art in the metaverse.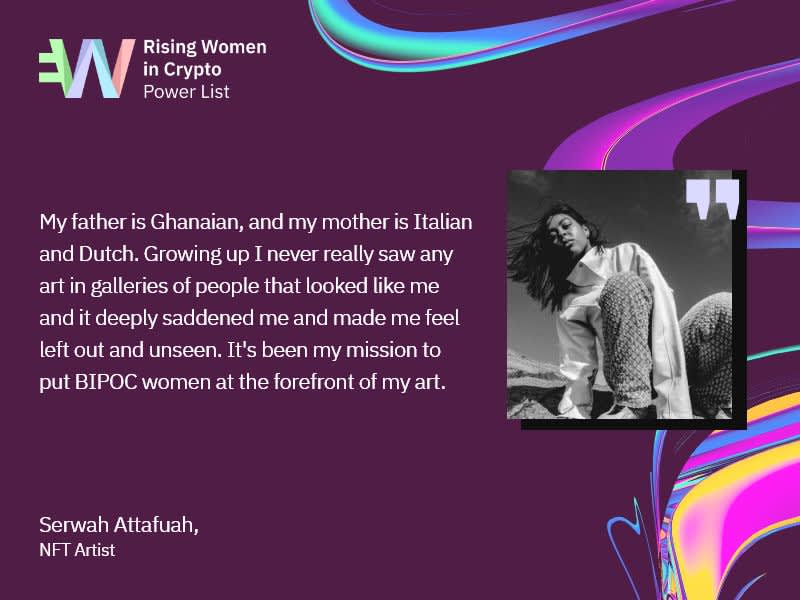 What has your journey been like into the world of NFTs? What difficulties have you come across and what would be your tips for new female starters?
I started oil painting when I was 13 and transitioned into digital art shortly after so I've been making digital pieces for roughly 12 years now. I minted my first NFT in 2020 and it completely changed my perspective on art and my career in general. I think the main difficulty in the NFT space is for some reason men still seem to be doing mostly better than women or non-binary artists in the space which is unfortunate but that shouldn't stop anyone from giving it their all.
My best piece of advice would be to be yourself and to make the art you want, someone somewhere will appreciate it and connect with it!
What opportunities do you see that the NFT space gives for female artists?
There's a huge female community in the NFT space, I've had the pleasure of being involved with several fantastic projects and shows all run by women in some form. I feel as though there's way more opportunities for female artists in the NFT space as opposed to the traditional art space because it gives the artist a direct connection to community and collectors, a decentralised and transparent payment structure and every changing medium which is the blockchain.
How has the NFT space allowed you to express your heritage through art?
My heritage is very important to me; my father is Ghanaian, and my mother is Italian and Dutch. Growing up I never really saw any art in galleries of people that looked like me and it deeply saddened me and made me feel left out and unseen. It's been my mission to put BIPOC women at the forefront of my art. I see NFT's as an extension of my Afrofuturistic philosophy, that we can carry on out cultural traditions in a positive future focused way.
You can check out more from Serwah here:
Instagram: @wrath_____
Twitter: @serwah_attafuah