Now live: multi-blockchain support and three new stablecoins!
We've enabled multi-chain support for these stablecoins!
There's no denying it, our stablecoin game has been strong recently. Just this year, we've welcomed multiple new ones to the Wirex app – including none other than Nereus's fully collateralised NXUSD – and added Avalanche support for three of your favourites.
Today, we've got yet more good news for stablecoin fans – we've now enabled multi-blockchain support for the following tokens: USDT, USDC, USDP, DAI, TUSD, BRZ, BUSD, WBTC, WETH and WAVAX!
Multi-chain support means faster transactions, lower fees and easier access to all the benefits of DeFi. Check out which coins are supported by which blockchains below: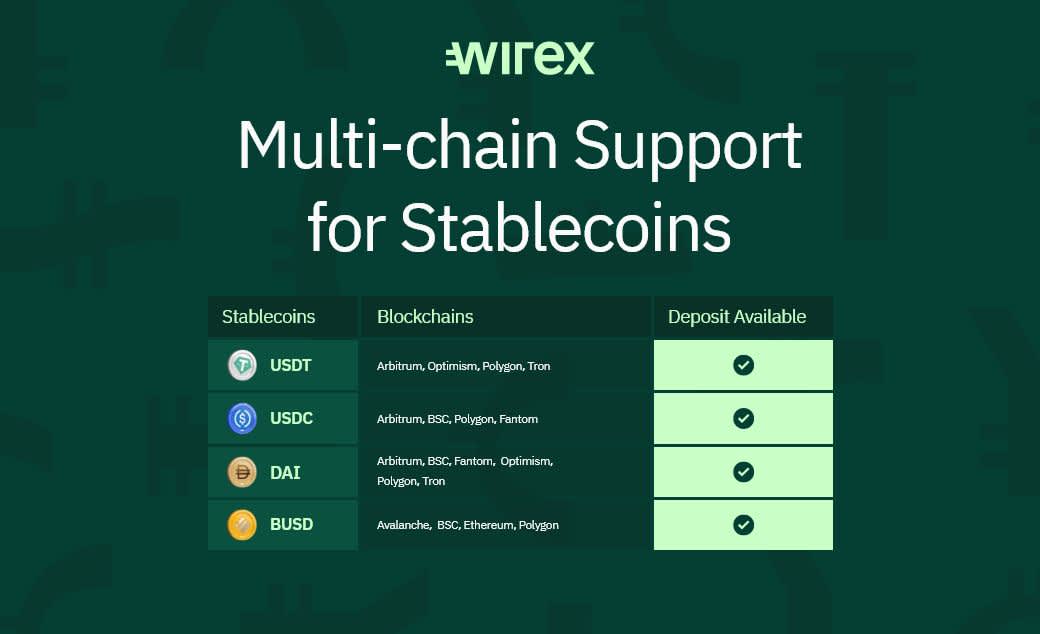 If you spotted any unfamiliar faces in the crowd, you're not imagining it – read on for our second piece of news...
We've got three new stablecoins!
We haven't just added chains, we've added more stablecoins! You'll now find WBTC, WETH and WAVAX in the Wirex app, available to buy and exchange at market-leading OTC rates or move between Wirex and external wallets.
Want to see what they're all about? Add them to your portfolio today!
Here's how to send them to your Wirex account from an external wallet:
Select the currency account you want to add funds to.
Tap Add Funds.
Select On-chain deposit. You'll see your crypto address and QR code, which you can copy, scan or share.
That's it - once the transaction has been made, you'll receive funds to your chosen address!