Q&A with 1inch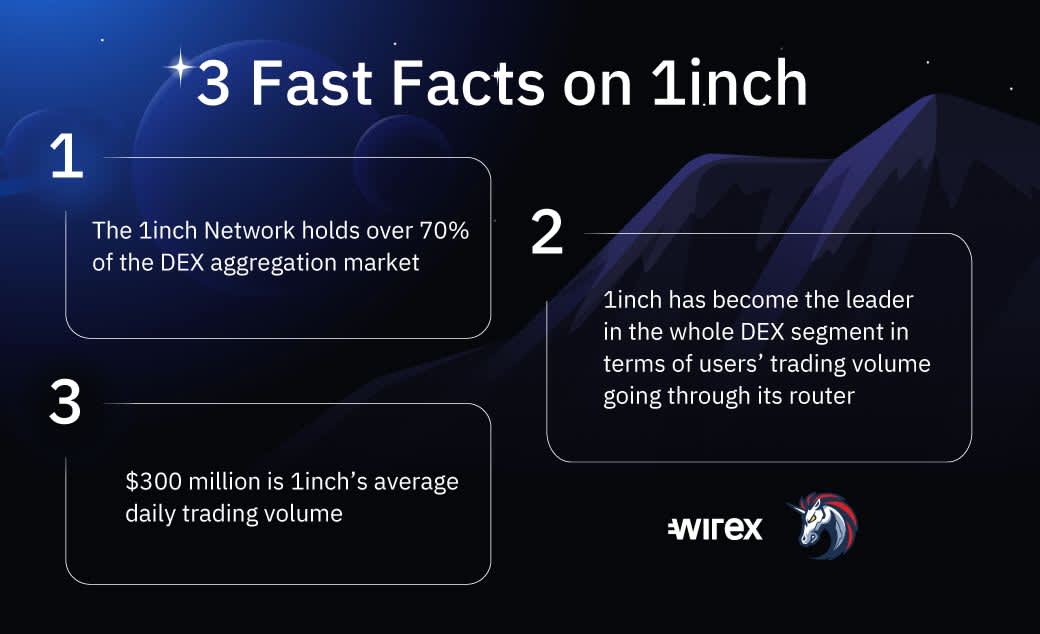 More good news for 1inch fans!
Following its recent launch in the Wirex Wallet, we are happy to share our latest Q&A with Sergey Maslennikov, Chief Communications Officer of the 1inch Network.
Read below to get unique insights about what's behind the 1inch project!
1. What is the 1inch Network, and what makes it different from other DEX aggregators?
The 1inch Network is a collection of strong and composable DeFi instruments, which together enable both seasoned and new DeFi users to take the most of Web3 financial opportunities thanks to clean UX and secure smart contracts.
Primarily, 1inch is a decentralized exchange aggregator that searches for crypto swap deals across more than 200 liquidity sources on multiple networks, offering users better rates than any individual exchange – to some extent, doing what Kayak, Momondo or Skyscanner do for airline tickets.
In addition, in 2021, the 1inch Wallet was released – a multichain mobile wallet that provides an easy-to-navigate interface with secure storing, transaction and staking capabilities. This wallet was built from scratch to streamline users' interaction with 1inch's features.
2. What are some of the drawbacks of centralized exchanges?
Although centralized crypto exchanges offer an easy way to trade your crypto assets, their central infrastructure keeps users exposed to constant risks of losing money due hacker attacks or blocking funds under government regulations or sanctions.
3. What benefits can decentralized exchanges offer?
A decentralized exchange (DEX) is a cryptocurrency exchange that operates without the involvement of a central authority or a third party. As a result, a user retains full control of their funds stored or traded on DEXes, which offer a higher degree of security than centralized exchanges.
4. What specific issues within the DeFi community is the 1inch project hoping to solve?
1inch is mission-driven to benefit the entire DeFi space. We aim to unite traders and liquidity providers, facilitating transactions that are profitable for both sides. The core functionality of 1inch is to aggregate data from various decentralized exchanges and to combine the best prices from all bids with sufficient liquidity.
5. Why is 1inch excited to partner with Wirex?
While 1inch strives for universal application and genuine mass adoption, it is essential to partner with top-notch industry leaders – both in terms of user base and technologies. Moreover, this partnership is highly beneficial for the Wirex community, as the integration of the 1inch API seamlessly allows users to swap their tokens at the best available rates on multiple blockchains.
6. What are the benefits of holding 1INCH tokens?
The 1inch Network and its development are under semi-governance from the 1inch DAO. This is an autonomous decentralized organization allowing 1INCH token holders to vote for key protocol parameters. One of its major features is instant governance. Simply put, anyone holding 1INCH tokens can participate in the protocol's governance without lengthy voting periods.
Currently, the gas refund program is running as an incentive for 1INCH holders. It was introduced back in July 2021 and extended in May 2022. Under the program, 1INCH tokens will be distributed as gas refunds to Ethereum users who stake 1INCH through the 1inch dApp. The more you stake, the more you get in 1INCH tokens every month as a gas refund.
7. How has the DeFi movement changed over the last year?
The DeFi space has slowed down a bit after a period of explosive growth that we saw back in 2020 and 2021. Times when a recently launched DeFi project could immediately attract traction and investment from major players are over. You really have to come up with a good solution that addresses a specific problem. Meanwhile, DEXes are gaining popularity and are gradually taking territory previously occupied by CEXes. Plus, metaverses are gaining popularity, and DeFi projects have been looking to find a role for themselves in that promising area.
8. What do you think is in store for the DeFi movement going forward?
We are going through a difficult period for the entire crypto space, and casualties are unavoidable. Some projects will fold, there might be mergers and acquisitions, but the strongest players, those which offer really strong products and solutions, will stay and become even stronger. However, for DeFi to achieve mass adoption, players in this space will have to focus on products that regular people will be able to comfortably use in their day-to-day lives. The task is to come up with "killer apps" that will be more efficient and transparent than what people currently use, at the same time offering them the same – or better user experience.