Q&A with Chiliz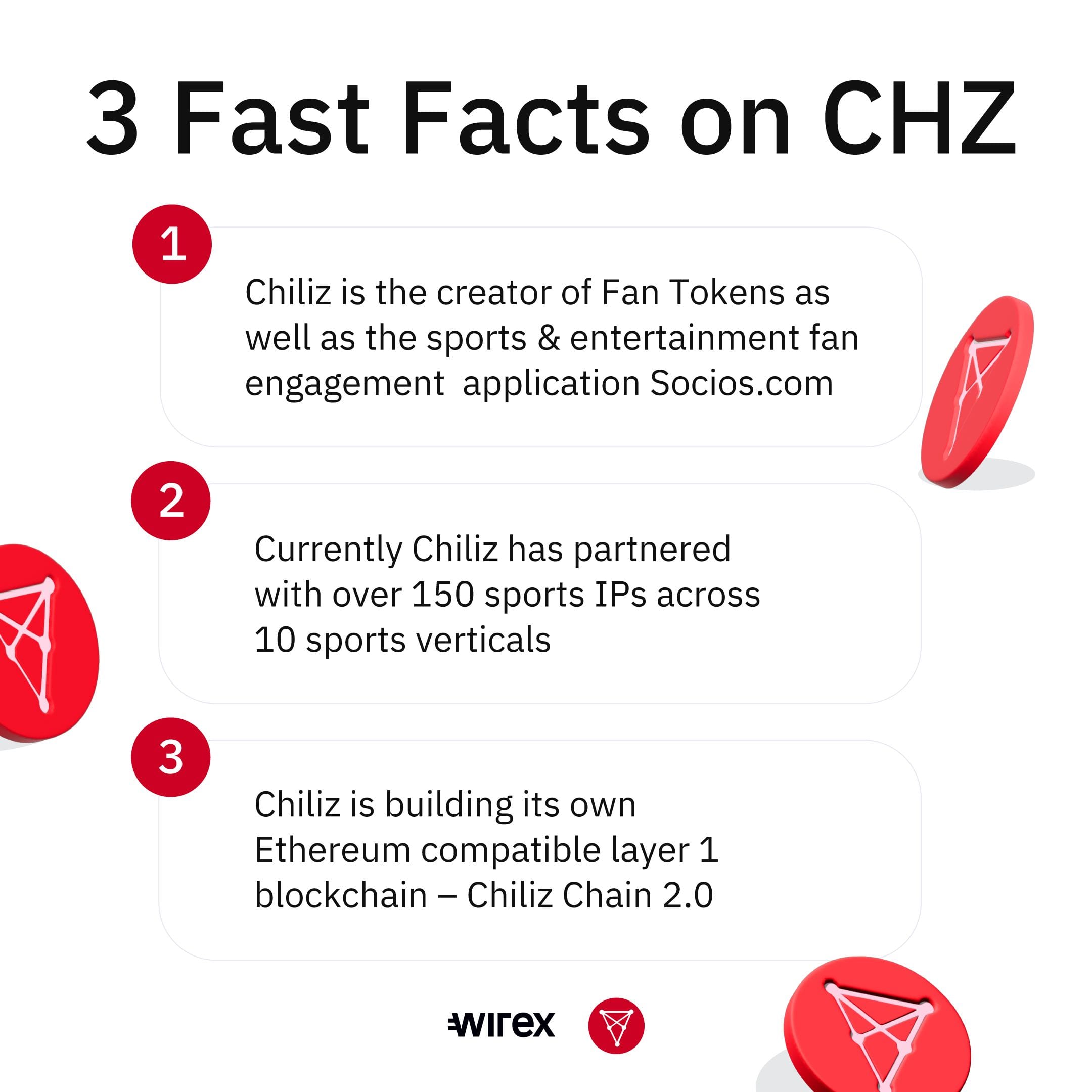 We hope sports fans are here now because we're back with exclusive insights from the Chiliz Team!
This innovative utility token is designed for the sports industry allowing fans to buy tokenised shares of influence in their favourite teams.
Check out our latest Q&A to learn how Chiliz is bringing sport and media into the crypto and metaverse spheres!
How has blockchain changed the sports and entertainment spaces over the last couple of years?
Blockchain is changing the sports and entertainment space in many ways. From fan engagement, membership, ticketing, to collectibles, games, etc.
As the creator of Fan Tokens, we are using blockchain to build a brand new token-gated on-chain membership program, where fans are given a meaningful voice while competing to earn exclusive & valuable rewards provided by their favourite teams & clubs. Blockchain ensures that all the poll results are transparent by decreasing the risks of tampering compared with the classical centralised voting system.
Also, with the popularisation of NFTs (Non-Fungible Tokens), we have also seen many sports & entertainment brands testing out their new ticketing systems or digital collectibles that are built in the form of an NFT. NFTs, especially in the format of ERC721, ensures that every single item is unique and distinguishable, and everyone can track down the ownership for each token.
Are your users more sport and entertainment fans or crypto enthusiasts?
Sports fans and crypto enthusiasts are the two main components of the Chiliz community. There is also a big overlap between these two categories.
Our crypto enthusiast followers are mostly active in Twitter, Telegram and Discord. They have strong faith in the utilisation of blockchain in sports and also actively follow all the updates and progress of Chiliz Chain. We also have an active user base of our exchange product Chiliz.net, which is the first tokenized sports & entertainment exchange.
Our fan engagement platform Socios.com is mainly facing mainstream fans. Socios users are actively participating in all the fan activities, including polls, quizzes and other mini games such as a score predictor to support their favourite teams while redeeming exclusive rewards.
What sports brands have been the most popular with fans, and why?
For now the most popular brands are Football teams in Europe. Football is the sport category that we've signed the most partners and launched the most fan tokens with. It is also one of the biggest sports in the world that can bring fans globally together. It's a sport that has an unprecedented loyal fanbase due to its powerful culture and strong legacy connection.
To name a few of the big Football brands we are working with: Paris Saint-Germain, Juventus, Arsenal, Manchester City, etc.
We are also actively building fan engagement solutions & active fan events across other sports verticals. With a global community of over 1.5M, Socios.com is becoming more and more influential among mainstream fans.
What are the current issues for sports and entertainment fans that Chiliz is solving?
We solve three problems for the sports industry. One, creating an app where clubs can engage with their entire fanbases. Two, providing a new revenue stream. Three, providing clubs with business intelligence based on fan behaviour to shape their strategy.
Thanks to Socios.com, sporting organisations can now offer fans access to an intuitive app where they can join highly engaged communities and be recognised and rewarded for their support.
Fandom takes many different forms, but fans of the same club are all part of the same tribe. Socios.com allows sporting organisations to bring their tribes together in one place, enabling them to understand more about their entire fanbases and providing actionable insights that can inform short and long term strategy.
We are using blockchain technology to build a more efficient fan membership tool for sports organistions. In Web2, fans can only engage with their favourite clubs passively, and feedback polls on social media can easily get hijacked so the results are not reliable. With the utilisation of blockchain, we can build a token-gated membership system, which creates a slight threshold for entry for participants and in turn makes voting much more transparent and harder to manipulate.
How does blockchain technology specifically solve these issues?
In the traditional Web2 world, it's hard and inconvenient to record and verify a person's activities without a tedious centralised verification system backed up by a trustworthy third party.
In the traditional web2 environment, users' data and activities are only stored in highly centralised databases that users / other third parties are unable to access. That's not the case on Socios.com.
Although Socios.com is a centralised platform which utilises databases to store important user information, the flow and ownership of Fan Tokens are recorded on a permanent ledger (Chiliz Chain).
Blockchain technology is enabling us to build a more trustworthy digital membership for sports fans and their favourite teams. Every token transaction is on-chain and verifiable, they are also immutable meaning that they cannot be edited once broadcasted.
Why should more people get involved with Chiliz and the Socios.com platform?
Fans are constantly looking for new ways to connect with their favourite brands, whether that means following them on social media or downloading their fan app. Socios is a rewards and engagement focused platform, meaning that users are rewarded for interacting with features in the app such as, polls, score predictor, augmented reality geolocation token hunts, games, quizzes & more, users receive the Socios native loyalty asset called 'SSU' (Socios United). SSU Tokens can be spent in the fan rewards shop on exclusive rewards such as VIP match tickets, stadium tours & much more.
We are calling this 'Engage to Earn', but using the word 'earn' in a different sense to most blockchain technology solutions. For Socios users, earning money can't buy experience at the team you've supported for your whole life is priceless. Users can also be rewarded with digital collectibles.
Developers can also get involved. Chiliz Chain 2 launch is coming soon and the Chiliz team are making a call to arms for all developers who are interested in building sports or entertainment focused applications with the ability to utilise the huge sports & entertainment network Chiliz & Socios have built over the years, this can help utilise certain intellectual property that may not have been much harder / not possible to obtain. Developers also have the potential to tap into the already existing Chiliz Community.
Why are Chiliz excited to partner with Wirex?
Wirex has a massive user base across multiple countries. Partnering with Wirex gives more accessibility for $CHZ tokens worldwide and provides an alternative choice for the existing $CHZ holders to store their $CHZ. Wirex card users can spend their cryptocurrencies from the card directly and can even get up to 8% of crypto back. Besides, hold your $CHZ in Wirex X-Accounts and earn up to 16% APY.
What are the benefits of holding CHZ tokens?
Currently many exchange platforms provide an APY for users to stake their $CHZ. On Wirex X-Accounts you can enjoy up to 16% APY by holding CHZ. The launch of the Chiliz Chain 2.0 mainnet is scheduled for the end of this year, it will see $CHZ will become the native chain token / gas token for the network.
The launch of the new chain will also enable staking for validators to secure the network. Delegators will be able to delegate $CHZ tokens to enjoy a shared percentage of tokens with the validators as a reward for network security.
Where do you see Chiliz in a year's time?
We believe we will witness Chiliz Chain 2.0 grow into a leading blockchain for sports and entertainment IPs and Web3 fan-focused applications.
For Fan Tokens, we will continue to see the whole ecosystem grow bigger as token-gated memberships become more and more common as a solution for fan engagement & way for fans to engage with their favourite brands digitally, all while brands receive and learn from the desires of their fans.
What's one interesting fact about the brand or token that we might not know?
Our initial whitepaper was written as a solution for fan engagement in esports, however, we quickly pivoted to encompass multiple sports & entertainment verticals as we realised the esports market size was not big enough for such a membership program. Before Chiliz / Socios was born, our CEO worked on increasing fan engagement in poker by changing the way people play / watch.