Q&A with NEAR
Last week we announced the launch of 52 new tokens on the Wirex app. One of these includes Near Token (NEAR), a token that powers the Near Protocol, enabling developers to build and host dApps. The Protocol is an open-source, smart contract capable, Proof-of-Stake (PoS) blockchain, offering highly scalable and user-friendly infrastructure for users and developers. NEAR token holders can pay transaction fees and be used as collateral for storing data on the blockchain.
We spoke with Marie Flament, CEO of NEAR Foundation, to get an exclusive insight into the partnership!
TLDR: "This partnership is an important step towards helping us achieve our vision of bringing Web3 to a wider audience. Wirex has built a strong and loyal customer base which we can leverage and introduce to the limitless potential of NEAR and the creators of Web3."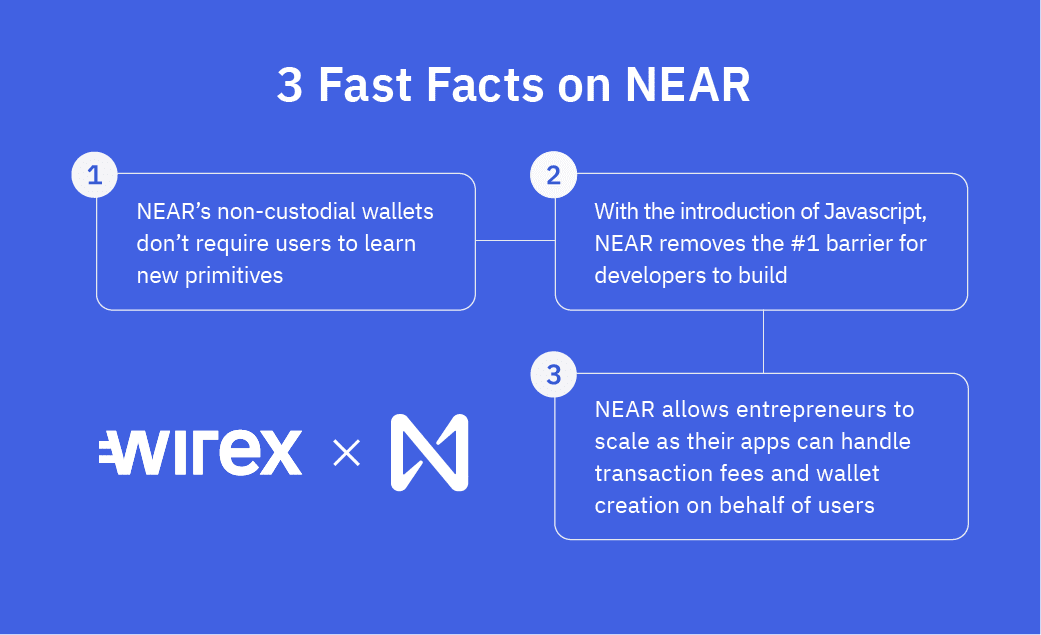 What is the NEAR protocol and what makes it different to other protocols?
NEAR is a high-performance blockchain built without limits. Designed to be super-fast, incredibly secure, and infinitely scalable, NEAR allows anyone to build at scale and deploy at pace. NEAR's vision is to create a network that enables people to reimagine finance, creativity, and community in new and inclusive ways. With NEAR, blockchain mass adoption is possible. NEAR is built by an award-winning team of engineers and entrepreneurs to be simple to use, inclusive and good for the environment. NEAR is backed by top VCs such as A16Z, Pantera Capital, Electric Capital, Dragonfly Capital, Coinbase Ventures, Blockchain.com, and Baidu Ventures.
Why is sharding so important in building protocols?
Sharding allows the network to scale to the needs of its users. So many of the issues around scaling that exist today are due to the operational limits of how many transactions a blockchain can process at any one time. With sharding, in particular, sharding on NEAR, the network now has the capacity to dynamically scale the capability of the network up and down, without compromising on the safety and security of its users.
What are some of the applications that have been built on the Near protocol?
There are more than 900 projects building on the NEAR blockchain. Everything from NFT platforms like Paras, and Mintbase, to DeFi applications like Ref Finance, Trisolaris and Burrow, to industry leading move to earn projects like Sweat Economy, they all chose NEAR's super fast, secure and scalable blockchain.
In light of the recent Ethereum merge, how are the Near's Layer 2 solutions still attractive?
The underlying technology powering the NEAR ecosystem is still years ahead when it comes to scalability and speed. Fees are still significantly higher on Ethereum than they are on NEAR, and transaction speeds remain slower than they are on NEAR, even after the merge. For projects looking to onboard huge amounts of users simply and securely with sub-three second finality, NEAR's L2 projects are still an attractive proposition.
What are the benefits of holding the NEAR token?
NEAR token holders are able to access the 900 projects being built on the NEAR ecosystem. Everything from DeFi, move to earn, NFTs, and community based DAOs are accessible with the NEAR token. There are also opportunities to stake tokens to earn rewards and ensure the future health of the ecosystem.
What are some of the use cases for the NEAR token?
NEAR tokens are the key to all the projects and communities being built on NEAR. Whether it's using services, voting, or buying and selling digital collectibles, the NEAR token is the key to all of those.
Why is Web3 so important and what do you see the biggest changes between that and Web2?
While Web2 has created the digital world we live in now, it has also created challenges. The first is data ownership. In the Web2 world, data has become an incredibly lucrative business for companies, but users have little say in how or when their data gets bought or sold. Web3 is a vital counter that world. In many of the worlds being built in the Web3 space, users own and can trade or sell their data when they want to. Another issue in Web2 is the increasing power of middlemen. Users often have to pay middlemen in Web2 environments either with their data or actual money in order to use their services. In the Web3 world, consumers have more choice when it comes to interacting with digital products and services. Lastly, inclusion in the internet age remains beyond so many of the world's citizens, because financial institutions see little gain from providing financial services to the world's millions of unbanked people. Web3 allows anyone with an internet connection to be able to use financial services simply and securely.
How has the popularity of Web3-based protocols changed over the past year?
Over the last 12 months, the Web3 world has seen an explosion in interest. Whether it's NFTs for everyday consumers, or custody solutions for institutional investors, Web3's appeal continues to broaden across all markets. The recent market downturn may have lowered the overall value of the Web3 ecosystem, but NEAR is continuing to see new developers, users and investors take interest in this ground-breaking technology.
Why are Near excited to partner with Wirex?
NEAR's goal is to onboard a billion users within the next five years. The only way it can do that is by collaborating with brilliant companies like Wirex to provide simpler ways of people accessing Web3 tools and technologies. Web3 needs to be as seamless and simple as using technology we already use. Wirex is helping that goal become possible.
Where do you hope the Near protocol will be in the next year or so?
The NEAR protocol will continue deploying the tech roadmap of further increasing the speed and scale of the network, while also further decentralizing and enabling more people to take part in both securing the network and voting on key decisions.