Q&A with Onramper
We have recently integrated Onramper's widget into the Wirex Wallet to enhance Wirex user accessibility to more than 250 crypto assets.
Today, we had a friendly Q&A chat with the Onramper team, getting to know more about them and the fantastic features they bring to enhance your crypto experience!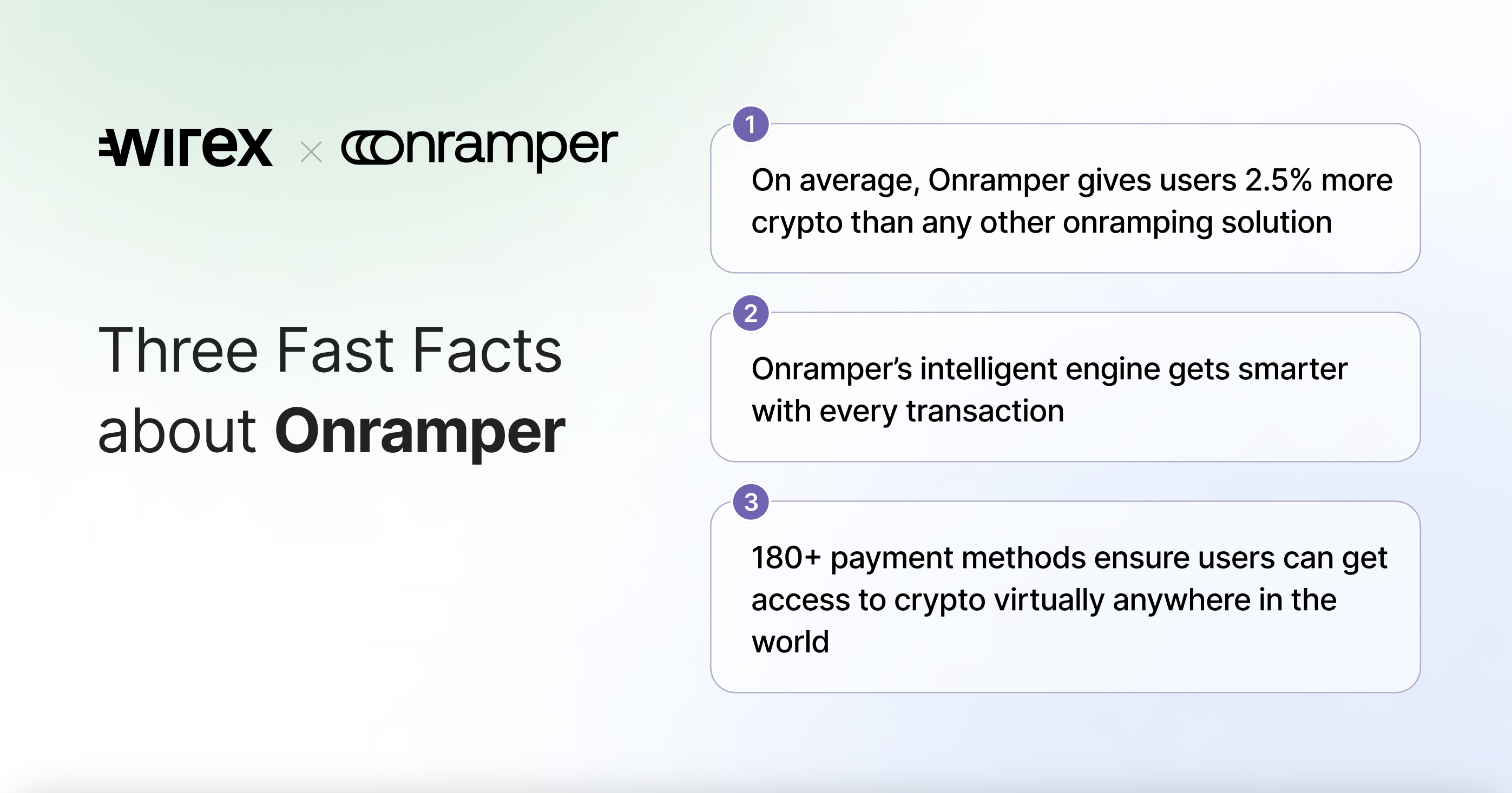 What is Onramper and what services do you offer?
Onramper is the world's leading fiat-to-crypto onramp platform, providing a single solution for all your onramping needs.
With the Onramper widget, users can easily put the best of the onramping landscape directly on their platform — smart routing engines automatically pair users with the best onramp for them, based on over 70 factors. The widget boasts plug-and-play functionality, 17+ onramps, 180+ local payment methods and a fully customizable design.
The Onramper Terminal gives users a unified overview of all onramps, as well as their performance. It's used by BitMEX, Cake Wallet, Zerion, Sushi, Uphold and many more.
Additionally, Onramper's APIs ensure hassle-free integration with existing onboarding stacks, allowing users to instantly add all supported onramps and payment methods in order to supercharge transaction success rates.
Tell us about the founders of Onramper?
Onramper was founded by Thijs Maas and Maurits Dewina.
Thijs:
Thijs co-founded the Tilburg University Blockchain Association and founded the Law and Blockchain Consultancy.
Thijs has advised companies working with blockchain tech on a wide range of topics. Further, he designed and taught a master's-level course titled "The Ethics and Regulation of Digital Innovation" for MBA students at the Open University of the Netherlands.
He is also currently in the process of publishing a book on the regulation of token offerings with Cambridge University Press.
Thijs recently won the award for "Most Influential CEO" for Financial Services in the NL by the CEO Monthly Magazine.
Maurits:
Maurits Dewina is passionate about the positive impact of new technologies on the world.
Maurits was a senior consultant at Kurt Salmon for four years and is a director for the Amsterdam Fintech Institute.
He has launched and co-founded multiple tech projects, which include:
A geospatial data analytics company
Arbitrage trading software
A sports financing platform
A split-payments technology platform
How has Onramper developed and changed since its launch?
Since launching, Onramper has aimed to make fiat onramping as low-cost, accessible and low-friction as possible, a vision that shines through to this day.
Onramper has integrated with Sushi, Topper by Uphold, Wirex, Magic, Lemon, Cake Wallet, Zerion and ShapeShift. The onramps available on the widget include MoonPay, Onmeta, TransFi, Coinify, Onramp Money, LocalRamp, Transak, Binance Connect, BTC Direct, Alchemy Pay, Sardine, Payfura, Itez and UTORG.
Over the last six months, Onramper has doubled down on increasing global coverage with a focus on emerging markets (such as South East Asia, Latam & Africa). They have successfully increased the total number of onramps from seven to 17+ and the total number of available local payment methods from 25 to 130+.
What makes Onramper different from other competitors?
Onramper primarily focuses on transaction success and the ability to improve on this by providing a dashboard with consolidated transaction data. Onramper is therefore continuously on the lookout for the best solutions in the market and adds new onramps continuously, whilst safeguarding the quality of the product and data availability.
Why is Onramper excited to partner with Wirex?
Wirex has been a trusted web3 company since the early days and has a vast number of users. Wirex's services, which include its wallet and exchange, are a perfect match for Onramper's offering.
After meeting with the Wirex CEO at Paris Blockchain Week 2023, both Wirex & Onramper came to the conclusion that adding Onramper would help Wirex to massively improve their onboarding flows for users around the world.
"At Onramper, our mission is clear: to be the world's leading onramp management platform, making crypto accessible and frictionless for all. We're proud to offer the industry's best fiat onramping widget, a powerful terminal for analysis, and a unified API that enhances success rates instantly. Our partnership with Wirex is a testament to our commitment to simplifying user onboarding globally. With one goal in mind—successful fiat to crypto transactions—we aim to unlock the full potential of crypto and web3, reducing friction and increasing accessibility every step of the way."
Thijs Maas
Where do you hope Onramper will be in the next year or so?
Onramper aims to become the one-stop shop for all onramping needs. We aim to truly unlock the potential of crypto & Web3.
There's still a lot that needs to happen to remove friction in the user onboarding process and make things easier, faster and more stable for the end user.
With one goal in mind — successful fiat to crypto transactions — Onramper will continue to work on its proprietary dynamic routing engines with an aim to increase these overall success rates.
Additionally, we will be working on crypto-to-crypto swaps, as well as increasing our offramping capabilities together with our existing partners.