Q&A with Walken
Learn about Walken, the win-to-earn gamified app, and how to utilise its WLKN token
Find out the benefits of holding WLKN and what sets Walken apart from other NFT games
Get insights from Walken's founders and discover the importance of a healthy lifestyle
We've recently partnered with Walken to offer their users a place to utilise their SOL and USDC tokens earned in the Walken app. Today, we're speaking to the Walken team to find out about the Walken protocol, their WLKN token and what cool stuff they're doing on the blockchain!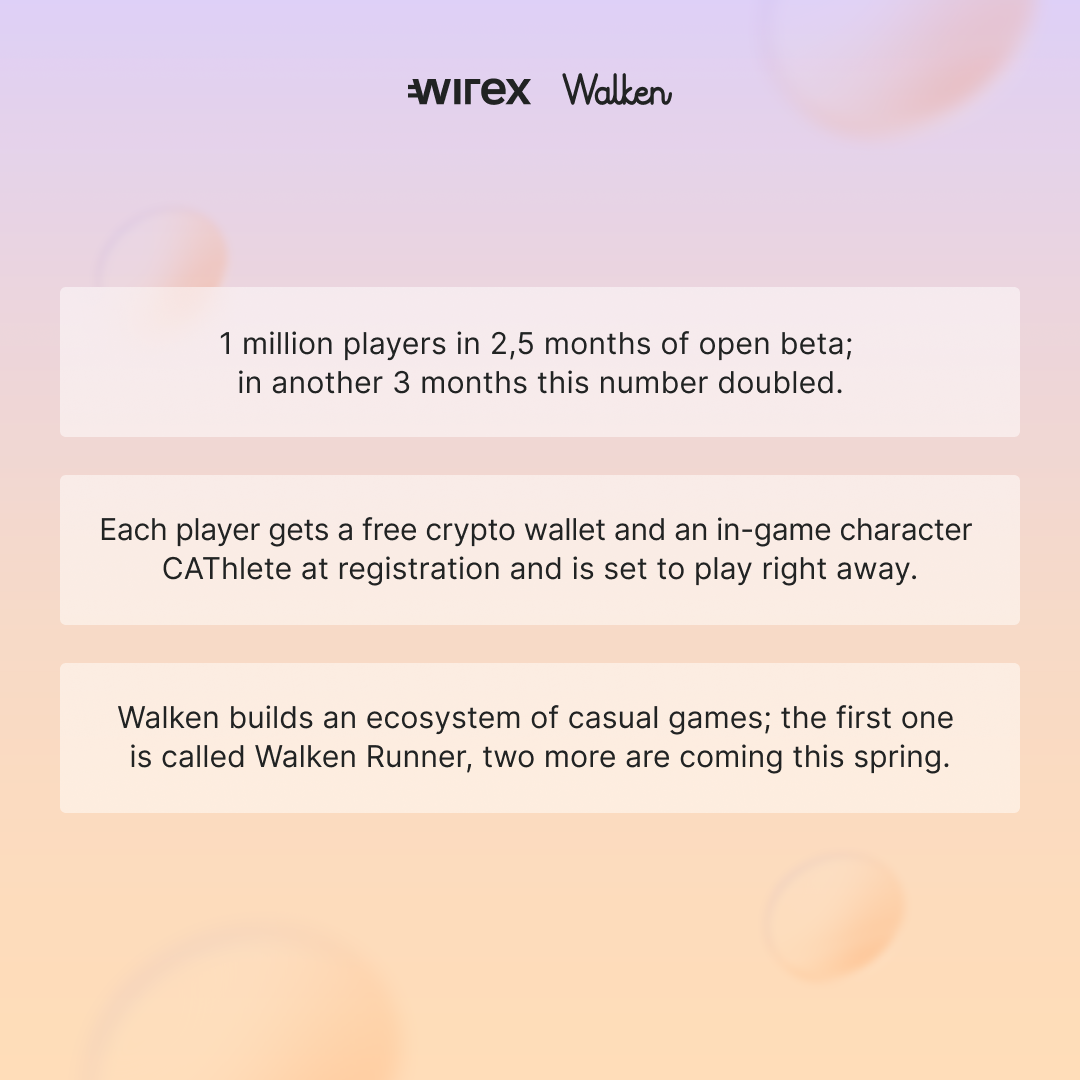 What is Walken and what services do you offer?
Walken is a free-to-play win-to-earn gamified app that brings sports and NFT together while focusing on the natural human drive to walk and get moving in a fun way. The gameplay revolves around CAThletes, the main in-game characters, that players get to upgrade with the help of physical activity in real life and then compete to win $WLKN tokens. In turn, the tokens can be used to upgrade a CAThlete's level (and stats), breed a new CAThlete, or buy NFT-items on the Marketplace to get extra stats points and win more competitions.
What is the WLKN token and what are the benefits of holding it?
$WLKN is a SPL-Token that is based on Solana Smart Contract. It is secured according to Solana hybrid protocol of proof-of-stake (PoS) and a concept Solana calls proof-of-history (PoH). $WLKN drives the in-game economy, ensuring its stability while allowing players to monetize their activity and basically play to earn. The supply is fixed: 2 000 000 000 in total
$WLKN token can be earned in Walken as a reward for winning competitions. Another way to earn $WLKN is selling items and CAThletes on the Marketplace. Players can also stake $WLKN which offer rewards over time.
What makes Walken different from other NFT games?
Walken's unmatched vision and the unique walk-to-play win-to-earn experience it offers make it a meaningful contributor to the NFT gaming and move2earn domain, and at the same time leaves room for innovation:
Walken is FREE TO PLAY and has the potential to actually earn money to its users. We've been driven by the goals to make a product that is really free to play, democratizing DeFi and bringing more people to Web3The exponential user base growth and record high retention may be attributed to this fact.
From a tokenomics perspective, Walken's single-token design is way more sustainable. And Walken proves this to be true, with its $WLKN token inflow being MUCH bigger than outflow. Unlike many competitors in the move2earn space built simply as clones of StepN, Walken brings innovation and reimagines the meaning of move2earn
How has Walken developed and changed since launch?
Since the beginning of the closed beta on March 14, 2023 and token IEO, Walken now has almost 3M registered players, a steady record of feature delivery, and a stable CEX-tradable $WLKN token with almost $2M daily trade volume. This is huge for the industry, and Walken is only getting started. Since soft launch, Walken has seen considerable changes both in terms of UI and under-the-hood improvements; the app is completely stable and fully operational on the blockchain; a number of massive features have been released, including breeding, staking, several iterations of competitions and the latest one - PvP mode, daily quests and ranking system - just on top of the list. What we're especially proud of is our amazing Walken Community whose support and love we've been so privileged to enjoy all this time.
Tell us about the founders of Walken?
Walken is developed by an established mobile apps & gaming studio GetFit Apps with a solid track-record (around since 2017, 60+m downloads, $45m+ revenue all time, team of 50 in-house). Always on the ball, the team relies on our unique vision, solid marketing skills and tech expertise to onboard web2 users to web3 ecosystem.
The founders are:
Why do you believe that a healthy lifestyle is so integral for consumers?
Absolutely! Walken was built as a move2earn project initially, so in order to succeed players are encouraged to get moving, walk more, keep an eye on their physical activity on a daily basis. We all know of course that physical activity is immensely beneficial for health, yet let's be honest sometimes it simply falls out of perspective. Walken gives a kind of extra incentive to go for a walk, with each step getting your CAThlete closer to the next level, to unlocking further Leagues and to defeating more rivals!