Supercharge your USDC X-Accounts savings today!
Last week we announced support for USDC on the Stellar blockchain within the Wirex app. You can read more about this on our blog.
Not only can users buy, hold, exchange and sell the stablecoin, but can also spend it in-store and online at over 90 million locations using the Wirex card, and earn up to 8% Cryptoback™ rewards. To celebrate, we've decided to boost earning rates for USDC X-Accounts across the board! That means that you can now earn up to 20% APR on your USDC X-Accounts! And even if you only have a standard plan with X-tras, you can still earn 6% APR *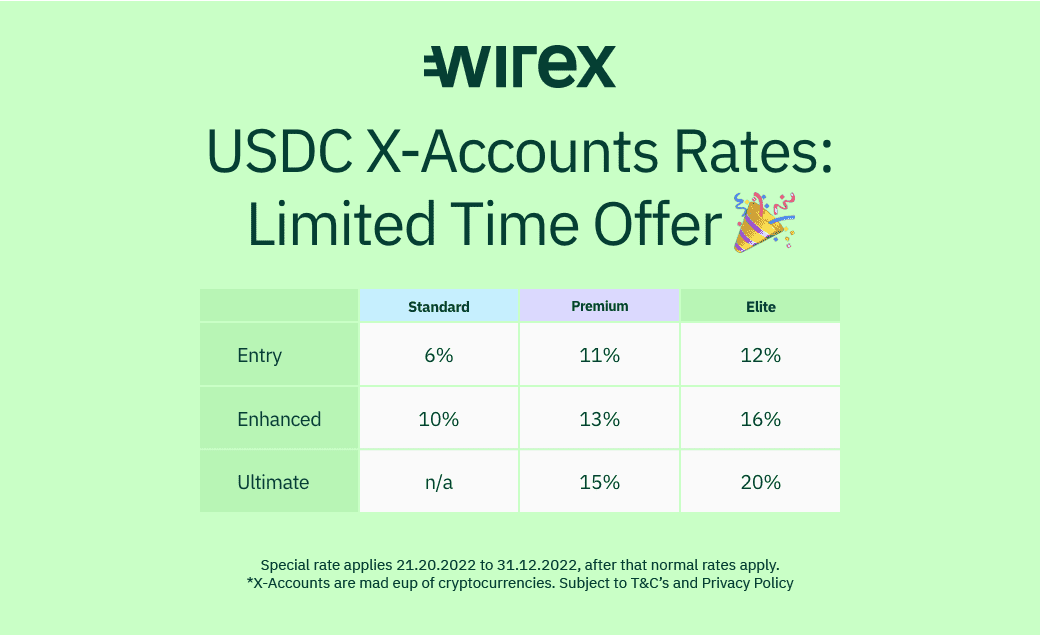 In case you didn't know, X-Accounts is our feature offering DeFi-powered earning, and is the perfect way to HODL during the crypto winter. You can leave your crypto or fiat funds in an X-Account and let them generate some of the best rates around, where there is no minimum deposits or fees for set up, no maintenance charge and you can withdraw at any time. It's as easy as it sounds!
Let's get this Bear Market Boost started with USDC X-Accounts!
* X-Accounts are made up of cryptocurrencies. Subject to the T&Cs and Privacy Policy. Bear Market Boost USDC promotion is available until 31st December 2022.