Upgraded Rewards for Australian Customers Ordering a Card
Get higher spend limits, instant rewards and affordable top-ups with Wirex card in Australia
Order and reorder now and receive an automatic upgrade to the next X-tras tier for 3 months, with up to 20% interest, 16% annual Savings Bonuses and 8% Cryptoback™ rewards

We've just partnered with Novatti to help distribute our Wirex card in Australia, which comes with a load of new perks, including higher spend limits, instant rewards and affordable top-ups.
If this isn't enough reason to want to order this next-generation card, we thought we'd reward any Australian users that decide to order, or re-order a Wirex card! Find out more below.
What is the promotion?
For a limited time, we're offering anyone that orders a card an automatic upgrade to the next tier in their X-tras plan for 3 months. That means you'll be able to unlock incredible rewards, including up to 20% interest with X-Accounts, up to 16% annual Savings Bonuses and up to 8% Cryptoback™ rewards, at no cost!
So if you're on Standard Entry, you'll get upgraded to 'Standard Enhanced', or if you're currently on 'Standard Enhanced', you'll be upgraded to 'Premium Entry'. To find out the tier that you're on, head to the 'X-tras' tab in the Wirex app.
Whichever X-tras plan you are on now, you will be automatically upgraded one tier higher starting 1st May 2023. Simply order you card by 24th April 2023 and you will automatically going to be enrolled for an upgrade!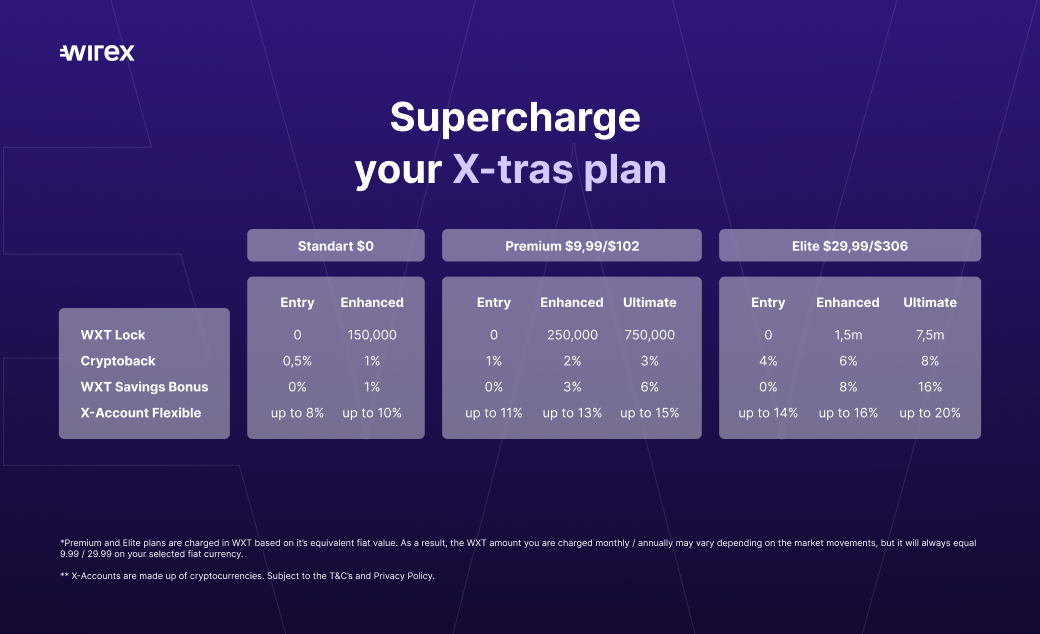 This applies to any existing customers in Australia re-ordering their card, as well as new customers.
How can you order a card if you're a new customer?
If you haven't ordered a Wirex Card before, from the 6th March, anyone who orders a card will get an upgraded X-tras tier for 3 months, starting from the 1st May. Yes, it's that easy!
Find out how to order your card in this video:
How can you reorder a card if you already have a card with Wirex?
For our Wirex customers in Australia that already have or have ordered a card prior to the 6th March, you're entitled to re-order your Wirex Card today to claim this same great offer!
Need help re-ordering Wirex Card? Follow our step-by-step guide below:
Head in-to your Wirex App
In your Accounts Dashboard follow into the "Card" section
In "Cards" under your activated card you will find "Re-order Card"
Pick a reason "Card Expires Soon"
Check your delivery address and confirm it
Choose a delivery method
Your card is now on it's way!
Bigger and better rewards are just around the corner! Order your card today!
*X-Accounts rates vary depending on X-tras Plan and Tier. X-Accounts are made up of cryptocurrencies. Any reference to interest shall mean in the form of cryptocurrencies.
** Once the 3-month trial period concludes, user will automatically be downgraded to their previous plan and tier. Subject to the T&Cs and Privacy Policy.
*** The Wirex card is issued by Wirex Pte Ltd, under an Intermediary Authorisation arrangement with Flexewallet Pty Ltd who holds Australian Financial Services Licence ('AFSL') (448066)