We've Launched DUO, our New Crypto Yield Generating Tool
The new DUO tool is a great way to easily earn yield on one of two cryptocurrencies

It's aimed at everyone, whether you're a long-term crypto trader or want to earn some money in the bear market

You're always guaranteed a return regardless of whether they go up or down
We're happy to announce the launch of DUO, our new yield generating product that provides up to 400%+ APR!
Good things come in pairs, so we've been working hard behind the scenes to create a simple-to-use crypto yield earning tool to help you fight the crypto winter, and it's available now within the Wirex app!
It's built for users that want the ability to grow their assets regardless of market ups and downs, and is super easy-to-use, bringing together the best of yield generation strategies from the DeFi world and that of traditional financial trading platforms.
What is it?
DUO is a dual asset investment tool – a win-win way for investors like you. Use your knowledge of the crypto market and earn high returns on investments within a short time.
DUO allows you to earn an attractive yield based on the difference in market price changes from a trading pair over a chosen period of time, where you'll be paid out in one of the two cryptocurrencies. There are no fees, and the more you lock and less time you lock it for, the higher APR you can earn!
What are the Benefits?
High yield: no matter the price, you'll always get passive income from your assets
Simplicity: you don't need to understand any complex trading strategies or complicated menus
Short term: with a seven-day maximum locking period, you can generate high yield and have your funds back into your wallet quickly
Multiple DUOs: open multiple DUOs as long as you have available assets to lock
DeFi protocols offer similar ways for users to earn, but they're typically extremely lengthy, complex, and expensive for the average user to successfully use. Luckily for you, DUO brings this under one roof and allows you to easily do this from the palm of your hand.
How does DUO work?
DUO allows you to earn enhanced interest rates on investments, in return for accepting a certain risk associated with exposure of the crypto asset exchange rates of your chosen cryptocurrencies. The higher the exchange rate risk that is taken (shorter time & larger amount of asset locked), the higher the interest rate that is offered. The Interest rate is agreed upon at the start of the DUO time period.
DUOs consist of two assets (a base and paired asset) that can be traded with each other on an exchange. DUOs are opened with a base asset whose price you would expect to depreciate against the price of the paired asset.
At the end of your DUO, you'll either get paid out in:
The base asset if its price depreciated against that of the paired asset
The paired asset if the base asset's price appreciated against that of the paired asset
Plus your agreed interest rate applied to the asset you receive back.
How can you start earning with DUO?
Choose a trading pair (e.g. AAVE/USDT)
Choose a period to lock your base asset within the pair, which can be from 12 hours to 7 days. Each period has a stated yield, let's say you select 1-day USDT/AAVE 400% APR
Choose your asset to lock
Collect your return.
At the end of the day, you'll get AAVE or USDT based on the current market price at time of redemption, plus 400% APR calculated for the locking period.
If the AAVE price is less than it was when you opened the position, you will get the AAVE plus 400% APR. Alternatively, if it is higher or equal, you will get USDT plus up to 400% APR.


Wondering how DUO compares to competitors?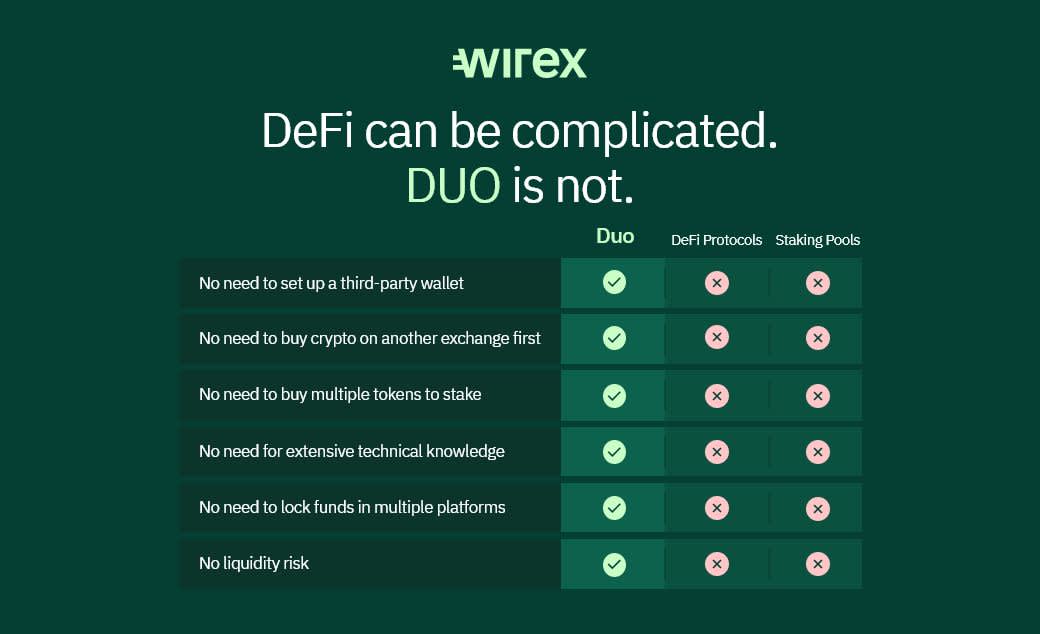 Have some more questions? Check out our FAQ!


* Crypto products, including Wirex DUO, can be risky for users. The value of your assets may change significantly and lead to a total loss, and there may be no regulatory recourse for any loss from such transactions. Please do your research thoroughly. Subject to the T&Cs and Privacy Policy.