We've Relaunched our Refer-A-Friend Program
Earn up to $15 in WXT for yourself and every friend that joins Wirex
Share your unique referral link and get rewarded
Learn how to get started now

We're excited to announce that Wirex has relaunched our refer-a-friend program, and it's better than ever!
The more you refer, the more you earn - start sharing your referral link today!
How does it work?
It's easy to get started, all you need to do is find your unique referral link in-app - tap Share Referral Link to send it to everyone you know.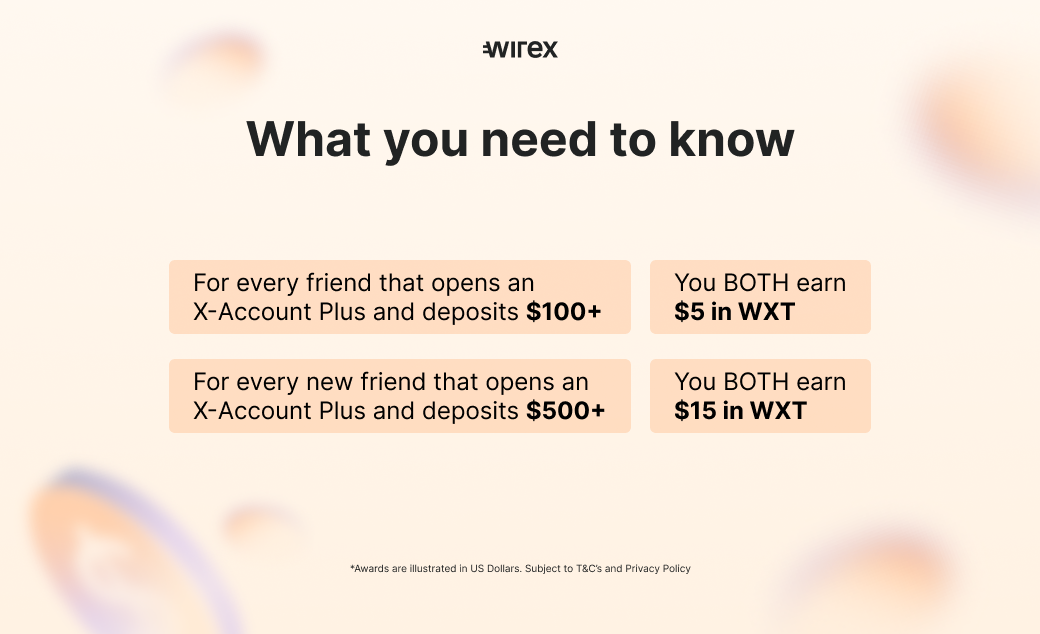 All your friends have to do is:
Register with Wirex by following your referral link.
Open an X-Account in your cryptocurrency of choice (you can open up to 10 X-Accounts if you like!)
Choose Plus instead of Flexible
Add funds a minimum deposit of $100, for you to earn $5 in WXT! Or if they deposit over $500 then you'll earn $15 in WXT! For 30 days, they will earn higher interest rates too.
At the end of the 30 days, you can withdraw your funds
And the best part is that both you and the person you refer will earn this reward!
That's it - don't forget the more you share the more you'll earn!
So why not refer a friend now!
For more info, please refer to the terms & conditions here.