When Piggy-Wallet went to market
In this new age of digital money, startup Pigzbe are revolutionising traditional finance from the ground up - starting with pocket money. Their piggy-wallet, which runs on a new family-friendly token called Wollo (WLO), aims to equip children aged 6+ with the tools to navigate the intricacies of digital finance from childhood. This unique concept, with its focus on education and innovation, made Pigzbe an excellent candidate for collaboration with Wirex.
Wirex has embarked on what we hope will be a long-term partnership with Pigzbe, starting with the launch of Wollo (WLO) tokens onto the Wirex app, joining Bitcoin, XRP, Ether and Litecoin, explains Wirex Global Product Owner, Rajiv Sainani. Next will be an integration of Wirex Visa payment card technology with the Pigzbe product. This will begin in the EU with plans to launch in Japan and the USA in the near future.
As of January 2019, we're delighted to announce that Wollo (WLO) is now live on the Wirex app. Customers in the EEA can now buy, store, convert and spend WLO tokens with their Wirex Visa cards. This is great news for investors who are looking to diversify their portfolios, or for Wirex users eager to secure their stake in this novel token.
Pigzbe - where did it begin?
Pigzbe is the brainchild of Forbes 30 Under 30 honoree Filippo Yacob, Kano computer designer and Pentagram partner Jon Marshall, as well as former Apple, Visa, Paypal and Google employees.
Pigzbes mission is to teach children the principles of 21st-century finance while enabling families as microfinancing networks to operate globally. They recognise that with global migration, modern families are more spread out across the world than ever before. To cater to globalised families, Pigzbe offers a product that allows its users to circumvent the limitations of existing digital piggy-banks, where small transactions are slow, expensive and largely impossible across international borders.
Pigzbe has offices in London and Chiasso, Switzerland and caters to users all around the world. Their token sale launched in early September 2018, having already smashed through their soft cap of $2.85m. The companys ICO successfully closed at the end of October, easily reaching the hard cap of $8.85m.
The product
Pigzbes piggy-wallet
combines saving with earning, digital money and gamification. Their ambition is to establish a new standard of financial education for children, and a system designed not only for an increasingly cashless society but also to embrace the realities of a rising token economy. To do this, Pigzbe combines a device (the handheld piggy-wallet) with an app for parents and children and a payment card.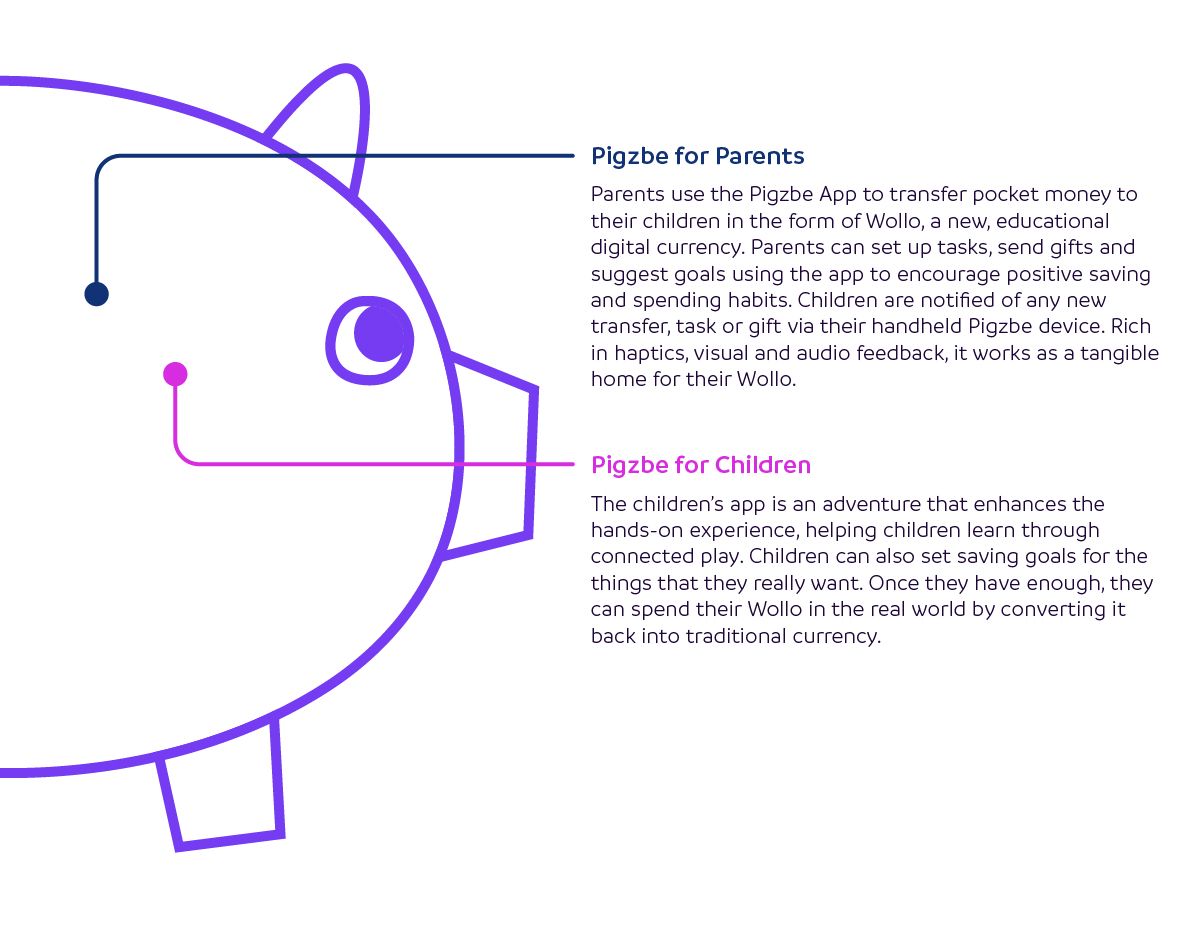 The Wirex Partnership
Wirexs crypto-enabled payment solution will be applied to Pigzbes products to diversify and bolster their current offering. It will use the same technology that allows Wirex cardholders to convert and spend their existing cryptocurrencies seamlessly.
Keep your eyes peeled for more news about Pigzbe. If you arent already using Wirex, where have you been? Click here to download the app for free on the App Store or Google Play.