Will 2021 be a Significant Year for Crypto?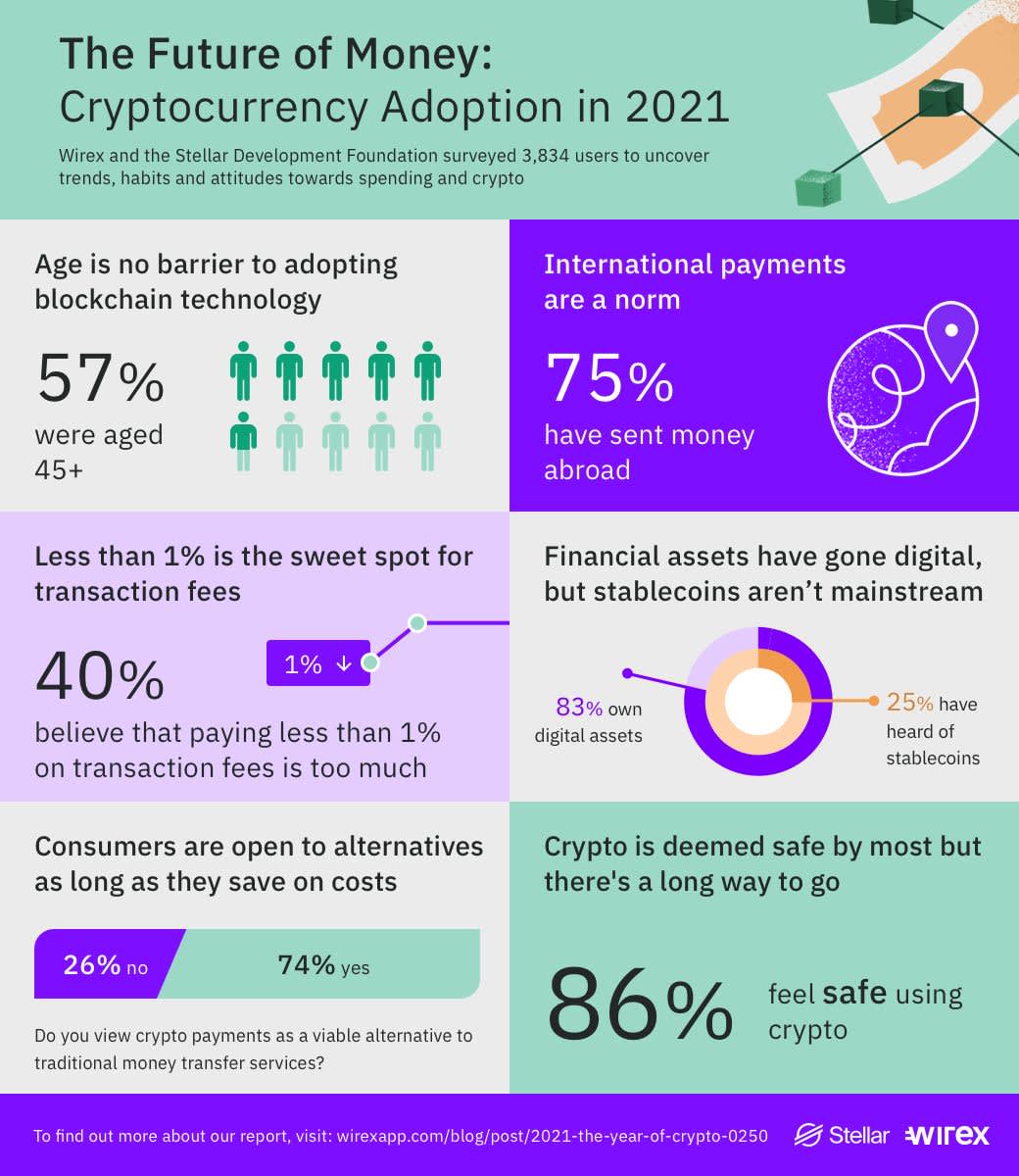 Crypto prices recently reached an all time high so it's no surprise that the amount of consumers has also skyrocketed in the past couple of years. COVID also helped accelerate this trend as many look for alternative ways to make payments. But with lockdowns leading to a reduction in our social lives, it's also given people more free time to invest in learning about these increasingly popular currencies.
Since its inception, one of Wirex's main goals has been to make crypto open to all, and to help bridge the gap between blockchain and traditional economies. At the end of 2020, we partnered with The Stellar Development Foundation with the mission to better understand the attitudes of our customers towards crypto.
Together, we conducted a survey with our combined user bases and have compiled the results of 3,834 responses into one report, which aims to outline the opportunities that the digital economy presents for solving real world problems.
Throughout the coming months we'll be diving deeper into what these findings could mean for the future of the digital economy; but for now, here's a bitesize overview:
Older generations are using crypto too!
While it's often perceived that crypto funds are mainly held by younger generations, one of the most surprising findings of the report is that age really isn't a barrier anymore when it comes to using blockchain technology. 57.2% of respondents were 45 or older, with the 45-54 year olds being the largest age group using crypto. It just goes to show that anyone can get involved in crypto, and it's only going to get more accessible as demand increases.
International transactions are more popular than ever, but users demand lower transaction fees
While travelling in person may be limited at the moment, we have been able to globetrot vicariously through our payments. 75% of respondents said that they had sent money to someone in another country in some form. Gone are the days of needing to go down to the Post Office to exchange currencies before going abroad, now it can be done online or on your phone with just a few clicks.
One of the main issues when it comes to transferring money overseas via traditional methods, such as bank transfers, is the high transaction fee. Our survey participants responded with an overwhelming majority that transaction charges above 1% are too high and fees of less than 1% are preferred. This insight will be extremely beneficial as businesses continue to adapt blockchain technology to appeal to the demands of the mass market.
Stablecoins could be the next hot commodity
Of those surveyed, over 74% believe that cryptocurrency is a viable alternative to the traditional monetary system. Some critics still argue that, due to instability, cryptocurrencies are unlikely to achieve mainstream status, but fear not because the crypto markets already have a solution for this.
Stablecoins are cryptocurrencies that are usually backed by a stable asset, such as gold. Being tied to a tangible asset allows stablecoins to mitigate the price fluctuations experienced by conventional cryptocurrencies, while still retaining the key advantages of digital currency - speed, security and cost-effectiveness. Only 25% of those surveyed had heard of the term stablecoin, so maybe 2021 will be the year they get some recognition.
It's vital we tackle concerns around crypto safety this year
The global pandemic has only accelerated the growing trend of managing money and making payments online, meaning more and more people are beginning to realise the benefits of a token-based economy.
While 86% of respondents said they felt safe using cryptocurrency, it's important to note that this doesn't reflect the attitudes of the wider public. Data for this report was gathered from participants who were already crypto fans and have a greater awareness of blockchain technology. However, 2021 could be a big year for cryptocurrency, with many predicting this will be the year it truly enters the mainstream. With companies like Wirex and The Stellar Development Foundation sharing the common goal to help make digital and traditional currencies equal, we hope the insights from this report will help spearhead the movement.
The sky really is the limit for crypto, and with key industry players including Paypal showing their support for cryptocurrencies, the future looks very hopeful for the crypto market.
To read the full report, click here.