Win $BTC this Black Friday/Cyber Monday
Black Friday/Cyber Monday is a excuse for a bit (or a lot) of shopping. Thousands of people on the hunt for big sales, special offers, and deep discounts. With the price of bitcoin skyrocketing and well on it's way to $10k, we thought it appropriate to celebrate Bitcoin Black Friday and Cryptocurrency Cyber Monday by giving something back to the Wirex community with a little contest. We fully expect the popularity of bitcoin to grow massively in 2018. And we know your friends and family will be asking you for advice since you discovered Wirex first. Theyll ask all the same questions like:
How does bitcoin work?
Where does it come from?
Why does it cost so much?
How much will it be worth in 6 months?!
And: Where do I get some?! If you already have a Wirex account and own some bitcoin, theyll definitely ask you to show them how best to get started. Theres also a high chance that youll be walking them through how to sign up for a new Wirex account (thank you ;)), and showing them how to buy their first bitcoin. Did you know using your referral link will reward you for bringing on new users? To be completely honest, there's really not much money in it for you, unless you want to join our professional affiliate marketing program. For friends-and-family referrals, the revenue we have available for transactions is very low. So the cashback you receive is not really the point. It's just a way to show friends and family how bitcoin transactions work. They register. They buy a little amount of bitcoin. And you receive a tiny fraction of that amount into your own bitcoin wallet. Sit together and with your guidance go through the simple steps to get them set up with buying their first bit of bitcoin, stored on their secure bitcoin wallet on the Wirex app. So while you're out on a shopping spree for Bitcoin Black Friday or Cryptocurrency Cyber Monday, give some thought to your own bitcoin investments and share the gift of bitcoin with a friend via your Wirex referral link. You'll find this link in your Wirex account profile under affiliate.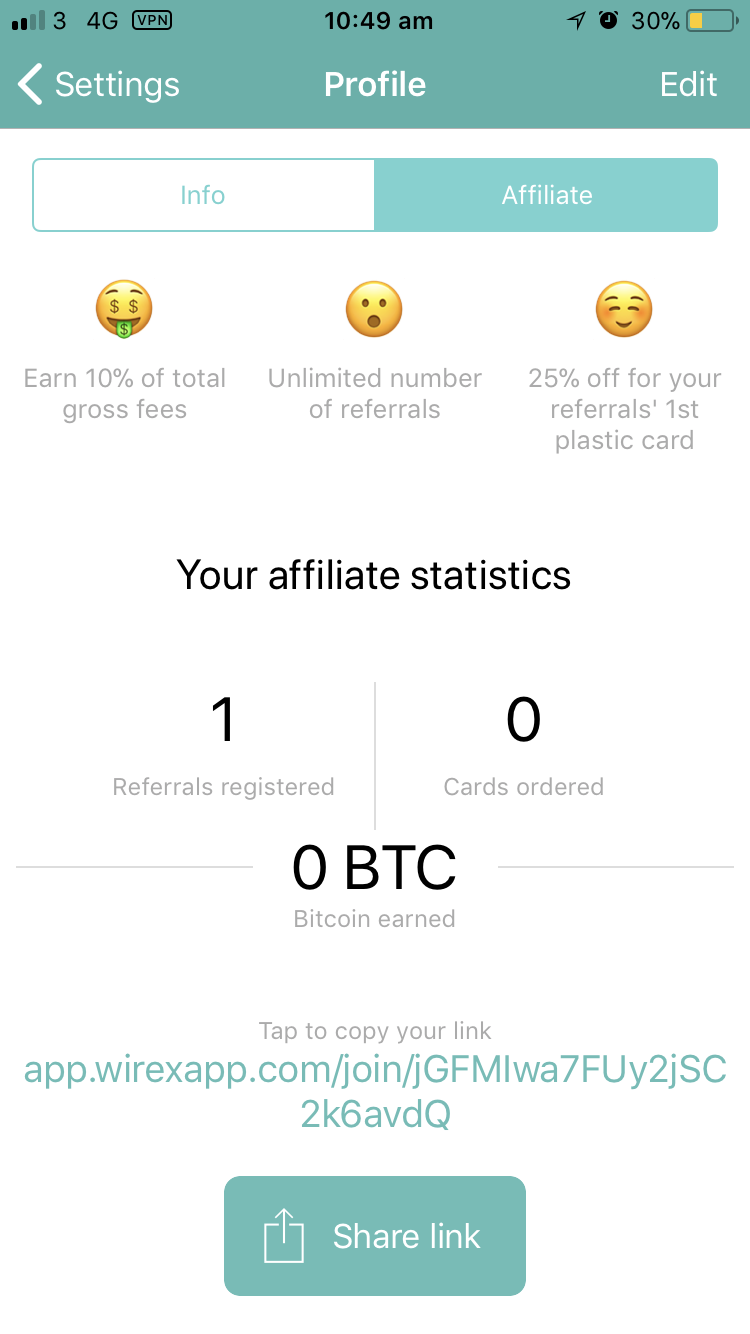 Everyone wins :) And here's the Bitcoin Black Friday / Cryptocurrency Cyber Monday contest details:
6 Lucky Winners
Were giving away $50 of BTC to the top three referrers in the following two categories:
Number of new referrals sign-ups in November
Highest $BTC earnings made from referrals in November
Get cracking and
share your referral link
with all your family and friends this Thanksgiving. You'll have until the end of the 30th of November to rack up your referrals and win some bitcoin. May the odds be ever in your favor. P.S.If youre new to Wirex, its not too late to join the race.
Sign up
in less than 5 minutes.