Wirex & Friends Challenge the Crypto Space
It's now been nearly 6 months since Wirex's 'Women in Crypto' campaign and we had the pleasure of reading the inspirational 367 entries to our 'Rising Women in Crypto Power List'.
Although our 2020 campaign may be over, the work of Wirex in promoting women in the space doesn't stop there. 2021's International Women's Day (IWD) is a pivotal day to celebrate women and their achievements across all sectors, and no more do we need this in the crypto space that's renowned for having a male stereotype.
What is International Women's Day 2021?
The theme for this year's IWD is #ChooseToChallenge. Taking place on the 8th March, it focuses on challenging gender stereotypes and bias, and collectively working towards an inclusive world.
However, it also looks at the challenges that women face everyday.
According to the Cambridge English Dictionary, the definition of 'challenge' is:
"(the situation of being faced with) something that needs great mental or physical effort in order to be done successfully and therefore tests a person's ability."
Whether that's in the workplace, day-to-day activities or relationships, women are faced with difficult challenges. But through determination, hard work and ambition, this fuels them to succeed and achieve their goals.
Challenges in Crypto
In line with the theme, we want to look at the challenges faced by women in crypto as positive, not negative. We asked the women of Wirex, plus the formidable women involved in our 'Women in Crypto' campaign, about what challenges they've faced, how they overcame them, and the incredible things they've achieved from it. From this we want to spread the message that everyone can get involved in crypto, no matter what experience, background or gender you are. Check out their responses below: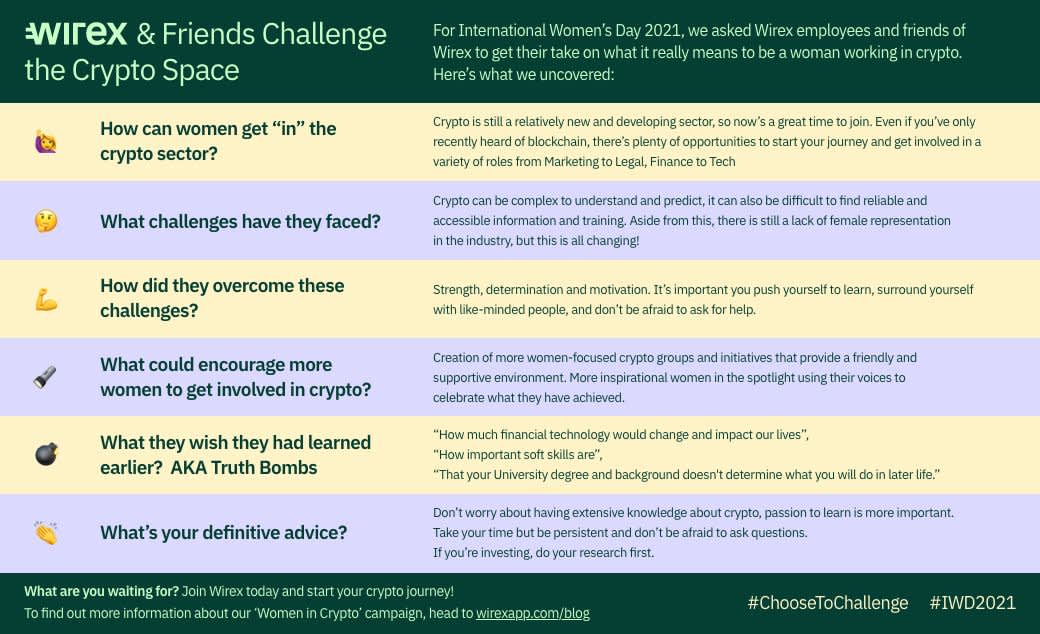 How can women get "in" the crypto sector?
"I ended up working in the crypto sector almost by accident after being introduced by a former colleague. Even though I only had a small amount of knowledge about crypto back then, my interest in fintech and desire to learn pushed me further into it."
It'll be hard to find someone who's dream career has been in the crypto industry. Firstly, it's only been around the past decade or so. Secondly, it's still a relatively niche industry. Because of this, a lot of people end up in crypto through word-of-mouth, having invested a little in the currency at some point, or just by accident! As such, don't be put off if you don't know exactly what you want to do; the most important part is expressing an interest in one way or another. Although crypto is still a relatively new concept, improvements in technology and interest by global players such as Facebook and Paypal mean it's quickly becoming a hot topic. Now's a great time to get involved before it explodes!
What challenges have they faced?
"It all starts with yourself and how you think. It is not that hard to get into something that you really want if you have the determination to achieve it. Tech is the future, yet most women are not on track to participate in shaping that future, and we have to fight for a fairer tech industry for women"
Since the inception of Bitcoin by Satoshi Nakamoto in 2009, crypto has grown immensely to be a serious contender to the traditional economy. However, with that, comes a tonne of undiscovered new territory in the form of technology and regulation, and barriers and hurdles that everyone must overcome.
One of the most frequently mentioned challenges faced is the complexity of the crypto sector. It's quite different from any traditional, regulated monetary systems in place in everyday society, and can difficult understanding some of technical processes involved. Aside from this, some of the terminology and acronyms is just straight out confusing - HODL, DYOR, FUD?!
Another challenge, closely linked to the narrative of IWD, is the lack of female representation across the industry. With few females in senior roles to inspire others, it's hard for other women to feel motivated to push themselves in this sector as well. Thankfully, that's all starting to change.
How did they overcome these challenges?
"Being knowledgeable really is key when being in this industry, so I make sure that I'm up to date on what's being talked about, not just for my job, but in the crypto-cyberspace."
The key to overcoming most of these challenges has been having a positive mental attitude and a determination to push themselves in the sector. Particularly a few years ago when crypto was still young, the limited amount of reading material that was readily available and understandable to the mass market made crypto inaccessible to most. However, the growth of the crypto industry and social media has led to an explosion of resources that simplify the often-confusing world of crypto for everyone and anyone, women included.
Women noted doing a tonne of reading in their spare time (from CoinTelegraph's 'Explained' section to crypto influencer discussions on Twitter and beginner's guides on YouTube), attending crypto-related events, and asking their peers questions, all to educate themselves about crypto.
And this comes hand in hand with a lack of female representation in the sector. It may be intimidating at times, but with the power of knowledge, many were able to prove themselves amongst their male peers in the crypto sector and show they are as worthy as them.
What could encourage more women to get involved in crypto?
"Campaigns and promoting the sector in the media will raise awareness and may reach those who may not know much about crypto or be wary of it. There is an opportunity to educate those who are sceptics."
The most important action that will encourage more women is to continue raising awareness and celebrating the achievements of women in the industry. As Lottie Wells, PR, Events & Comms Manager of Wirex, mentioned in the Fintech Times, one of the biggest takeaways from Wirex's 'Women in Crypto' campaign last year was how encouraging and inclusive the crypto industry was for women. They recognise the difficulties they face navigating the space, and frequently take to social media and speak at events to share their thoughts and beliefs, and inspire others to get involved. Global companies such as Wirex are crucial, however, in giving these women a platform to spread their message.
Similarly, a huge range of women in fintech/crypto groups already exist, such as the Women in Fintech Network, European Women Payments Network, or Crypto Curry Club. These allow women to surround themselves with like-minded people, but increased publicity about what these groups have to offer will ensure they continue to make an impact.
What they wish they had learned earlier? AKA Truth Bombs
"How much Financial Technology would change and impact our lives"
Fintech is one of the fastest growing industries in the world, and despite Bitcoin only being developed back in 2009, it's potential in everyday society has only truly begun to be realised in the last few years. At Wirex, it's been our mission to make crypto accessible to everyone through our industry-leading app, but technological developments and regulatory changes are now making this even easier.
With that in-mind, many women wish they'd had the courage to get involved in something they had a passion for sooner. With the right attitude to succeed, they realised that they can do what they want and follow their dreams. If crypto takes your fancy, why not take a leap of faith and jump into this sector sooner rather than later?
What's your definitive advice?
"Learning doesn't need to be formal such as through a university - there are a ton of resources out there, Twitter is a good place to start."
One of the main takeaways from our survey was women reiterating the importance of having the courage to push yourself and be persistent. The abundance of information on the Internet means that the crypto world is your oyster, and only you are capable of learning and developing along the way. Whether you're looking to invest or work in the sector, other female crypto influencers will be a great source of inspiration and will always be available to give you the encouragement and help you need. It won't be an easy ride, but everyone must start somewhere, and who knows, you could be the next Satoshi Nakamoto.
What are you waiting for? Join Wirex today and start your crypto journey! For a limited time only, verify your account and earn 1,000 WXT! Hurry – we'll only reward the first 500 users who verify! (T&C's apply) To find out more information and get inspired by female influencers from the crypto industry, check out our 'Women in Crypto' campaign on the Wirex blog.