Wirex's Christmas Advent Calendar is Here!
To start of the festive season, we're excited to announce our biggest giveaway to date! Throughout the month of December, we will be paying out up to $1 million worth of WXT and other crypto across a series of fun and exciting promotions.
With Christmas shopping in full swing and people looking to invest in crypto in the new year, Wirex users across the globe can reap even more benefits by signing up, making purchases and exchanging crypto across the next 24 days.
The 'Wirex Advent Calendar' campaign will run through the 1st - 24th December, with different promotions running every day of the month. Want to know what's in store? Here's a sneak peek at just some of the promotions running this month:
Sign-up and verification bonuses for new and existing customers
Special rewards for deposits, transactions, and card activations
Up to 4% Cryptoback™ rewards on all online and in-store purchases made with Wirex card
High bonuses for purchasing certain tokens, including BTC, ETH, DOGE and XRP
The giveaway will culminate in double rewards for users buying WXT on the 24th December, where they can receive 100 EUR/USD in WXT when they buy over 500 EUR/USD worth of the token.
On each Monday of the festive period, we'll be announcing the week's upcoming promotions on the blog, so be sure to check back in to see what's on offer!
This week the spotlight is on WXT, LTC and SOL:
1st December – Receive €5 in WXT when you buy at least €50 of WXT
2nd December – Receive €5 in WXT when you buy at least €50 of LTC
3rd December – Receive €5 in WXT when you buy at least €50 of SOL
Don't worry, the deals don't stop this weekend! Why not beat the seasonal rush and take your Wirex card on a shopping trip this weekend?
All you have to do is spend at least €/US$100 in a single in-store transaction and you'll unlock €/US$10 in WXT! And don't forget, you'll also earn up to 2% Cryptoback™ rewards on your purchases as well.
This is a limited time offer that's only around for 48 hours, so whip out your Wirex card and get shopping today!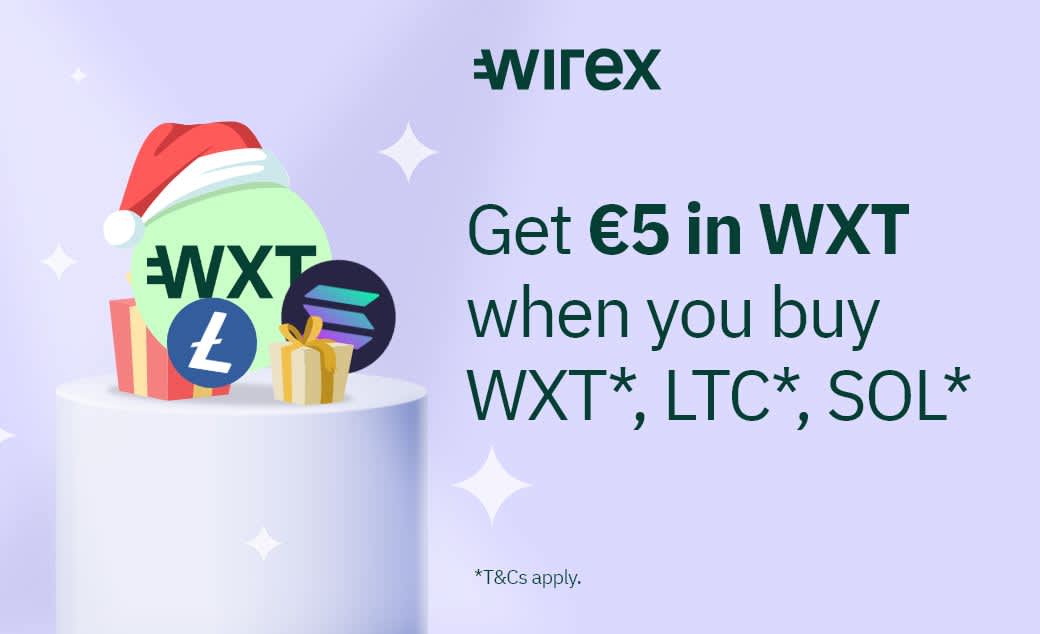 Token purchases must be made in a single transaction to qualify, please see T&Cs for more information. T&Cs for each promotion will be posted daily on our Community Forum.
Please find APAC T&Cs here.
Please find EEA T&Cs here.