Wirex Christmas Advent Calendar Week Two
We're back with the second week of our exciting Christmas promotions! If you're worried you missed out last week don't panic because we've got plenty more exciting offers in store in the run up to Christmas.
2021 has been a huge year for Wirex when it comes to tokens, and over the past 12 months we've added over 20 new cryptocurrencies. So for the second week of advent, we've decided to mix the old with the new.
This week, it's all about tiers (not unlike a Christmas tree). Wirex account holders can earn up to €50 in WXT when buying a selection of old and new coins. Want to know how it works? Here's the breakdown:
| | |
| --- | --- |
| You buy: | You earn: |
| Between US$/€50 and US$/€99.99 worth | US$/€5 in WXT |
| Between US$/€100 and US$/€199.99 worth | US$/€10 in WXT |
| Between US$/€200 and US$/€499.99 worth | US$/€20 in WXT |
| Over US$/€500 worth | US$/€50 in WXT |
Get in there quickly - each coin promotion only lasts for one day! Is your favourite crypto on offer this week?
6th December – BTC
The OG cryptocurrency, invented by the mysterious Satoshi Nakamoto back in 2008. BTC is widely known as the first ever decentralised digital currency.
Buy it on December 6th to earn the above rewards!
7th December – DOT
The DOT token is native to - and provides governance for - the Polkadot network. The network is designed to enable cross-blockchain transfers of any data or asset, creating an interconnected 'internet of blockchains'.
Buy it on December 7th to earn the above rewards!
8th December – DOGE
Much coin. So crypto. Wow. We've all come across the iconic meme that inspired DOGE. But who knew it would become a top ten crypto asset?
Buy it on December 8th to earn the above rewards!
9th December – LINK
LINK is the native token of the Chainlink blockchain oracle network, which aims to provide genuine, dependable price data for hundreds of decentralised finance platforms.
Buy it on December 9th to earn the above rewards!
10th December – ETH
The world's second biggest crypto by market cap and undisputed king of the altcoins. Ether is the native cryptocurrency of the Ethereum Blockchain - the most widely-used blockchain around.
Buy it on December 10th to earn the above rewards!
And the deals don't have to stop just because it's the weekend. Be sure to activate your Wirex card because this weekend you can earn €12 in WXT when you use your card to make a purchase of at least €120! It's the perfect time to do the Christmas shopping that you've been putting off.
Don't see your favourite coin on the list this week? Come back Monday to find out what's in store for next week!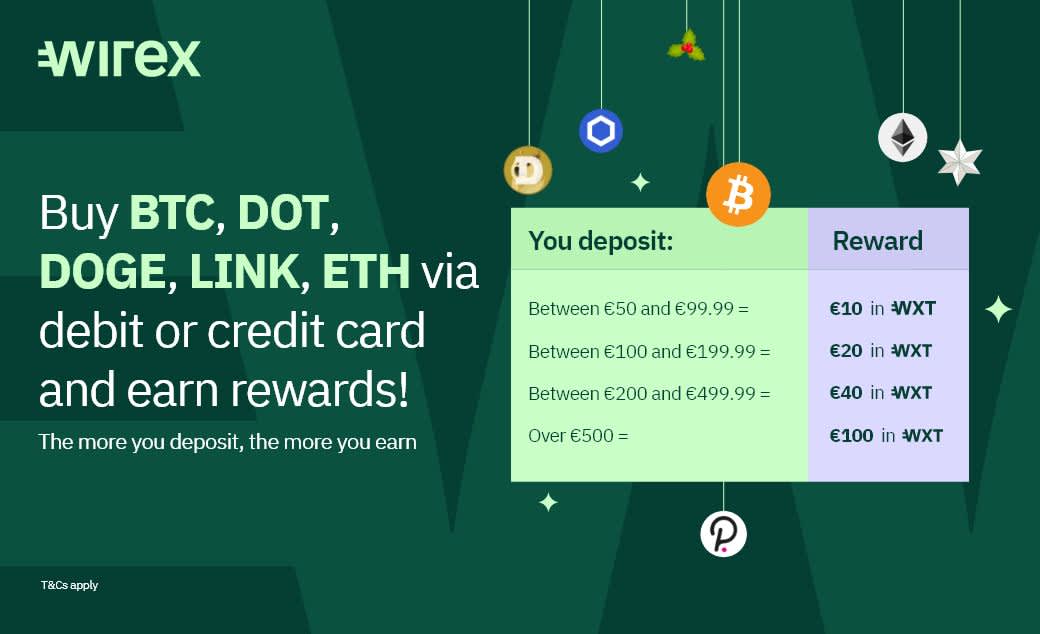 Token purchases must be made in a single transaction to qualify, please see T&Cs for more information. T&Cs for each promotion will be posted daily on our Community Forum.
Please find APAC T&Cs here.
Please find EEA T&Cs here.