Wirex Credit is now live!
Need to free up some funds but don't want to sell your BTC?
Introducing Wirex Credit! Created with you in mind, it lets you instantly borrow stablecoins against your crypto, with complete flexibility and zero fees.
Plus, you can do so with 0% interest!*
So, how does it work? Simply use your BTC or ETH (more tokens coming soon!) as collateral in-app and take out a Wirex Credit line. The process is straightforward, super-secure and takes only minutes to complete. Your stablecoins will be available to you immediately - and you can pay them back whenever you like.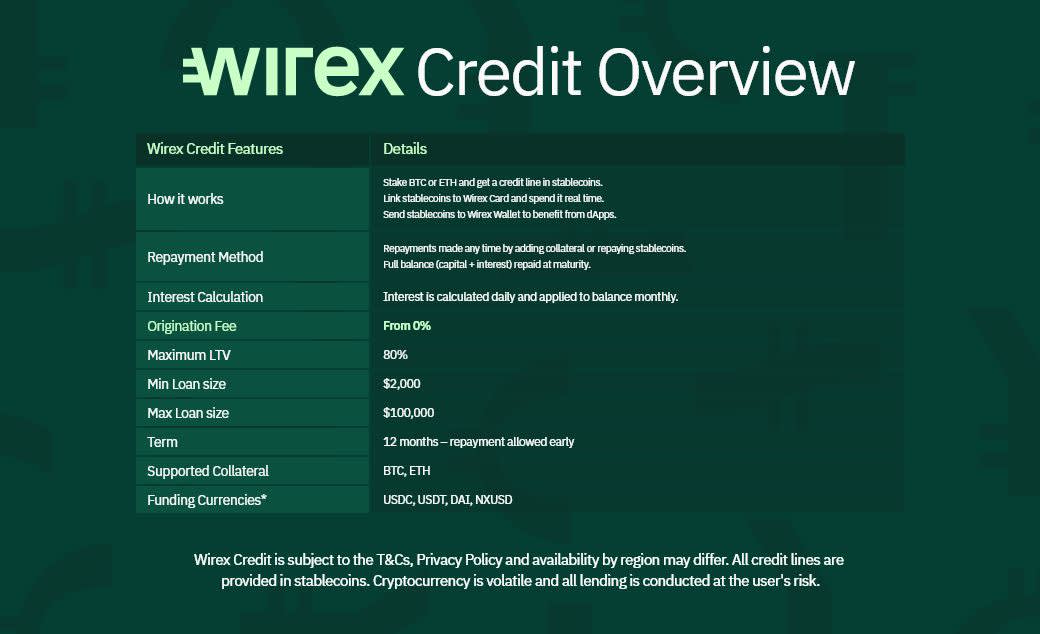 Let's take a closer look at what it can do for you.
Not ready to part with your tokens? You don't have to – using them as collateral means you retain ownership of your assets, so you don't have to sell them and risk buying them back at a higher price down the line.
Need funds now? No problem – your stablecoins will be available instantly to spend with your Wirex card.
Wirex Credit is available to absolutely anyone – we won't put you through endless affordability and credit checks and we won't charge you any fees to get set up.
We designed Wirex Credit to be as flexible as possible – you'll pay interest for the days you have a live credit line and you can repay it whenever you like.
You can borrow up to 80% of the value of your collateral, and do so with 0% interest!*
You can currently stake either BTC or ETH as collateral, with more to come soon!
Want to know your current LTV ratio? Take advantage of our real-time health checker tool and get notified when it changes.
Your crypto is safe with us – your funds are protected by leading digital asset custody platform Fireblocks.
How does Wirex Credit work?
So, you like the sound of flexible stablecoin borrowing with 0% interest.*
But how do you get started? It's simple.
Go to Wirex Credit in-app and tap Get Started.
Hit Borrow then select a cryptocurrency to use as collateral.
Enter the amount you wish to use as collateral.
Tap Continue, double check the details, then select Confirm.
It's as easy as that! Your stablecoins will be available instantly, which you can then exchange into crypto or traditional currency, or spend with your Wirex card.
Ready to begin?