Wirex Multiply – How to get started, step-by-step!
Multiply your crypto assets with high profit potential

Easily set up Wirex Multiply in the Wirex App

Choose your pairs using existing assets or easily add funds to your account



Wirex Multiply is a great new tool allowing users to loan a portion of their assets to predict the future price of a crypto. With just a couple of taps you can be up and running – here's how:
What is Wirex Multiply?
Wirex Multiply allows you to loan some of your crypto based on whether you think its price will go up or down. You can use that loan to take out further loans, increasing your potential returns, but also increasing the risk.
It's a great way to diversify your investments within the Wirex app, easily transferring funds from your in-app Wirex crypto accounts to trade with a high profit potential. To learn more about how to use different growth strategies with Wirex Multiply, read more here.
How can you create a Wirex Multiply?
1. Tap the 'Grow' button, found at the bottom of the screen of your main dashboard. This is where you can see a range of options at the top ranging from Duo, Earn & Borrow. Then tap 'Multiply'. If you can't see it, check you have the latest update on the Wirex App.
2. Open your first Multiply. This is where it gets fun! You can open a Multiply, either by tapping 'Start First Multiply' in the middle of the screen, which will automatically open the BTC/USDT pair by default. Alternatively, you can scroll through the various currency pairs underneath to select a specific one that you want.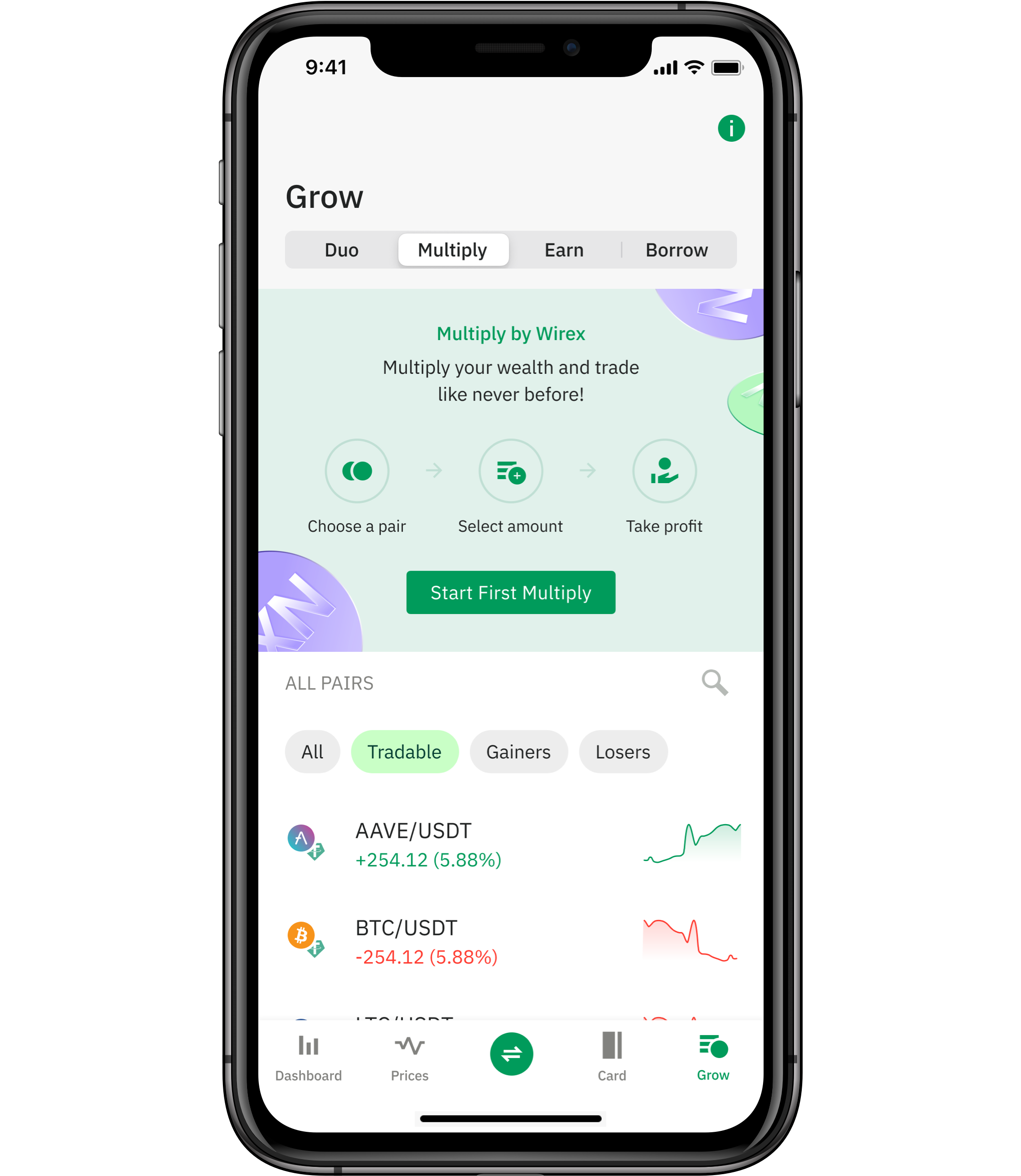 3. Choose your pair, simply by selecting it, click on the 'UP' or 'DOWN' buttons to choose your trajectory of the currency.
4. Select the amount and levels. This might seem complex, but it's quite easy when you get the hang of it. Wirex Multiply will use assets you allocate to open the first loan in an automated chain of loans. With the borrowed funds from the first loan, the platform buys more crypto and uses it as collateral for a second loan in the chain. This process can be repeated from 2-50 times by choosing your multiplier level.
You can apply many parameters to your Multiply at this stage. Here's how to adjust them:
The currency pair and price direction you'd like to invest. You have already selected this on the earlier stage, but you can edit it if needed here.
The source of funds and amount – in the above example USDT is selected. If you don't have enough balance in your chosen currency, you can add funds by tapping the 'add funds' button.
Multiplier – the level of risk you are willing to take.
Take Profit and Stop Loss levels – this is the Margin Call which is set by default. You can choose any Take Profit level you want. You can change both levels anytime later after you create Wirex Multiply.
After you set all parameters, press the 'Start' button.
TOP TIP: When you open your Multiply, recommended parameters will automatically be assigned based on the Multiply you've selected, which can be changed if you choose
5. Confirmation – check your inputs before pressing 'Confirm' at the bottom.
6. You're all set! You'll see an in-app notification and it means you're Wirex Multiply has been successfully created. You'll be able to track its progress anytime inside the Wirex app. Your Multiply will automatically close if you reach the Margin Call (Stop Loss) or Take Profit levels, or you can manually close it at any point.

Be sure to share any insights, strategies and ideas with other Wirexers in the dedicated Wirex Discord Community channel!
DISCLAIMER: Crypto products, like Wirex Multiply, can be risky for users. Cryptoassets may not be regulated in your region. The value of your assets may change significantly and lead to a total loss, and there may be no regulatory recourse for any loss from such transactions. Purchasing or exchanging crypto-assets may be needed to use some crypto products. Tax may be payable on profits. Subject to T&Cs and Privacy.
The content of this publication should not be construed as an express or implied promise, guarantee or implication by Wirex that clients will profit or that losses in connection can be limited from reliance on any information. The content is purely educational and informative, not intended to be and does not constitute financial advice, investment advice, trading advice or any other advice and should not be relied on for those purposes. The author and Wirex are not responsible for any loss arising from any investment based on any perceived recommendation, forecast, or other information contained here.
None of the information in this article constitutes an offer (or solicitation of an offer) to buy or sell any currency (whether cryptocurrency or fiat) or product, make any investment or participate in any trading strategy.