Wirex Women in Crypto 2021 Live Event
Our Women in Crypto campaign saw enormous success last year, so we're extremely excited to bring it back for 2021!
We're back bigger than ever this year - we're even hosting our very own livestream event! And we want you to be a part of it. Make sure you join us, for free, at the end of London Tech Week for Women in Crypto: Tech, Innovation & Digitisation.
Being live-streamed from tech accelerator, Level39, in Canary Wharf, London, we've partnered with UKTN to welcome a incredible lineup of women to give quick-fire, 10 minute presentations discussing payments, NFTs, DeFi and their own roles in the crypto industry. You don't want to miss it!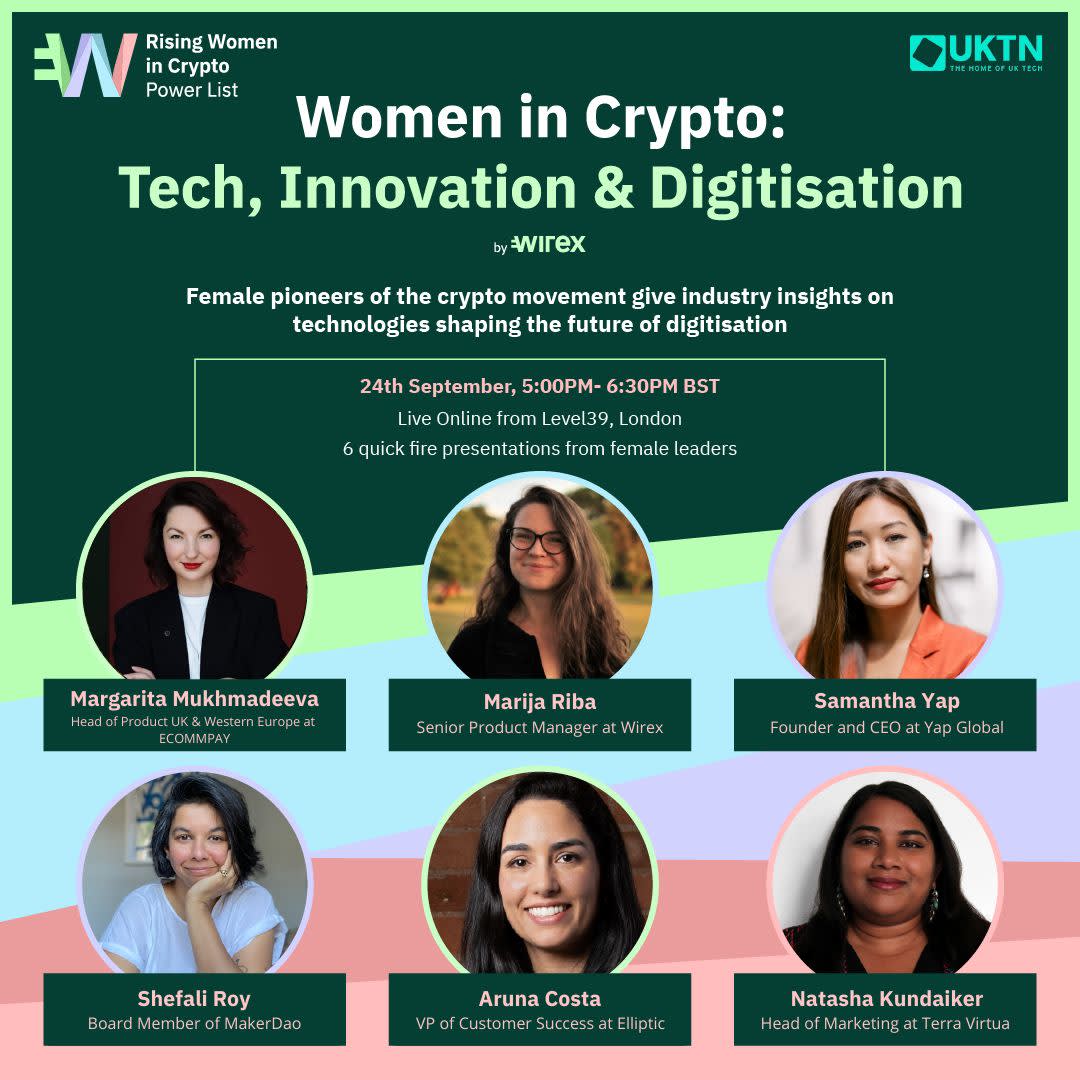 Here's the line-up:
Margarita Mukhmadeeva: Head of Product UK and Western Europe at ECOMMPAY
Aruna Costa: VP of Customer Success at Elliptic
Natasha Kundaiker: Head of Marketing at Terra Virtua
Marija Riba: Senior Product Manager at Wirex
Samantha Yap: CEO and Co-Founder of YAP Global
Shefali Roy: Board Member at MakerDAO
The event will be livestreamed from Level 39, Canary Wharf, at 5pm-6.30pm BST on the 24th of September 2021. To join, simply pre-register for free at the link below.
What's on the agenda?
Introduction
We'll kick things off with a brief introduction to the event, which will touch on why it's so important for women to work in the crypto sector.
Hear from the panellists
Next, you'll hear from our six panellists, who will each give a 10-minute presentation on how their roles are impacting all things digital, blockchain and crypto.
Conclusion
Our very own PR & Events Manager, Lottie Wells, will conclude the event. Listen up for an exciting announcement about the Rising Women in Crypto Power List!
Q&A
This is where you come in! Our panellists will answer any questions you have at the end of the event, so please make sure to submit them beforehand on the Community Forum - dedicated thread details coming soon.
See you there!
Register here.

Download the event guide for 'Women in Cypto: Tech, Innovation & Digitisation'