Women in Crypto 2022: a look back at live event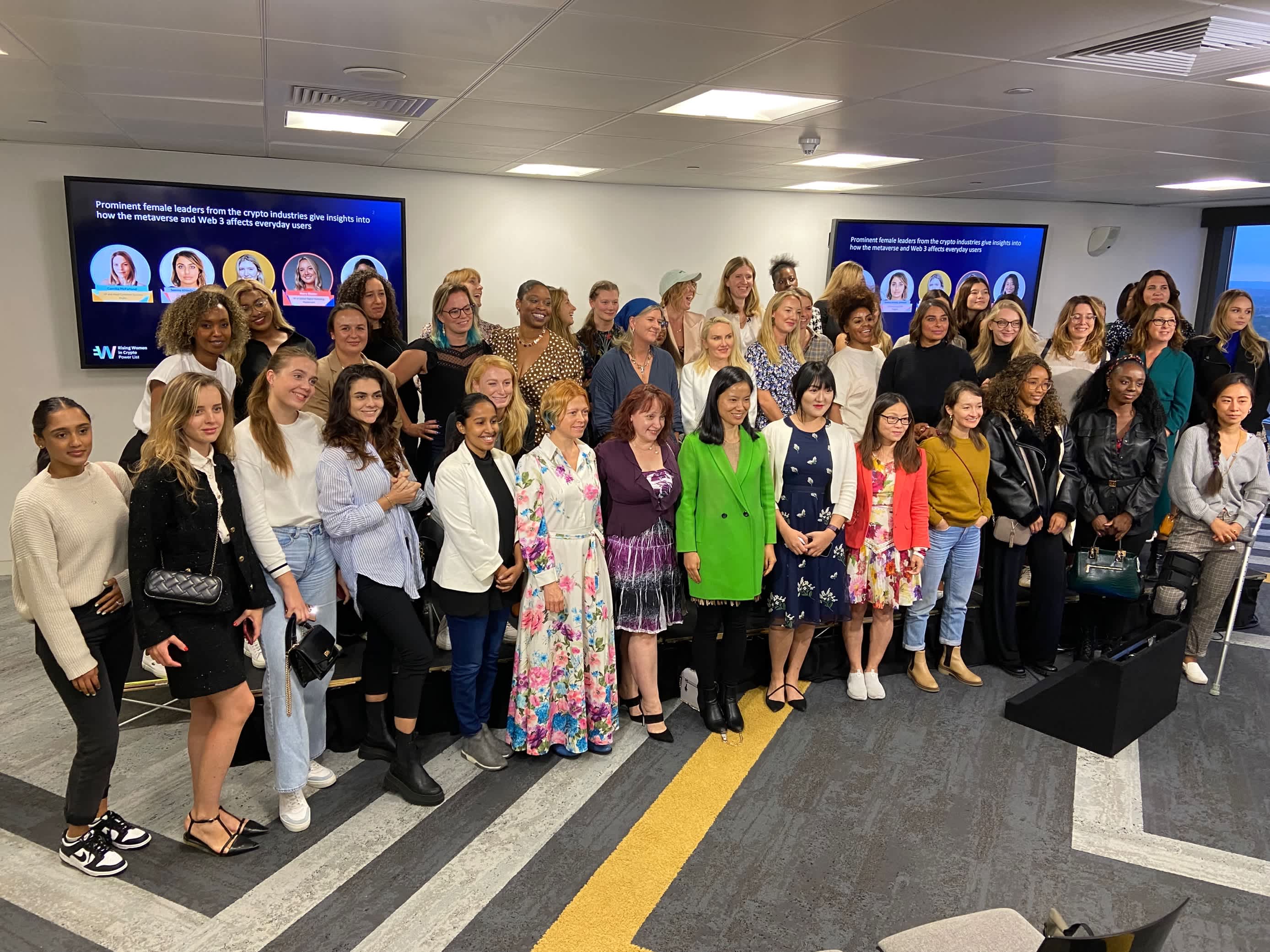 On 15th September, we hosted the second live Women in Crypto event that took place in Level39, Canary Wharf.
We teamed up with a major publication The Cryptonomist and gathered an inspirational line up of talented women working in the crypto space who gave presentations on Web 3 and the Metaverse.
Lauren Ingram, our amazing host, along with four crypto stars took us through a fantastic journey which we're happy to share with you now!
Check out the event's key moments along with a video of the livestream below, and don't forget that we're still accepting nominations for the 2022 Rising Women in Crypto Power List!
You can nominate yourself or someone you know here
Camilla McFarland, VP & Head of Customer Success for Mojito
The future of Brands and Creators in Web 3
Camilla gave us a quick overview of what brands and creators are expected to experience in Web 3 in the future. Long story short – Web 3 is taking over the world. She says that every company will soon be a Web 3 company, the same way that every company is an 'internet' company today, and they'll need to adapt to keep up with society.
Kerry Elsdon, VP of Global Digital Marketing at Mastercard
Entering the metaverse
Many of us wonderhow our lives will change if we enter the metaverse'. Luckily, Kerry has an answer to that question and says that things will never be the same. There will be a major shift in the way we have fun and socialise, the way we learn and work, and the way we shop.
Lavinia Osbourne, Founder & Host, Women in Blockchain Talks
Blockchain: Mass Adoption – What Does It Mean To You?
Blockchain is slowly by surely entering our lives but what does that mean for us? Being able to adapt to a new reality is an essential part of keeping up with trends. Lavinia sees diversity and inclusion as key drivers for blockchain's mass adoption.
She says that: 'Blockchain - it is the future of business, the future of work, as well as money! This evolvement of the fourth industrial revolution will help to create opportunities for financial inclusion and social impact.'
Seema Khinda Johnson, Co-Founder & COO at Nuggets
A Digital Identity Fit For The Metaverse
Nowadays, many people are still struggling with keeping their accounts safe. But have you ever thought of security issues in the Metaverse? Seema defined verified identity, portability and transparency as vital components for ensuring a safe space for everyone in the Metaverse. She believes thatin the rapidly approaching world of web3 applications and services that underpin the Metaverse, it's more important than ever to have a portable and reusable decentralized identity that preserves privacy and provides security.