'Women in Crypto' 2022 is back!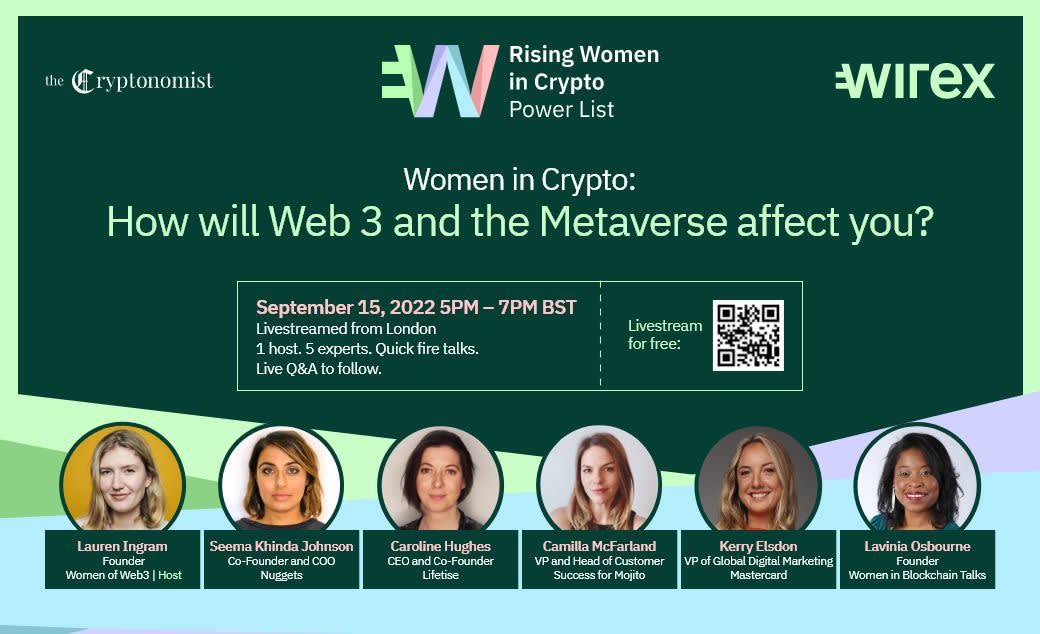 After hosting our first ever 'Women in Crypto' live event in 2021, the women of Wirex are back again this year to make it bigger and better.
Listen to the best-in-class panelists
You're invited to listen to 6 incredible women from different areas of the crypto and blockchain industries. On the 15th September, from 5-7pm, they'll be presenting about how advancements in the crypto spaces are building the future that is the metaverse.
In partnership with The Cryptonomist, each speaker will have 10-mins to demystify the idea of the metaverse and web 3, and give unique insights into how these frequently discussed concepts will affect you.
The star-studded line-up includes:
Lauren Ingram, Founder of Women of Web3 (host)
Seema Khinda Johnson, CEO and Co-Founder of Nuggets
Caroline Hughes, CEO and Co-Founder of Lifetise
Camilla McFarland, VP & Head of Customer Success for Mojito
Kerry Elsdon, VP of Global Digital Marketing at Mastercard
Lavinia Osbourne, Founder & Host, Women in Blockchain Talks
The 2022 Rising Women in Crypto Power List
Traditionally, the event is kicking off the 2022 Rising Women in Crypto Power List!
From the 15th September, we'll be inviting nominations of women in the crypto sector demonstrating unprecedented levels of achievements, potential, influence, ambition, leadership skills and innovation.
We will also introduce three additional awards to recognise women in a specific way.
Keep an eye on our blog for more information!
Register today to join us in the audience
Make sure you don't miss this unique opportunity to listen to a star-studded line-up of women in the crypto space sharing their insights.
Please visit the Eventbright page and sign-up for a free ticket.
Download the 'Women in Crypto' booklet for the event to find out more about what's in store for the event and who the speakers are!