Women of the Metaverse
International Women's Day is right around the corner, and we're planning to Break The Bias by celebrating Women of the Metaverse throughout the month.We've collaborated with some of the most inspiring female leaders around the world spearheading the NFT space as they share their journeys and offer up advice to others looking to break into the crypto and NFT spaces.
Up first, we're shining the spotlight on Shavonne Wong, a 3D Virtual Model Creator and NFT Artist.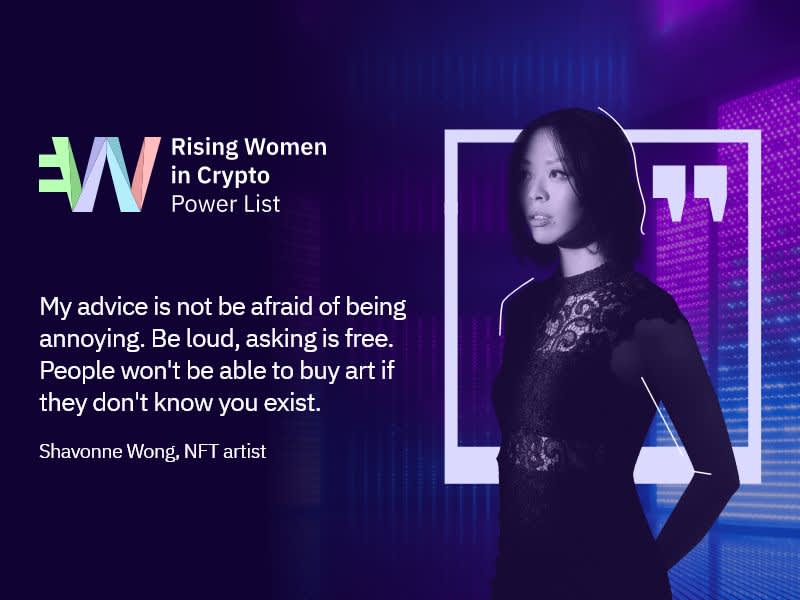 How and why you have pivoted from a fashion photographer for shows like Asia's Top Next Model to now being in NFT space?
During late 2019, I was having a great time with my photography career as I was hitting some pretty high points such as photographing Billy Porter and having it published in Vogue while also being included in Forbes 30 under 30. There were huge expectations on what could possibly come next in 2020 but as everyone knows, covid came instead. Here in Singapore, we went into a lockdown where photoshoots were flat out not allowed so that basically put my whole career on hold. I decided then that if I was not allowed to work with real models, I would just make my own.
I then spent the whole of 2020 focused on learning 3D with the intention of creating virtual models to then provide them to commercial clients as an option for their brand campaigns. However in early 2021, my husband told me about NFTs and I felt like it was a perfect fit for the works I was creating with my virtual models and decided to give it a shot.
When did you first discover NFTs, and what was your opinion on the space?
It was in February 2021 when I first decided to pay attention to it. It seemed like an exciting new space that I figured could become an alternate revenue stream. While trying to figure it out, I found the community to be hugely supportive and filled with like-minded creatives who were open minded and curious about the technology.
Combining the technology with the art allowed a lot more exploration and experimentation in how I could express myself and I found this hugely exciting as an artist.
How has the art scene changed since the raise of NFTs in recent years?
I think that more attention and legitimacy is slowly being given to NFTs. It is also interesting to see a lot of different art forms that would have perhaps struggled in the traditional art world such as graphic design, illustrations, 3D and digital painting, given a place to shine here in NFTs.
How did NFT Asia start and why it is important to you to build up this community?
When I first entered the NFT space, I had noticed a huge lack of Asians in the conversations held on Clubhouse or on Twitter. It seemed odd to me since Asians are technically the majority in the world. During that time I got to know Clara Peh, an art writer and curator. She was interviewing me for an article on NFTs and then told me about a discord group she had with a couple of other friends who were also interested in NFTs. After joining the group, I suggested having it open up as a public community for Asian artists interested in NFTs and it just exploded.
The traditional fine art world has been around for centuries and a lot of the decisions of what constitutes good art have been strongly influenced by western views. In a space that is so new and where the culture is still being shaped, it felt important to try and be part of the conversation and help influence it as best as possible. Diversity should not be an afterthought.
Crypto is also often said to be the great equaliser but everyone starts from different starting points. The person who comes into space with a good financial background is not the the same as someone who might be coming in from a country with a struggling currency where gas fees can equal to weeks or months of salary, who perhaps do not have a strong handle on the English language and have only a short amount of time they can spend to learn while juggling two other jobs. With all of these in mind, we at NFT Asia want to find ways to help promote and support these artists who are interested in the space but are at a disadvantage compared to most. It is also important to have a community that feels safe and even the small things such as having people awake at the same timezone is helpful.
What do you think is the future of women in the NFT space and what is your advice to those looking to enter the industry?
Women absolutely have a future in NFTs! In fact it's almost misplaced to discuss it in a future sense when there are already so many women pursuing their art, NFT collections and associated work across gamefi. This space is an equaliser in the sense that anyone can spin up a project, promote it and stand a chance to succeed if the community appreciates what that project is trying to achieve.
I see no reason that momentum will stop in general and especially with a lot of big name female celebrities entering the space as well. We'll see more women focused projects and plenty more women founders!
As for advice, my advice is to not be afraid of being annoying. Be loud, asking is free. People won't be able to buy your art if they don't know you exist.
You can check out more from Shavonne here:
Instagram: @shavonne.wong
Twitter: @shavonnewong_
-
Stay tuned, because we'll be shining the spotlight on other big names and rising stars in the NFT community throughout March, and it's not to be missed!